Today I was tasked with the job of delegating some money that is to be used for growth. In addition to some of the other stocks mentioned in my StockTalks from this morning, Aflac (NYSE:AFL) is one of the companies that I staked a long position in; and, barring any major catastrophe, one I plan on adding to for growth.
Aflac is the largest provider of supplemental insurance in the U.S. It's based out of Columbus, Georgia and was founded in 1955. In addition to the U.S., Aflac has a large constituency in Japan consisting of over 19,000 sales agencies. Aflac is a consistent dividend payer and holds a market cap of roughly $30 billion.
I went long today, on Aflac's monster fundamentals.
The company's vital signs are currently as follows (information provided from Nasdaq.com):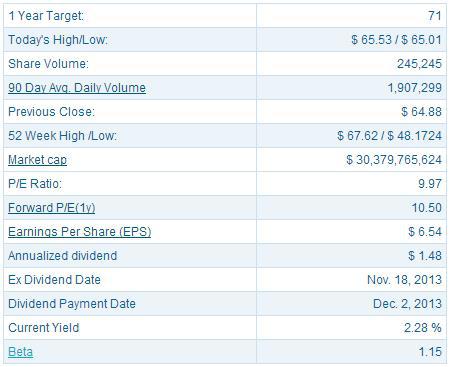 Aflac has traded well over the last 12 months, yielding 25.9% for investors, exclusive of its moderate dividend yield. So, the natural question for one considering opening a position is whether or not this move up is fueled by fundamentals or the overall markets. In addition, what kind of multiple is Aflac trading at the current near-all-time-high prices?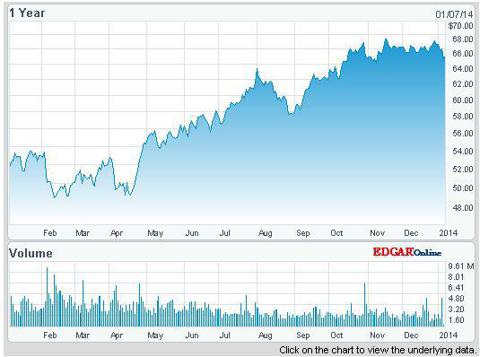 Glad you asked. With a P/E ratio of under 10, the market isn't giving Aflac too much of a leash to run out onto. Almost every key fundamental metric for the company is trending in the right direction, as well. Revenue, shareholder's equity, dividends, the balance sheet - they all look neat and tidy.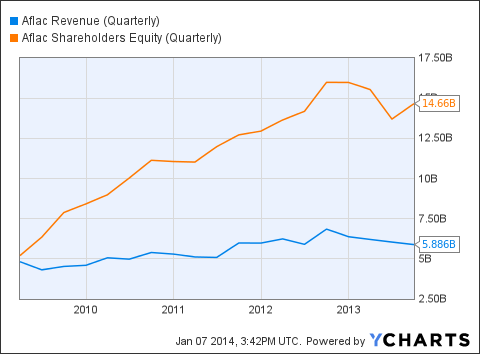 AFL Revenue (Quarterly) data by YCharts
At the risk of repeating a lot of what Dan Mac pointed out early this morning, before I could get my article finished, the company has been able to grow its EPS exponentially, as well. If you haven't read Dan Mac's "Aflac: Why You Should Give a Quack", it's yet another cogent, concise argument for a "no-brainer" long position in Aflac. Please give it a read.
I had already constructed my own chart to show Aflac's EPS for the last 10 years. Generally, this is some of the same information that Dan provides in his analysis, and it looks like this: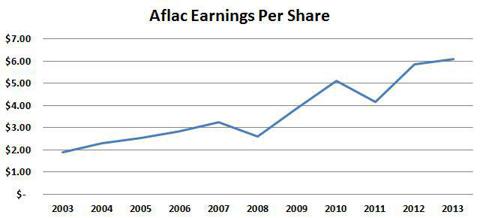 Additionally, and consistently with its EPS and its revenue, look at how Aflac continues to grow its dividend.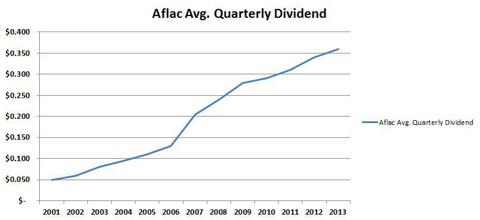 Some of the risks associated with Aflac lie generally with the company's exposure in Japan. Japan makes up a strong part of the company's clientele (it claims it insures one in every four households in Japan) - and Japan could be headed for an economic downturn. Additionally, Aflac holds a significant amount of its own investments in Japanese bonds.
But, barring any macroeconomic disaster in Japan, Aflac looks like to be a great candidate for dividend and growth based on:
Trading at a low multiple - P/E of 9.9 while comps trade near the low 20's during this bull run.
Consistently increasing dividends, offering a warm security blanket to any long-term oriented investors.
Consistent fundamental growth in EPS and net income.
Continued building of shareholder's equity.
Best of luck to all investors.
Disclosure: I am long AFL, . I wrote this article myself, and it expresses my own opinions. I am not receiving compensation for it (other than from Seeking Alpha). I have no business relationship with any company whose stock is mentioned in this article.