The Company
JetBlue (NASDAQ:JBLU) is one of the lesser followed American airlines. It's based out of Long Island City and JFK airport. Its main operation is out of New York and it services 84 destinations; most of which are domestic and Latin America.
JetBlue has traded well for investors this year - up 29.4% in the last three months and 45.5% over the last year. Its stock is still recovering from its heyday during the 2003-2004 era, where it touched as high as (a split adjusted) $30. Following that, fuel prices became an issue in 2005-06 and the stock hasn't crawled out from the "under $10" mark since late 2007.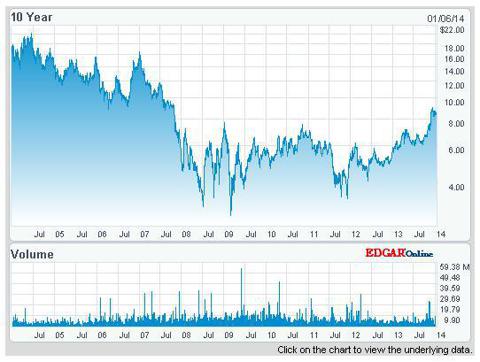 Click to enlarge
Some of the bullish argument for JetBlue, as concisely as possible, is as follows:
They reported a great third quarter, with revenues up 10% for the year. Increased traffic and fares alike helped catalyze gains. The gains were attributable to top line growth and offsetting maintenance costs. Expanding capacities also helped revenues grow.
The stock trades at a relatively modest P/E of 22 and a market cap of $2.4 billion.
The company took advantage of WiFi approval on flights and instituted hi speed internet on several of its planes. The difference from normal in flight WiFi is that JetBlue's is supposed to be significantly faster.
Analysts of late have revised earnings expectations and become more bullish.
The airline industry, as a whole, is showing macro market strength.
While the company's cash position has dwindled a bit, it still has plenty of cash to do its business with and shareholder equity continues to build.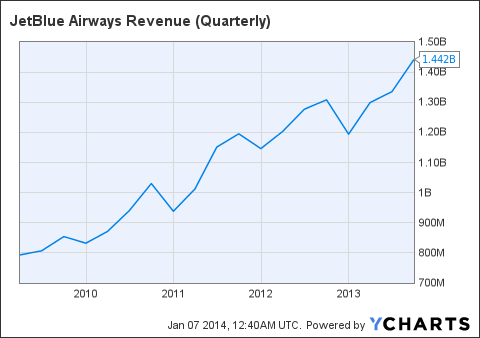 JBLU Revenue (Quarterly) data by YCharts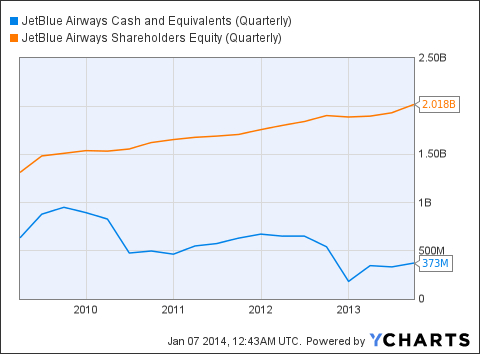 JBLU Cash and Equivalents (Quarterly) data by YCharts
The Opportunity
Unless you've been living on the third moon of Jupiter, you may have noticed that it's been all over the news for the past day or so that JetBlue's flights and infrastructure have been negatively affected by the "Polar Vortex" storm that's currently gripping the Northeast. If you do a quick Nexis or Google search of the news - or you have JBLU on your RSS news feed - it's likely it looks something like this: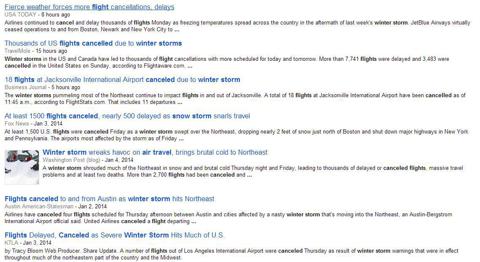 Click to enlarge
JetBlue released an operations update on January 6th stating the following:
One thing is for sure, the beginning of 2014 sure hasn't been kind to US aviation!

The new year began with the winter storm some called Hercules, is shutting down the heaviest trafficked air corridor in the world during one of the heaviest travel periods of the year. Mother Nature then followed that up with icing conditions over the weekend, causing even more issues and ground stops at the airports. Even as airports began to reopen though, newly launched FAA regulations on pilot duty times caused delayed flights to quickly turn into canceled ones. Now today, less than a week into the year, we're watching a polar vortex wreak havoc on flight schedules across the industry, as rainy weather prepares to turn airports in the Northeast into ice rinks once again.

More than 3,000 flights across the industry have been cancelled today, and roughly 300 of those will be JetBlue's. Beginning at 1 p.m. ET today, we'll reduce operations at JFK, LaGuardia, Newark, and Boston through 10 a.m. ET Tuesday. At that time, we'll gradually ramp up again - we intend to be 100% operational by 3 p.m. ET on Tuesday. This plan allows for 17 hours of rest for crews, and time for Tech Ops to service the aircraft.
The over reporting of this tied to the name of JetBlue is likely to cause some irrational selling off of the stock. We saw a bit of this on Monday as JetBlue closed off over 4%. This is coming just days after all airline stocks took off following Delta Air Lines' (NYSE:DAL) impressive revenue for December.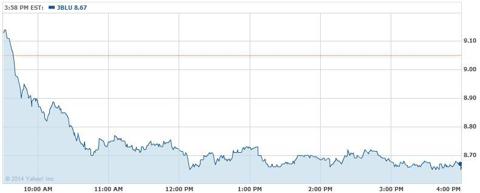 Click to enlarge
It's my contention that if JetBlue continues to pull back over the coming days (during the storm) it's going to make for a buying opportunity for those that want to get into a good stock with growing revenue in a great industry. I would look at pullbacks in JBLU this week as a great place to possibly start a long position. Yes, there is risk that this storm hits the bottom line eventually, but most airlines deal with weather as a fact of the business, and this one week storm will not stand in JBLU's way. I wish this stock paid dividends, but it doesn't.
Best of luck to all investors.
Disclosure: I have no positions in any stocks mentioned, and no plans to initiate any positions within the next 72 hours. I wrote this article myself, and it expresses my own opinions. I am not receiving compensation for it (other than from Seeking Alpha). I have no business relationship with any company whose stock is mentioned in this article.