With the polar vortex hammering most of the country with temperatures well below average for the year natural gas traders are pushing prices higher. The US is seeing the coldest temperatures in many years and the expectation is that we will see another large drawdown in natural gas storage due to the weather. It is a short-term move in our opinion and nothing more. We think it is quite dangerous for readers to try and play the US Natural Gas Fund (NYSEARCA:UNG) for any extended period of time, even after the recent run.
Oil continues to run into selling pressure and gasoline prices continue to fall in sympathy. We are long-term bulls here and think that it is hard to argue against owning names aggressively growing production, thus we are still owners of many of the names we were last year...albeit at lower prices now than at their highs.
Chart of the Day:
Rather than buying the natural gas ETF for exposure, we would recommend focusing on E&P names with considerable exposure to dry natural gas, such as Rex Energy (NASDAQ:REXX) which we like because of their cheap production from the Utica and Marcellus shale plays.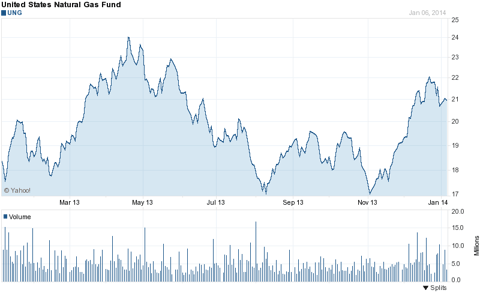 Source: Yahoo Finance
Commodity prices this morning are as follows:
Gold: $1,226.70/ounce, down by $11.30/ounce
Silver: $19.68/ounce, down by $0.423/ounce
Oil: $93.71/barrel, up by $0.28/barrel
RBOB Gas: $2.6705/gallon, up by $0.0245/gallon
Natural Gas: $4.40/MMbtu, up by $0.094/MMbtu
Copper: $3.351/pound, down by $0.0085/pound
Platinum: $1,412.30/ounce, down by $4.10/ounce
Oil & Natural Gas
Investors are cheering the SandRidge Energy (NYSE:SD) announcement (located here) that they would divest their Gulf of Mexico assets for $750 million to Fieldwood Energy, LLC - which is backed by private equity firm Riverstone Holdings, LLC. The deal will allow SandRidge to focus upon their onshore activities in Oklahoma and Kansas and the company said that this increased focus will allow them to increase production by 26% this year (after adjusting for the sale).
SandRidge shares are back above the $6/share level on the news that they are exiting the Gulf of Mexico. Now the company will be a pure-play Mississippi Lime play and much easier for investors to understand.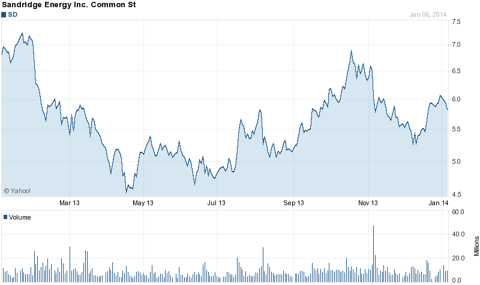 Source: Yahoo Finance
This is yet another transaction where properties with actual production have been sold to allow E&P companies to continue developing drilling locations in their inventories. SandRidge Energy did a similar deal when they sold their Permian assets last year and Chesapeake Energy (NYSE:CHK) has also been forced to sell acreage in some of its new plays in order to close deals and get the required cash to continue their development plans. With fewer and fewer buyers out there these days we expect to see further deals like this, although we still think that there are buyers for entire companies so long as the property portfolios are well defined within a few operating areas; something that SandRidge has most certainly become.
We also want to point out that Gulfport Energy (NASDAQ:GPOR), a long-time holding of ours, issued a press release (located here) last night that the market is not going to like. The company announced that they expected to see their production to be flat versus the exit rate from the last quarter due to scheduled down time on producing wells as the company works in pad drilling. It is disappointing news, but one thing to keep in mind is that although the exit rate will be roughly the same, overall production should jump as the company produces at a higher average rate over the quarter. We think that those who have not been able to get into this name might find opportunity to nibble around the $55/share level.
Disclosure: I am long GPOR, . I wrote this article myself, and it expresses my own opinions. I am not receiving compensation for it (other than from Seeking Alpha). I have no business relationship with any company whose stock is mentioned in this article.