SPOTLIGHT 2014 SOLAR ENERGY - Real Goods Solar Shining in the $15 Billion Solar Market
Investment Highlights
Real Goods Solar (RSOL) is an undervalued play on the solar market. Real Goods is a leader in the solar installation market. Real Goods has new management who are executing as evidence by the return of top line growth, retaking of market share and lowering the company's cost base. Real Goods Solar is well positioned to take advantage of the growth opportunities in the solar installation market and, given the valuation of SolarCity (NASDAQ:SCTY), for a significant increase in valuations.
Company Description
Real Goods Solar is a residential and commercial solar energy engineering, procurement and construction firm. Real Goods Solar also performs most of its own sales and marketing activities to generate leads and secure projects. Real Goods Solar offers turnkey services, including design, procurement, permitting, build-out, grid connection, financing referrals and warranty and customer satisfaction activities. Real Goods Solar's solar energy systems use high-quality solar photovoltaic modules from manufacturers such as Canadian Solar (NASDAQ:CSIQ) and Trina (NYSE:TSL). Real Goods Solar uses proven technologies and techniques to help customers achieve meaningful savings by reducing their utility costs. In addition, Real Goods Solar helps customers lower their emissions output and reliance upon fossil fuel energy sources.
Real Goods Solar has 35 years of experience in residential solar energy. Real Goods Solar traces its roots to 1978, when Real Goods Trading Corporation sold the first solar photovoltaic panels to the public in the United States. Real Goods Solar has designed and installed in excess of 110 megawatts of solar power across more than 16,000 residential and commercial solar systems since its founding. Real Goods Solar's focused customer acquisition approach and its efficiency in converting customer leads into sales enable it to have what Real Goods Solar believes are competitive customer acquisition costs that Real Goods Solar continuously focuses on improving. Real Goods Solar believes that its Real Goods Solar brand has a national reputation for high quality customer service in the solar energy market, leading to a significant number of word-of-mouth referrals and new customers.
Real Goods Solar was incorporated in Colorado in 2008 as a successor to Gaiam Energy Tech, Inc. (NASDAQ:GAIA). Gaiam, Inc. founded Gaiam Energy Tech, Inc. as its solar division in 1999. In 2001, Gaiam Energy Tech, Inc. acquired Real Goods Trading Corporation in a merger. The combined company became Real Goods Solar when it went public in 2008.
Value Proposition
According to the Energy Information Administration, the average electricity price to residential household in the United States rose from 8.72¢/kWh in 2003 to 11.88¢/kWh in October 2013 representing an average annual inflation rate of 3.4%. If trend inflation were to continue the average electricity price per kWh would be 21.35¢ in 25 years. 25 years equates to the average guarantee on a Real Goods Solar solar panel, but the average useful life is estimated at 50 years.
After rebates and tax credits, the cost of a Real Goods Solar 5kW solar panel system is $18,200. With average sunlight equal to the US average of 4.8 hours and a 5% discount rate, the net present value (NPV) of a solar panel is $1,067, representing savings over the 25 year guarantee. Under extremely conservative assumptions where the useful life equals the guarantee, there is a positive NPV. Assuming a useful life of 50 years, the NPV is $11,057. Additionally, a house with solar panels is estimated to sell for a premium of $5.91 per watt installed. A house with a recently installed, Real Goods Solar 5kW solar panel system would have an additional value of $29,550. The increase in home price pays for the system enhancing the company's value proposition.
Real Goods Solar has 35 years experience in the solar industry and is one of the largest players in the market. These both provide Real Goods Solar with brand recognition which is crucial as the market grows. Real Goods Solar also has an acquisitive history. Over the past 7 years, the company acquired 7 companies. This experience acquiring companies will be crucial as Real Goods Solar helps consolidate the fragmented solar industry.
Market Opportunity
According to the Solar Energy Industry Association (SEIA), total US solar installations will grow to over 9GW in 2016 from 3.3GW in 2012, as illustrated below.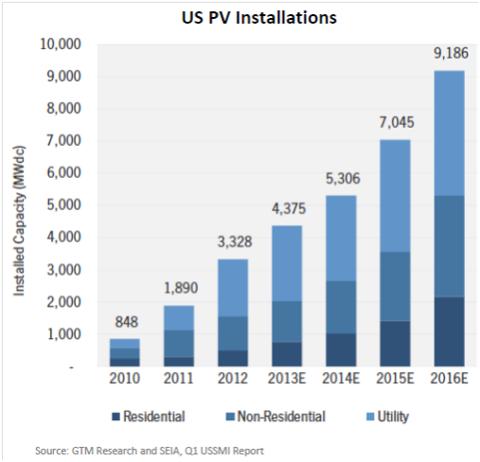 With increased installations, the price for solar panel systems continues to fall. According to SEIA, over the past year residential system prices fell by 9.7% from $5.22 per watt (W) in Q3 2012 to $4.72/W in Q3 2013. Non-residential prices fell by 6.1% over the year from $4.22/W in Q3 2012 to $3.96/W in Q3 2013. Utility system prices fell 15% from $2.40/W in Q3 2012 to $2.04/W in Q3 2013. Blended average PV system prices fell 16.4% over the year with prices falling from $3.59/W in Q3 2012 to $3.00/W in Q3 2013. If prices continue to decline over the past three years, the average PV systems prices will fall by 17% per year leading to an average systems price of $1.71/W.
The solar panel installations market size should increase by 43% over the next three years from $11.0 billion in 2012 to $15.7 billion in 2016. With Real Goods Solar expecting to be a consolidator in this fragmented market, it should grow faster than the overall market.
Why Buy Now?
The solar industry is growing at a rapid pace with the cumulative installations more than doubling over the next three years. This growth is driven by significant incentives offered by the federal and state governments related to renewable energy. At the federal level, solar panel installation provides a 30% tax credit on the purchase. Most states have a target for renewable energy called Renewable Portfolio Standards, illustrated below. Real Goods Solar is a leader in the industry and should be able to grow at a faster pace than the industry.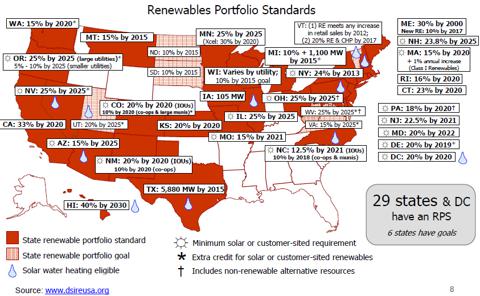 Real Goods Solar recently changed management. In July 2012, the company brought in Kamyar Mofid. Mr. Mofid has a wealth of knowledge in the solar industry with previous positions at SunEdison, REC Solar, AEE Solar and Teleflex. In June 2013, the company appointed David Belluck as Chairman of the Board. David Belluck is a partner at Riverside Capital Partners, a private equity firm with significant experience investing in the technology sector. Riverside Partners hold 25.8% of Real Goods Solar common stock outstanding. The main driver of their returns will be share price appreciation through fundamental improvements in the business. The combination of the new CEO and new Chairman of the Board has started to bear fruit. Management focused on a more disciplined management including improving operational processes and management reporting. The intense focus on discipline allowed the company to decrease total operating expenses from 42% of revenues in Q3 2012 to 24% of revenues in Q3 2013. Another sign of the strength of new management, Real Goods Solar expects 2013 revenues to be between $132-137 million, representing 42% annual growth in revenues. After 2012 revenues fell by 15%, this is a sign of the turnaround and resumption of the company's growth path. Real Goods Solar expects to continue to grow above market rates. Further evidence of the strength of management and the underlying business, the company reported record backlog in Q3 2013.
Associated with the new Chairman of the Board, Real Goods Solar has been able to decrease the importance of Gaiam as a shareholder. Gaiam was a creditor and a major shareholder but Gaiam shareholding is now only hold 9.9% compared to Riverside's 25.8% ownership. The company paid off all debt to Gaiam. Gaiam had a number of related party transactions including an annual fee for Inter-corporate Services in the amount of $672,000 per year. The company performed work on the Chairman's residence at a "customary" rate for work performed for employees." It also entered into a lease with DTCC Properties, LLC owned by the former Chairman of the Board for office space. These are not necessarily transactions at the expense of minority shareholders but eliminating them with the resignation of the Chairman of the Board decreased corporate governance risk substantially.
Real Goods Solar recently made two significant acquisitions. In August 2013, the company acquired Syndicated Solar. Syndicated Solar has a very strong sales force which will complement the company's strengths. The company recently saw capacity constraints as engineers are required in the multiple steps in the process including sales. Syndicated Solar helps alleviates those constraints. In August 2013, Real Goods Solar purchased Mercury Energy. The Mercury Energy acquisition positions the company as one of the largest U.S. solar installation companies measured by installed customers. The acquisition also provides the company with a much stronger presence in the Northeastern market and a much stronger commercial division. The combined company will be much larger leading to more diversified company which will lead to greater economies of scale and greater access to capital. Real Goods Solar also gained $10 million in working capital.
Real Goods Solar has high operational leverage. With the exception of commission, the vast majority of its other expenses are fixed. As revenues grow at the rapid pace profitability will grow at a much faster pace leading to margin expansion and a greater valuation multiple.
In November 2013, Real Goods Solar raised $18.4 million from a share offering, significantly strengthening the balance sheet.
Real Goods Solar has undergone a significant transformation over the past two years with new management drastically decreasing the company's break-even point, decreased the connection with Gaiam and made a number of acquisition increasing the company's geographic and customer scope. These moves made the company much stronger and better able to take advantage of the growth in the solar installations market.
What is this opportunity worth?
To value Real Goods Solar, The Focused Stock Trader looks at its close competitor SolarCity. Solar City, like Real Goods, focuses on solar installations. The table below shows the key statistics of Solar City and Real Goods Solar.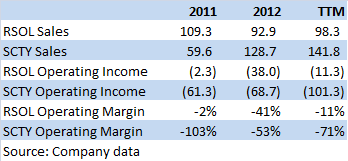 Real Goods sales were twice that of SolarCity in 2011 and strategic missteps lead to a revenue decline in 2012 for the company while SolarCity took advantage of the misstep and almost double their revenues in 2012. SolarCity's revenues continue to grow while their operating margin continues to grow as well. Real Goods is expecting sales to reach $132 in 2013. Management has done a great job increasing operating efficiency while SolarCity's operating margin continues to rack up loses with the prospects of future returns. SolarCity trades on an EV/Sales multiple of 36 and Real Goods trades on an EV/Sales multiple of 1.09. The massive discrepancy is unwarranted and Real Goods should trade on a much higher multiple. Assuming an extremely conservative EV/Sales multiple of 3 still 1/12th the multiple SolarCity warrants, Real Goods would be valued at $9.22 per share or 175% upside.
Technical Analysis by Harry Boxer (TheTechTrader.com)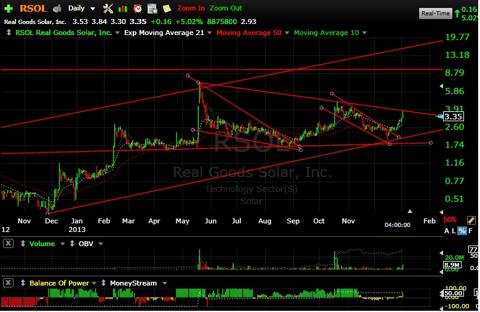 Real Goods Solar had a tremendous 5 wave advance from the Nov 2012 lows near $0.40 to over $7.00 by May 2013. It then experienced a sharp pullback retracement move over the next 3 months which saw it dip back under $2.00 briefly before snapping back to near $4.50 by mid October. Another pullback retest occurred until December when it retested $2.00 successfully and bounced back to $3.84 this week to test the 6 month declining tops line resistance. Yes, the action is quite volatile but we believe the company is undervalued and may soon break out of that declining tops line to test first resistance near $4.65 then look for a run to $6.50-6.75 zone. Longer term we believe a double digit target is possible.
Disclosure: I am long RSOL. I wrote this article myself, and it expresses my own opinions. I am not receiving compensation for it. I have no business relationship with any company whose stock is mentioned in this article. I was assisted in writing this article by my associate Marc Melendez.