(Editors' Note: This article covers a micro-cap stock. Please be aware of the risks associated with these stocks.)
In 2013, Gold (NYSEARCA:GLD) had its worst performing year since 1981, dropping a whopping 28 percent. In fact, this was gold's first yearly decline in more than a decade, prompting many to declare gold "dead" and in a bear market, going to $1,000 an ounce or lower.
However, I feel that 2013 was merely a bump in the road for gold and I am expecting a solid rebound in 2014 and the following years. When we look back at the charts, I strongly feel that we will look at 2013 and wonder why we didn't buy more gold and the related securities. We appear to be at a point, or perhaps just past a point of extreme negative sentiment in the gold market where almost everyone is calling for $1,000 gold. This could signal a bottom and a great contrarian buying opportunity.
My main arguments are that the primary reasons for owning gold have not gone away: in fact, I believe that the reasons for owning gold are stronger than ever and getting stronger each month.
Here, I will list 5 main reasons why I feel gold will rebound in 2014.
Reason #1 - Gold is Cheap Compare to Stocks
Make no mistake about it - investors poured into stocks in 2013. The Dow Jones Industrial Average returned 22.59 percent for the year finishing over 16,000.
Meanwhile, as mentioned previously, gold shed 28 percent for the year finishing under $1,250. Will this continue in 2014?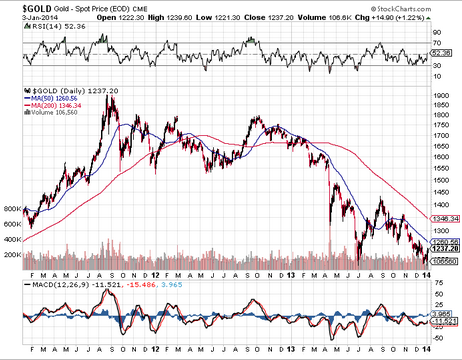 So, while 2013 was a terrible year for gold in dollar terms, when compared to stocks it was even worse. If you go back to 2008 during gold's last poor year, you will see that gold collapsed along with stock's during the recession. Gold fell during this financial crash as investors poured into the dollar (NYSEARCA:UUP), as well as forced selling and margin calls.
However, this time was different, with stocks rising and gold falling. The divergence began at the start of 2013 and lasted for most of the year, as you will see in the chart below: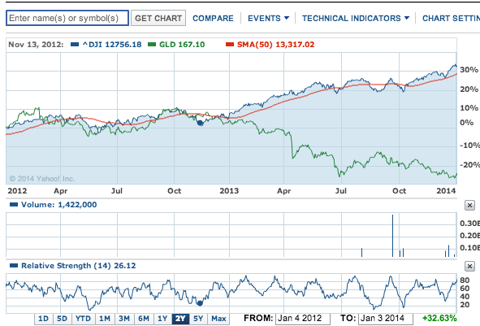 Will this divergence continue? I don't think it will for the following reasons:
I think this drop in gold was likely due to speculators dumping the yellow metal on the notion that the Federal Reserve was going to taper and/or stop QE, which is perceived as a negative for gold. However, those same people who dumped gold on the notion of the Fed taper don't seem to realize that gold rose from $250 an ounce in 2000 to $800+ an ounce in 2007 - without any QE whatsoever. The same gold bears also believe that the US economy is improving and everything is just fine - something which I disagree with.
Specifically, the plunge in gold could be due to both selling and short-selling in the GLD. In fact, a whopping 23,236,900 shares of GLD remain short, according to ShortSqueeze.com. Of course, when you short a position - whether it be a stock or an ETF like GLD - you must cover your short position eventually. This could lead to a very large "short squeeze" in gold at one point. At the same time, physical demand for gold remains very strong (as I will mention later on in this article).
A ratio which I follow closely is the Dow to Gold ratio - dividing one share of the Dow Jones index which one ounce of gold. You will see below that the ratio has risen to 13.3, up from the ratio of 8 where it stood between most of 2010 - 2013.
Getting back to the ratio of 8 at current stock prices would leave us with a gold price of $2,050. Even if the Dow:Gold ratio declined to 10 in 2014, at current stock prices that would leave us with a gold price of $1,640, substantially higher than the current price of $1,240.
If stocks were to decline to 14,000, and the Dow:Gold to drop to 10, then we are still looking at $1,400 gold. At some point, I believe this ratio will take a turn downwards and I am expecting a Dow:Gold ratio back in the area of 8. In the longer term, I have always said that a Dow:Gold ratio of 4 or lower is possible.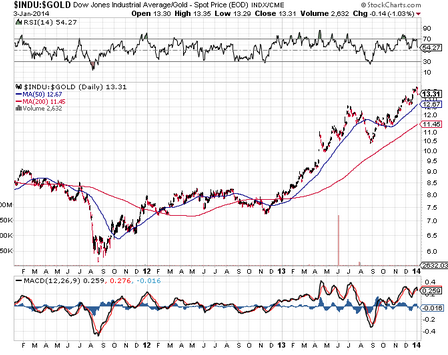 Finally, take a look at the Shiller PE Ratio for the S&P 500, which currently sits at 26.6. This is the highest figure since 2007 before the crash. Before that, you have to go all the way back to the roaring 20's to get the same figure.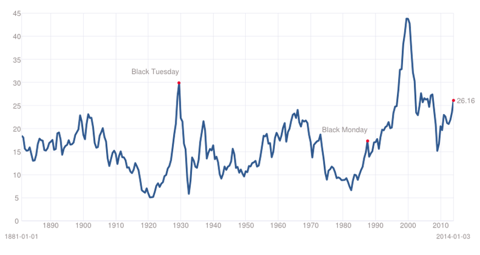 This one chart tells me that stocks are overvalued and perhaps in a bubble. According to GuruFocus.com, the Shiller P/E ratio is a more reasonable market valuation indicator than the P/E ratio, "because it eliminates fluctuation of the ratio caused by the variation of profit margins during business cycles."
If you use the S&P 500 P/E Ratio, you still get a P/E of 19.41, which is higher than the median of 14.51.
Bottom line? I feel that stocks are currently in bubble territory and the worst for gold is most likely over. I think we are due to for a correction in the stock market and I will be tracking the short position in the GLD and futures market closely in 2014.
Reason #2 - Miners Cost of Production DOES Put a Bottom on the Gold Price
There is a disagreement between several authors on Seeking Alpha whether or not the cost of producing an ounce of gold puts a "bottom" on the price.
The theory is that because it costs about $1,200 to produce an ounce of gold (all-in sustaining cost), the price cannot stay at or below the production price for an extended period of time. The reason is that mines would shut down and supply would be taken off the market.
I believe that in the short term, anything can happen - gold can go to $1,000, stocks could go higher, etc. However, I don't believe that $1,000 gold would last very long. I feel that in the longer term, the cost of production does in fact put a bottom on the price, and I think that value investors will start to realize this fact in 2014.
If gold were to drop below $1,200, it simply does not make sense for any new significant supply to hit the market. Currently, the only new mine supply I have seen hit the market is from ultra-high grade, low cost mine and low CAPEX mines such as the Fire Creek project by Klondex Mines (OTCQX:KLNDF). Mines that cost hundreds of millions of dollars are having big problems getting developed and financed, even if they are expected to be very low cost, long-life mines.
At the same time, gold miners and exploration companies are already significantly scaled back exploration activities to conserve cash. So where will the any significant new supply come from?
All of these factors are bullish on the price of gold in the long-term. It may take until 2015 for us to see the drop in supply of gold, but I am confident that it will happen if we remain at these low levels.
Reason #3 - US Debt, Deficit Situation is Far From Resolved
The United States debt situation has gotten far, far worse over the years. In fact, under President Obama, more debt has been added than every single other President in US history combined!
Today, the US National Debt sits at $17.3 trillion. Meanwhile the United States gross domestic product, which is the market value of all goods and services produced, is $16.04 trillion, which means that the debt is more than the entire size of the economy.
With a yearly budget deficit of $600 billion, there appears to be no signs of this slowing down. The recent budget deal includes a tiny $22.5 billion in deficit reduction. It is a laughable size, one that barely pokes a hole in the deficit.
However, with a rise in interest rates, the deficit could increase even further (the net interest on the debt is currently $255 billion a year, according to USDebtClock.org).
To make matters even worse, the US is set to hit the debt ceiling, yet again, likely to come February (the Obama administration has said it could be hit in February, according to Reuters).
Remember, Congress passed a two-year budget deal in December, but the debt ceiling is a different animal. Based on previous battles, Republicans are not likely to just approve any deal. Another debt ceiling showdown could be in the cards for 2014, and even if a deal is approved, which is probably end up hitting the new ceiling again later on in the year.
Reason #4 - Federal Reserve Continues to Expand Balance Sheet, Despite Taper
The big "negative" for gold was announced on Dec. 18, 2013 as Ben Bernanke announced that the Fed will taper its monthly asset purchases, from a total of $85 billion a month to $75 billion a month ($5 billion from the purchase of both treasuries and mortgage backed securities).
Even if the Federal Reserve tapers every month of 2014, at $10 billion taper each month, the Fed will still have increased its balance sheet by $900 billion in 2014, bringing the Fed's total balance sheet to about $4.9 trillion!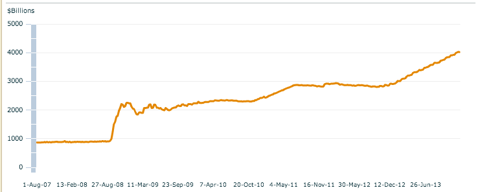 You will see in this chart above that in 2008, the Fed's total assets stood at just $905 billion, meaning that in just 5 years, the Fed's total assets have increased by over 400 percent!
Since the tapering announcement, interest rates have gone up as the 10-year bond now sits at 3 percent. If the Fed does indeed taper, I believe interest rates will head even higher, which could force the Fed to reserve its hand and increase QE.
If my view, higher interest rates right now would be bad - if not catastrophic - for the US economy, especially for the housing market as mortgage rates rise and less people are able to afford buying a home.
Variable interest rates would also rise, which effects basically anyone who has a balance on a credit card. At the end of the second quarter of 2013, there was approximately $850 billion in outstanding revolving debt, mainly credit cards, according to Credit.com.
The average American household with at least one credit card has nearly $15,950 in credit-card debt (in 2012), according to a CNN study. If interest rates rose, then variable rates on credit cards would also rise, making payments higher.
Interest on student loans can be fixed or variable, depending on whether or not the loans are federal or private. The average student loan debt currently sits at $29,000 on average, according to CNN Money.
Again, rising interest rates would be a terrible thing for the economy, hurting recent college graduates and families across the country. This could send us right back into another recession.
The Fed's increasing balance sheet is a good thing for gold - I believe the Fed's ultra-loose monetary policies will ultimately lead to a significantly devalued dollar and inflation. It is hard to tell if inflation will be in the cards in 2014, but the risk is certainly growing every single month.
Reason #5 - Physical Demand Will Continue to Be Strong, Especially from China
While gold prices have fallen, physical demand has actually gotten stronger at the same time. We've seen a flow of gold from the west to east - more specifically, from the GLD to the hands of China.
China imported a massive amount of gold in 2013, especially during the months of March and from April to October. You will see that nearly every month in 2013 saw greater imports than the previous year.
In November, China imported 76.3 tonnes from Hong Kong, which was the lowest amount since January. However, for the full year China is expected to have imported 1,000 net tonnes for all of 2013 and I expect this number to remain strong in 2014.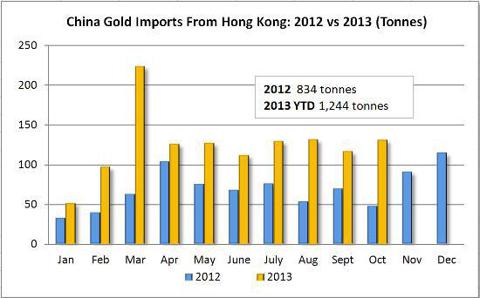 Why should we expect strong gold demand from China in 2014?
In November, the Central Bank of China announced that "it is no longer in China's favor to accumulate foreign-exchange reserves." China's foreign-exchange reserves were valued at approximately $3.66 trillion in Q3 2013,.
"Less intervention and smaller gains in foreign-exchange reserves may damp China's appetite for U.S. government debt. The nation is the largest foreign creditor to the U.S. and its holdings of Treasuries increased by $25.7 billion, or 2 percent, to $1.294 trillion in September, the biggest gain since February" (Source: Bloomberg.com).
All of this, of course, bodes very well for gold.
Final Thoughts
It's hard to give an exact price target, but I am expecting a good year for gold, making it a good contrarian play for 2014.
To play a potential rebound in prices, I have listed for Top 5 Gold stocks for 2014. I like the leverage which gold miners have on the upside. Though, you should be cautioned that a drop in the gold price typically leads to underperformance in these stocks as we saw in 2013, with the gold miners index (NYSEARCA:GDX) underperforming the physical metal.
If you are not willing to take the risk in owning an individual mining company or streamer, I would suggest owning the physical metal (coins, bars) as opposed to owning the GLD.
Where do you see the price of gold headed in 2014?
Disclosure: I am long GLD, . I wrote this article myself, and it expresses my own opinions. I am not receiving compensation for it (other than from Seeking Alpha). I have no business relationship with any company whose stock is mentioned in this article.