Here are some of the major themes for the financial markets as we move into 2014:
US - The Federal Reserve, to be led by Janet Yellen, will start trimming its monthly bond purchases from $85 billion to $75 billion starting this month as economic growth accelerates. It will take further "measured steps" depending on how the economy performs. Treasury yields have risen to the highest levels since 2011. Ten-year note yields exceeded 3 percent and 30-year yields approached 4 percent at the end of last week. This points to dollar strength.
Europe - The European Central Bank (ECB) is already on the offensive against weak price pressures, cutting its benchmark rate to 0.25 percent in November 2013 in an attempt to bring up the inflation rate. Gross domestic product in the euro region fell 0.4 percent in the third quarter, and October unemployment was 12.1 percent, down from a record 12.2 percent. ECB President Mario Draghi has refused to rule out further cuts and pledged rates will stay low for an "extended period." He has signaled the bank may be willing to charge financial institutions to hold their cash or offer new long-term loans. The ECB estimates that the euro-area economy contracted 0.4 percent in 2013 and will expand 1.1 percent this year. The divergent policy with the US points to euro weakness.
UK - Expansion in the property market has boosted optimism in the U.K's economic recovery. Sterling reached a one-month high against the euro as data showed UK house prices rose in December and mortgage approvals in November reached the highest level in almost six years. The pound has gained 5.7 percent in the past six months, the best performer among 10 developed-nation currencies tracked by Bloomberg Correlation-Weighted Indexes. The improved economic data has also boosted bets the Bank of England will tighten monetary policy soon. The benchmark rate currently stands at 0.5 percent, a level which the BOE is unlikely to change this week. Pound to strengthen in the near term.
Japan - The Topix's 51 percent annual advance in 2013 was its third-biggest on record, while the Nikkei 225's yearly gain was the largest in four decades, as Prime Minister Shinzo Abe and Bank of Japan Governor Haruhiko Kuroda took steps to end 15 years of deflation. The loose monetary policy pursued by the ECB is reflective of the BOJ's stance as well. Kuroda said the BOJ won't necessarily end or scale back stimulus in two years and will continue it until inflation stabilizes at 2 percent. Abe said his program of reforms won't be easy and the nation is only halfway toward ending deflation. Yen to remain weak in 2014.
Australia/New Zealand - Economists in a Bloomberg News survey predict the Reserve Bank of New Zealand (RBNZ) will be the first to raise its benchmark rate this year, from 2.5 percent, as accelerating economic growth and a housing boom stoke price pressures.
Traders see 5 percent chance the Reserve Bank of Australia (RBA) will reduce its benchmark lending rate from a record-low 2.5 percent at its next meeting in February, compared with 18 percent a month earlier. Australia's trade deficit probably narrowed to A$300 million in November from A$529 million the previous month. I foresee that gains in the Kiwi might outpace the Aussie.
Gold - Gold retreated for the first time in 13 years in 2013 as an improving economy spurred speculation that the Federal Reserve would curb stimulus. Now that the Fed has indeed pared back bond purchases, gold will remain subdued. More than $70 billion has been erased from the value of gold-backed funds as investors continue to lose faith in the metal as a store of value. I foresee gold to have a technical rebound back to $1,300 before continuing to drop towards $1,150 by the end of the year.
Top News This Week
US: Non Farm Payrolls. Friday, 10th Jan, 9.30pm.
I expect figures to come in below 195K, (previous figure was 203K).
Trade Call
Long GBP/JPY at 169.75
On the H4 chart, GBP/JPY is moving in a strong uptrend. The strength of the UK economy and the loose monetary policy of the Bank of Japan is a great setup for the continued uptrend of the GBP/JPY. The chart is currently moving in a range, and we will enter for long once prices bounce off the support level located at 169.75.
We will go long once prices retrace and bounce off the support level at 169.75, which is also located near the uptrend line. Since it is a 4-hourly chart, the stop is slightly wider. A stop loss of 150 pips is placed below the previous low. We will have two targets on this trade, exiting the first position at 171.25 and the second one at 172.75.
Entry Price = 169.75
Stop Loss = 168.25
1st Profit = 171.25
2nd Profit = 172.75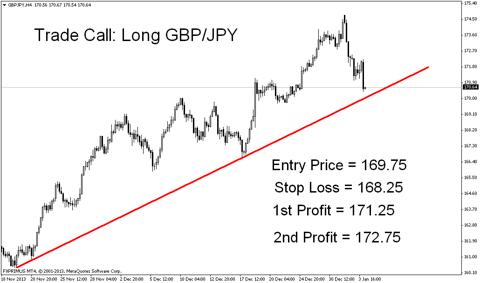 Click to enlarge
Disclosure: I have no positions in any stocks mentioned, and no plans to initiate any positions within the next 72 hours. I wrote this article myself, and it expresses my own opinions. I am not receiving compensation for it. I have no business relationship with any company whose stock is mentioned in this article.