BlackBerry (NASDAQ:BBRY) has decided to completely change its overall corporate strategy as the company has lost a huge amount of money in the last two quarters. The main reason for the losses is the huge inventory write-down that BlackBerry suffered due to the low sale through of its BB 10 smartphones. BBRY priced its BB 10 models too expensively in my view, given that BBRY was trying to introduce a new operating system in the highly competitive smartphone industry dominated by Google (NASDAQ:GOOG) and Apple (NASDAQ:AAPL) software. Though BlackBerry is a top smartphone brand known for its quality and security, the world has moved on. Even in the enterprise, BBRY is losing subscribers at rapid pace as Samsung (OTC:SSNLF) and Apple dominate the premium smartphone segment. The Q5 model was launched by BBRY to target the emerging market customers, but the pricing seemed out of reach for most low income customers. At ~$400 the price was a bit too high and you could buy better smartphones from top brands such as Sony (NYSE:SNE), Nokia (NYSE:NOK) and Samsung. Now BBRY is planning to cut the pricing by ~20% to increase sales, but I think that this price cut is not only too late but too little as well. Google and Microsoft (NASDAQ:MSFT) are becoming extremely aggressive in the smartphone industry launching high quality devices for wafer thin margins, as they look to increase the OS marketshare. Even market leader Samsung is finding it hard to sustain margins in the face of thin onslaught. BBRY with its much smaller resources has almost no chance of succeeding with the Q5 pricing cut. I continue to remain on the sidelines in case of BBRY as I don't see a credible turnaround strategy yet.
Q5 cannot target to be a "Status Symbol"
The Q5 was launched in India at ~Rs 25,000 which made it a mid to premium segment smartphone. This was clearly not something that a majority of Indians could afford making it suitable only for the elite. The Q5 had been positioned as a mid end smartphone for people who cannot afford the flagship Q10. However, the Q5 pricing went completely against its positioning. I think that most people who can afford to shell out Rs 25,000 for the Q5 can easily fork out a couple of hundred dollars more for the Q10. People especially in emerging markets are sensitive about the status being projected by a smartphone. The BBRY management failed to understand this aspect. BBRY now plans to cut the pricing by 20% to Rs 20,000. Even this price won't increase traction much in my view, given that you can get the iPhone 4 at about the same price and very good Android phones as well.
Why the price cut to Rs 20,000 is too late
It is difficult to make a smartphone a success almost 6 months after launch. The Rs 20,000 price point would have made a lot of sense when the smartphone was launched. But now even though Q5 becomes attractive at this price, it has very little chance of being successful. Smartphone product cycles have decreased dramatically and a 6 month old smartphone cannot compete for the consumer mind space. Except for Apple, other smartphone vendors introduce new smartphone models every 3 months or so to replace the older ones. I think that Q5 is quite competitive with existing smartphone devices at Rs 20,000 with 2 GB RAM, Snapdragon 1.2 GHz processor and a decent display. However, promoting a 6 month old smartphone is very tough and even tougher for BBRY with its limited marketing budget.
Later in January, RIM India Pvt Ltd, the Indian arm of Research in Motion (RIM) that owns the BlackBerry brand, will announce a massive cut in the price of Q5, its entry-level product on the BB-10 operating system. From around Rs 25,000 the price will come down to below Rs 20,000.

Source - ET
Why the price cut may be too little
The Q5 is already available on a number of Indian e-commerce websites at a price much lower than Rs 25,000 and the official price tag of Rs 20,000 will not be too much of an incentive for new buyers. The Z10 which is a premium device is available for ~Rs 25,000 now. BlackBerry had to severely discount the Z10 which was selling badly and was one of the main reasons for its massive inventory write-down. BlackBerry shelved plans of introducing new BB 10 smartphones, leaving the launch of new BB 10 models to its JV partner Foxconn. I see very little hope for BB 10 smartphones, as they sustain a software eco-system based on volumes of just 5 million phones a quarter. Competitors such as Apple and Google are spending billions in developing and marketing their smartphone software. BlackBerry needs to focus its efforts on developing services around these eco-systems. Going head on against these technology giants will be futile in my view.
The hardware specifications for the Q5 are quite good but fail to differentiate with other smartphones at the same pricing level. Q5 suffers from a 5 MP camera as well as dual core Qualcomm Snapdragon 1.2 GHz processor. Smartphones at the Rs 20,000 price points generally come with higher clocked processor and 8 MP cameras are almost universal. I think that Q5 should be shelved by BBRY as soon as the inventory runs out.
Stock Valuation and Performance
BlackBerry's cheap valuation and a large cash hoard were the main reasons for buying BBRY stock. But a series of missteps in product pricing and failure to find a buyer has made BBRY quite vulnerable. The company's cash reserve had to be bolstered by a $1 billion convertible offering as large losses put pressure on its balance sheet. The stock is currently trading at a P/S ratio of 0.5x and a P/B ratio of 1x. The management does not expect the company to be profitable before 2016.
BlackBerry's stock has decreased by more than 50% after touching 52 week highs in early 2013 when there was a lot of optimism due to BB 10 launch. The company is trading in a range of $6-$8 now as investors wait for a catalyst.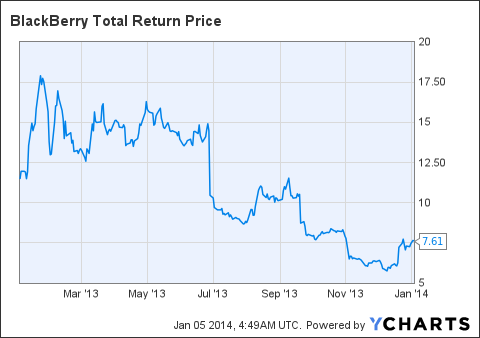 BBRY Total Return Price data by YCharts
Summary
BlackBerry management failed to correctly read the hyper competitive smartphone market and is paying the price for its mistake. The new management under John Chen is making the right moves by initiating a smartphone hardware JV with Foxconn and looking to focus on software and services. However, the company carries a lot of baggage from past mistakes and it will be very difficult for them to make a comeback. Google and Microsoft are launching a fierce price war to increase the sales of their software/services as the mobile market cannibalizes the desktop/PC segment. The three giants Apple, Google and Microsoft have enormous resources and the power of massive scale. It will be difficult for BBRY to survive in such a market. I remain on the sidelines till I get a clear turnaround roadmap from BBRY.
Disclosure: I have no positions in any stocks mentioned, and no plans to initiate any positions within the next 72 hours. I wrote this article myself, and it expresses my own opinions. I am not receiving compensation for it (other than from Seeking Alpha). I have no business relationship with any company whose stock is mentioned in this article.