On Jan. 3 2014, Fed Chairman Ben Bernanke gave a presentation at the Annual Meeting of the American Economic Association that I think indicates another bull market for 2014 as the U.S. economy continues to improve.
I have chosen a few statements from Bernanke's presentation (click here for full manuscript):
"The economy has made considerable progress since the recovery officially began some four and a half years ago."
"The unemployment rate has fallen from 10 percent in the fall of 2009 to 7 percent recently."
"The encouraging news is that the headwinds (to slow economic recovery) I have mentioned may now be abating."
"The combination of financial healing, greater balance in the housing market, less fiscal restraint, and, of course, continued monetary policy accommodation bodes well for U.S. economic growth in coming quarters. But, of course, if the experience of the past few years teaches us anything, it is that we should be cautious in our forecasts."
Last year was a great year for the U.S. equity market as the S&P 500 advanced 30% from Jan. 2 to Dec. 31, 2013. It was the S&P 500's best year since 1997 and the index outperformed the majority of hedge funds and mutual funds.
Why 2014 Should Be Another Bull Market
For 2014, I believe it should be another bull market for U.S. equity for these reasons:
The housing market is improving rapidly with increasing housing prices, less foreclosures and less delinquencies.
The unemployment rate is decreasing toward the Fed's target of 6.5%.
Household balance sheets are improving with more income and possibly less debt.
Corporations - especially the largest ones - are earning more revenue.
The Fed is willing to be more accommodating in its monetary policy and allow the federal funds rate to be near zero even if the unemployment rate drops below 6.5% as long as the projected inflation rate is below the Fed's target of 2%.
On another note, many people are concerned that the inflation rate will rise quickly once the Fed tries to reduce its enormous balance sheet of $4 trillion, which was the result of its quantitative-easing program. But I think it will be a gradual process and the Fed will do whatever it can to prevent the inflation rate from increasing too rapidly.
Using The Yield Curve to Predict The Market
As an investor who likes to invest in U.S. stocks, I also like to know if there are any "leading indicators" that can accurately predict whether it should be a bull or bear market in the next 12 months.
The most accurate leading indicator I found that can predict the U.S. economy is the yield curve spread (between the 10-year treasury bond and 3-month treasury bill).
Normally, the yield curve has an upward slope where long-term yields on bonds are higher than short-term yields. However, the yield curve can be inverted with a downward slope - AKA an inverted yield curve - when long-term yields on bonds are lower than short-term yields.
The inverted yield curve is rare as investors normally expect higher yields for longer term bonds to compensate for higher risk, but it happens from time to time when investors expect that the economy is heading to a recession in about a year or when they expect that the central bank will lower the short-term interest rates (e.g. Federal funds rates) due to slow economic growth.
According to an article from the Federal Reserve Bank of Cleveland, the inverted yield curve (short-term rates higher than long-term rates) preceded each of the past seven recessions from few months to about a year. For example, the yield curve inverted before the 2008 financial crisis as well as the recessions of 2001, 1991 and 1981. Hence, I believe that the inverted yield curve is a very accurate way to predict whether it should be a bull or bear market in the next 12 months (see below image).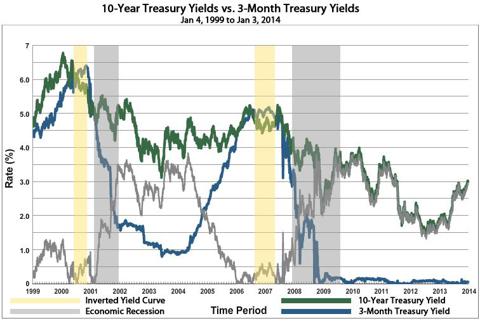 Click to enlarge
Source: U.S. Department of Treasury
At the time of writing this, I do not think there will be a bear market in 2014. This is also shown by the yield curve spread between the 10-year and 3-month treasury rates of 2.94% as of Jan. 3. It is also important to note that it is a normal yield curve. The spread between the two is likely going to increase further as the Fed continues to taper its stimulus this year, which causes long-term interest rates to increase. Based on the economic prospects that were mentioned earlier and the current yield curve spread, I believe that 2014 should be another bull market for the U.S. equity market.
Disclosure: I have no positions in any stocks mentioned, and no plans to initiate any positions within the next 72 hours. I wrote this article myself, and it expresses my own opinions. I am not receiving compensation for it. I have no business relationship with any company whose stock is mentioned in this article.