Advanced Micro Devices (NYSE:AMD) has seen its stock rally strongly in 2013, despite its mainstay PC market declining by ~10%. The company was facing decimation in the face of Intel's (NASDAQ:INTC) onslaught in the PC and server markets. The stock touched a nadir at $1.8 in 2012, as it faced liquidity issues due to a lack of profitability. The company management put a restructuring plan in place and that has started to bear fruit. It smartly won the processors in all the three major consoles and has also won the contract to supply its FirePro graphics cards to the world's largest technology company. These wins ensure that AMD will get a large amount of revenues in the future, removing the risk of bankruptcy. While the company continues to face big threats from semiconductor giants Intel and Qualcomm (NASDAQ:QCOM) in the tablet and PC processors, its diversification into custom made silicon and micro servers will help mitigate risks. The company is relying on its graphics expertise and low prices to push processors for the low end PC and tablet area. AMD's valuation continues to be quite low despite the 50% plus rally in 2013. I had advised investors to buy AMD in early 2013 and think that investors can continue to hold AMD for further gains.
Why AMD can Rally more
1) Big customer wins - AMD has won a number of important customers in the technology industry for its products in 2013. The company supplies silicon for all the major console makers such as Microsoft (NASDAQ:MSFT), Sony (NYSE:SNE) and Nintendo (OTCPK:NTDOF). AMD is going to benefit from the stronger than expected sales of Xbox One and PS4 which have sold 2 million units within days of their launch. Apple (NASDAQ:AAPL) has chosen AMD's FirePro graphics card for its MacPro line, which further boosts AMD's credentials as a top semiconductor company. These design wins will ensure that AMD remains a viable player for a long time, dispelling potential bankruptcy risks.
2) Advanced SoCs for the tablet and PC market (Beema, Mullins) - AMD is going to introduce new processors for the tablet and low end PC segments in 2014. While Beema will be a successor of Temash and targeted towards tablets with 2-3 W TDP, Mullins will succeed Kabini to target the low end PC area. The advanced graphics integration in these two SOCs will help AMD differentiate the chips from the competition.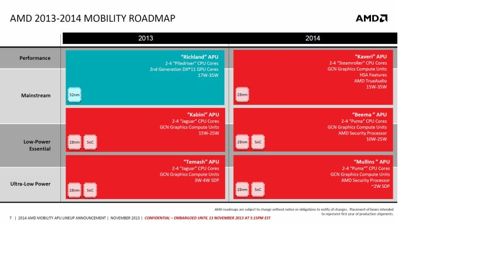 3) Calxeda Demise reduces ARM server competition - AMD purchased cloud microserver maker "SeaMicro" in 2012 for $334 million to enter this new fast growing dense server market. Dense servers connect a number of low power CPUs which reduces power and cost, without impacting processing power. While SeaMicro's interconnect "Freedom Fabric" uses Intel's processors, AMD is working on shifting SeaMicro's products to use AMD's processors. AMD plans to introduce microservers using its 64 bit Seattle chip in 2014. AMD will gain advantage, as the pioneer in the ARM microserver market Calxeda has gone bankrupt due to liquidity issues. This leaves only Applied Micro (NASDAQ:AMCC) as a major competitor in this field. Unlike other ARM vendors, AMD has got tremendous experience in designing and selling chips for the server market. While AMD management expects that ARM servers will not be a big revenue generator in the short term, it is going to capture 20% of the overall server market by 2017.
Now it will take time. There is no question. 2014 is really about marketing, it's about design wins, it's about announcing where the market is going. Our passionate belief is that space by 2017, Hans will be in the region of 20% of the server market. I think the server market today is in region of 10 million units. It's an $11 billion market. You can apply the relevant growth rates, so that's we see the market. And again we believe that it's a market that we can win.

Source - AMD at Raymond James conference
4) Cost Reduction and Decent Liquidity Position- AMD has been cutting costs ruthlessly in the last few years to adjust to a lower topline. The balance sheet has improved considerably as the management has decreased both operating and capital expenditure. The company reported $443 million in operating expenses this quarter, which was lower than the target of $450 million. The company has also reduced its capex forecast by 30% to $110 million in 2014.
Yeah. Vivek, if you look at the last one year, I think that was exactly what we said about a year ago about maintaining cash at $1.1 billion level well above the [back at] [ph] minimum. And as you have seen, despite a very challenging year that we have gone through, we have successfully maintained $1.1 billion of cash, without by the way getting any external financing.

Source -AMD Q3 results
5) Cheap value presents attractive acquisition target - AMD seems quite cheap to me compared to the IP portfolio that the company possesses. It has strengths in multiple areas such as graphics, x86 design, HSA etc. With a market capitalization of just $2.8 billion, one of the bigger companies such as Qualcomm, Samsung (OTC:SSNLF) or Apple can easily buy it to bolster their semiconductor expertise. Even Intel can look to buy the company as the growth of the mobile market may not invite the anti-trust regulator's scrutiny.
6) Great quarterly results - AMD's quarterly results improved dramatically in the current quarter, showing the strongest sequential growth in the last 5 years. The semi-custom silicon SoCs were the main driver for the increased revenues. There has been a huge pent up demand for next generation consoles which were released by both MSFT and Sony after a 7 year hiatus. The company posted $1.46 billion in revenues which was up 15% year on year.
AMD Risks
Mobile market entry has become almost impossible for AMD - It has become imperative for all major technology companies to have a mobile strategy as smartphones and tablets become the main form factors in the computing world. AMD has got very little expertise in communications ability (2G to 4G LTE) which means that it has almost no way to compete in the smartphone market. Even Intel with its massive resources and acquisitions has not been able to match Qualcomm's communication leadership. The Snapdragon processor with integrated 4G LTE capability has become the de facto leader in the high end smartphone market.
Scale Issues - AMD has been sharply curtailing its operating expenditure to align with its shrinking revenue base. This means that the company has cut its R&D and capital expenditure to conserve cash. Its competitors such as Nvidia (NASDAQ:NVDA), Intel etc. are much larger than AMD with bigger R&D departments and marketing budgets. Intel has decided to sell 40 million tablets in 2014 by setting apart a massive fund for trade discounts and promotions. AMD is trying to enter/expand into multiple segments such as microservers, tablets, custom silicon, embedded devices etc. This may stretch its resources too thin.
Cannibalization of PC market by mobile devices - The PC and laptop market is declining at a faster pace than expected as mobile devices cannibalize the growth of their bigger cousins. The capabilities and feature of tablets and smartphones continue to increase, reducing the need for PCs/laptops. New form factors such as All in Ones (AIO), tablet-PC hybrids etc. have failed to find success as of now. AMD's past offerings for the tablet markets (Temash) have completely failed to get any meaningful design wins. The major players such as Intel and Qualcomm are going all out to capture this market. AMD's traditional low cost strategy will also fail to work as Intel is targeting the low end of the market.
Stock Performance and Valuation
AMD's stock has been one of the best performing semiconductor stocks in the last year, gaining more than 50% over the last year. The stock is trading ~15% below its 52 week high at $4, as the stock has pulled back a bit in recent months. AMD has clearly outperformed Qualcomm, Intel and Nvidia in the last one year as extremely cheap valuation helped boost the stock. AMD continues to be cheap with a P/S of just 0.6x, which is quite low compared to the average P/S multiple of semiconductor stocks. Analysts expect the company to be profitable in 2014.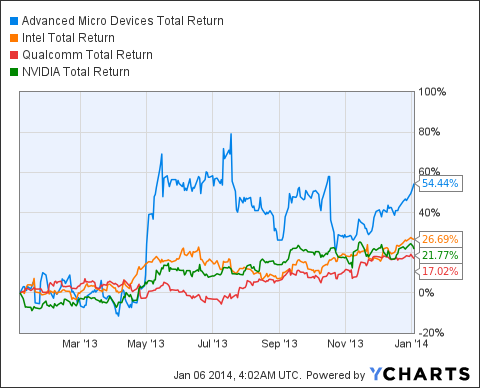 AMD Total Return Price data by YCharts
Summary
AMD has done extremely well in 2013 to turn around its operations in multiple segments. As AMD entered 2013, the company was losing market share in both PCs and graphics segments to Intel and Nvidia respectively. As the company enters 2014, it will offset PC revenue decline from the strong growth in game console shipments and will gain market share in the professional GPU segment from its Apple MacPro win. AMD also has a good opportunity to grab leadership in the ARM microserver area with the bankruptcy of Calxeda. While I don't think AMD can make much headway in the super competitive mobile processor area, the stock may be boosted if it can get some design wins through its APU processors. I continue to remain positive on AMD based on improved operations, cheap valuations and potential for growth.
Disclosure: I have no positions in any stocks mentioned, and no plans to initiate any positions within the next 72 hours. I wrote this article myself, and it expresses my own opinions. I am not receiving compensation for it (other than from Seeking Alpha). I have no business relationship with any company whose stock is mentioned in this article.