The South African Economy

South Africa is an upper-middle income economy and considered a newly industrialized country. It is the largest and most developed economy in Africa even as poverty and inequality continues to be widespread. South Africa does not have a thriving informal economy unlike other poor countries that tend to have half or more of their jobs in the informal sector. The country was recently ranked as the top African Country of the Future based on the country's economic potential, cost effectiveness, infrastructure and business friendliness.
I find that the US stock market offers very few stocks at mouth-watering valuations and as a result find myself looking at foreign equities in hope of finding solid dividend growth stocks at decent valuations. In this article, I introduce a few South African stocks for further due diligence.
Dividends as Stock Screen
Dividends are paid out of positive cash flow and harder to fake over long term. They are typically honest while an over-zealous accountant may be able to window dress earnings per share. I prefer stocks with increasing dividend amounts in native currency. I do understand that the US dollar amount may vary due to foreign exchange conversion rates. While I look for consistency in dividend history with at least 4% growth in dividend amount year-on-year, in some cases I will pardon an occasional dividend stall or even elimination of dividend if I convince myself that the situation so demanded the cut. I do try to watch for any long-term trend in currency devaluation against the US dollar.
Withholding Tax on Dividends
South Africa withholds tax on dividends at the rate of 15% for non-resident investors. An individual investor can file for tax credit on Form 1040 if the shares are held in a regular brokerage account subject to certain limitations. Amounts up to $300 ($600 for joint returns) can be claimed directly on the 1040 but greater amounts or carry-forward/backward requires Form 1116. If the shares are held in a tax deferred account like IRA or 401(k) then there is no mechanism to recover the withholding foreign tax and is lost thereby reducing the effective dividend yield. As always, consult your tax advisor on all tax-related matters since each individual case is different and I am not qualified to give tax advice.
Shoprite Holding (OTCPK:SRGHY)
Shoprite Group of Companies is the largest food retailer in Africa. The holding group operates more than 1,800 outlets in 17 countries across Africa and the Indian Ocean Islands even though the biggest market still remains as South Africa. It has slowly grown in almost all sub-Saharan countries including Angola, Botswana, Ghana, Lesotho, Madagascar, Malawi, Mauritius, Mozambique, Namibia, Nigeria, Swaziland, Tanzania, Uganda, Zambia, Zimbabwe and the Democratic Republic of the Congo. However, only about 250 outlets are in these countries and the rest 1,500 are in South Africa. The company operates grocery stores (both supermarkets as well as convenience stores), liquor stores and pharmacies. Some stores even sell furniture. Reportedly, more than 70% of South African population frequents the chain's stores. This number is likely to be under pressure as more chains like Wal-Mart (NYSE:WMT) enter these countries and try to get a share of the rapidly expanding economies.
The company has grown rapidly over the last decade and has a stellar dividend growth track record. Even after the most recent dividend increase of almost 20% (financial year ending June 2013), the payout ratio is a healthy 50%. Going forward, the company may not maintain the same growth rate of 20-25%. However, I feel that there is room for optimism given the opportunity of growing its footprint in the African continent. The company has done better than its competitors in South Africa like Pick-n-Pay and has managed to grow revenue at almost double the rate in last few years.
I should also point out that the company does not have any relation to its namesake - Shoprite grocery stores in the US. The current yield is a little less than 2% and the P/E is 25 reflecting the growth potential and rich valuation being awarded by the investing community. I have added it to my watch list and will buy it if the price comes down to give me 2.5-2.75% yield though I doubt it will fall that much.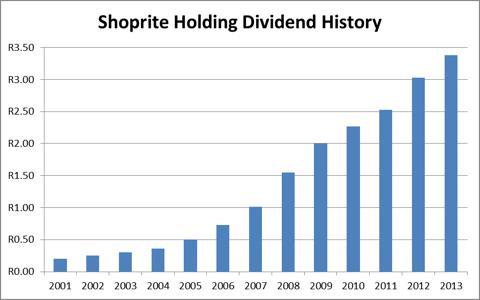 Sasol (NYSE:SSL)
Sasol is an integrated energy and chemical company based in Johannesburg. It is the largest corporate taxpayer in South Africa and employs 35,000 and has presence in more than 35 years. Sasol is one of the world's largest producers of synthetic fuels. It mines coal in South Africa and produces natural gas and condensate in Mozambique, oil in Gabon and shale gas in Canada. Sasol has a large presence in the US as well. The company has a large gas-to-liquids facility in the US which is the largest foreign direct investment in Louisiana. In South Africa, it refines imported crude oil and retails liquid fuels through its network of 400-odd service stations. The company also supplies gas to industrial customers.
Sasol has had an 11% compounded growth rate in turnover over the past 10 years while the profit over the same period has increased 9.6%. The dividends have grown at a compounded rate of 15% over 10 years and 8% over the last 5 years which is the same as the latest increase. The company pays an interim dividend in April and a final dividend in October. The current yield on the sponsored ADR on NYSE is approximately 3.7%. This is better than the integrated energy giants Exxon Mobil (NYSE:XOM) and Chevron (NYSE:CVX) in the US but similar to the yields in Europe from Total (NYSE:TOT) and Statoil (NYSE:STO). My ideal entry point will be $42-44 for an initial yield greater than 4.25%.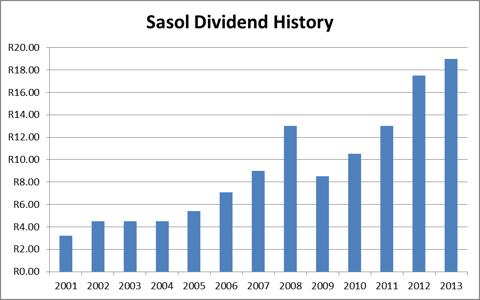 MTN Group (OTCPK:MTNOY)
MTN Group is a multinational telecom operator which offers mobile phone services in 22 countries in Africa and Middle East. Mobile phones have become a valuable instrument in bringing social, cultural and economic change in the African continent. There are numerous case studies on how phones are used for e-commerce in Africa where the subscribers don't have bank accounts and access to any financial institutions. MTN has more than 200 million customers and has excellent brand recognition across the markets in which it provides services. There is scope for growth in data services and more market penetration and that has obviously attracted other big players including Vodacom owned by Vodafone (NASDAQ:VOD). Revenue grew by 16% in 2012 and 10% in 2013 driven by a strong data growth of 37%. The company continues to focus on cost control though 3G services would strain capex requirements. However, subscriber growth has not been robust in all of its markets and some countries have been flat.
Like all other telecom operators in the world, MTN also pays a generous dividend and has an ongoing share repurchase program. The sponsored ADR yields 3.7% which is a slightly lower than other large mobile operators like Verizon (NYSE:VZ), AT&T (NYSE:T) but similar to Vodafone and Telefonica (NYSE:TEF). The dividend growth has slowed recently after rising drastically from 2003 through 2011 as the following chart demonstrates. I would perhaps be interested if the stock comes down and yield closer to 4.5% since there are significant macro-economic and geo-political risks in all of its markets and large investments are required in the cellular industry to maintain and increase ARPU while trying to sign up new subscribers.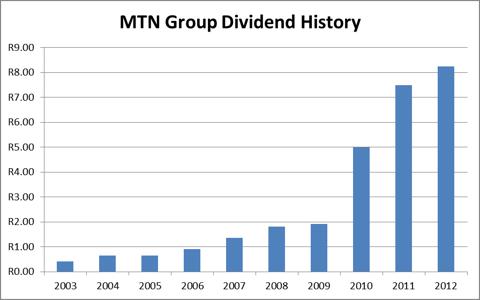 Kumba Iron Ore (OTCPK:KIROY)
Kumba Iron Ore is a leading supplier of seaborne iron ore. It is majority owned by Anglo American Plc (OTCPK:AAUKY), the London headquartered global mining giant which also owns De Beers. Kumba Iron Ore was formed in 2006 when the iron ore assets were unbundled from the parent company and listed as a separate entity. The coal assets were listed as Exxaro Resources (OTCPK:EXXAY). Not surprisingly, 70% of its iron ore is exported to China while another 18% to Japan and South Korea. The company has plans to expand in west and central Africa.
Kumba has a sponsored ADR which yields an enticing 7.3% right now. The dividend has gone up from ZAR 1 in 2006 to ZAR 31.7 for 2012 though it was much higher at ZAR 44.2 in 2011. It may be worth watching further for those who understand the mining industry better. I do see that most iron ore companies have done rather poorly in the recent year including Rio Tinto Plc (NYSE:RIO) and Vale S.A. (NYSE:VALE). Kumba is much smaller than the big players in iron ore mining with a market cap of only USD 14 billion compared to USD 103 billion for RIO, USD 78 for VALE and USD 68 billion for Glencore Xstrata (OTCPK:GLNCY).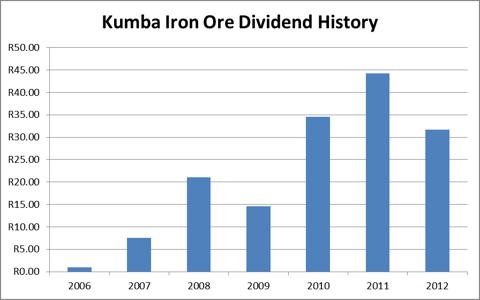 Standard Bank (OTCPK:SGBLY)
Standard Bank has a 150-year history in South Africa and started building a franchise in the rest of Africa in the 1990s. It now operates in 18 countries in the African continent. The group provides Personal and Business Banking, Corporate and Investment Banking and wealth management. It operates more than 1,200 branches out of which 500 are outside South Africa. The bank additionally operates close to 8,000 ATMs across the continent. The Industrial and Commercial Bank of China (OTCPK:IDCBY) took a 20% stake in the bank in 2008 that should continue to help generate benefits from cooperation.
The stock has a respectable dividend history as shown in the chart below though the compounded annual growth over 5 years is only 3.3% (it is much better at 13.8% when considered over 10-year period). The current yield is 3.5% for the sponsored ADR on the OTC markets.
Telkom SA SOC (OTCPK:TLKGY)
This is a telecom operator in South Africa with primary focus on fixed-line telephony services. It also has interests in W-CDMA based mobile communication services. The company saw a 73% drop in profits for the financial year ended March 2013 and eliminated the dividend altogether. The yield was close to 4% before the cut.
Harmony Gold Mining (NYSE:HMY)
The company is involved in exploration, extraction, processing and smelting of gold in South Africa. The stock has fallen drastically over the last few months and does not have a strong dividend track record. The company had a big loss in the latest financial year as well and things aren't looking too good.
AngloGold Ashanti (NYSE:AU)
AngloGold Ashanti is another gold miner with some production of silver and uranium as well. It is mostly active in Africa but also has some mines in Australia. Most gold miners are facing dim prospects and AngloGold is no exception. It has experienced volatile markets and had eliminated dividends in the last few quarters and as such I am not interested in digging deeper.
Gold Fields (NYSE:GFI)
Gold Fields is yet another gold miner with some interests in copper mining as well. The company has a good dividend track record and has paid out dividends twice a year for more than a decade. As with most international companies, the dividend varies every year based on cash flow and profits. The company paid out a dividend of 235 South Africa cents in 2012 which would imply a yield of 5.75 at the current price of 4,085 cents. This company deserves a closer look though I am not adding it to my watch list immediately. My quick glance didn't show a trend of increasing revenue, profits and dividends. I do forgive one or two years of dividend decline if the business is was not good due to a variety of reasons. However, I do look for a general trend which I am unable to see in gold miners from South Africa.
Barclays Africa (OTCPK:AGRPY)
Barclays has a decent dividend history and is worth investigating further. I am not much into banking and finance companies since it is harder to understand their financial statements and investment risks. The current yield is almost 5.5% but there is no long-term trend of dividend growth.
African Bank Investments (OTCPK:AFRVY)
African Bank is a banking firm with a current yield less than 2%. The bank website didn't work for me so I didn't investigate further.
PPC Limited (OTCPK:PPCYY)
PPC is a leading cement producer in Africa, based in South Africa. African infrastructure is one of the poorest in the world and as such a company like PPC has a reasonably bright future. It does have a large share of the cement capacity in South Africa and presence in neighboring countries. However, there is pricing pressure from Afrisam, Dangote and Lafarge. There is no long-term trend of dividend or bottom-line growth and I do not plan to monitor the stock.
Concluding Remarks
I am not sure whether the US will continue to be an economic superpower in the coming decades in the face of mounting federal debt and increasing trade imbalance. In addition, the US stock market is at an all-time high and it is hard to find bargains in the dividend bucket. I am slowly selling some of the holdings at multi-year highs and investing sale proceeds along with any new savings into foreign dividend paying companies. I will be looking to invest in Shoprite, MTN Group and Sasol if there is any weakness in the markets. I also plan to look further at Kumba Iron Ore as time permits.
Please do your due diligence before investing in South Africa since the risks are higher than a typical dividend stock from a developed economy. One final note of caution - most of these ADR are unsponsored and the trading volume can be extremely thin - just a few hundred shares in a day is not uncommon.
Disclosure: I am long SRHGY. I wrote this article myself, and it expresses my own opinions. I am not receiving compensation for it (other than from Seeking Alpha). I have no business relationship with any company whose stock is mentioned in this article.
Additional disclosure: I plan to buy MTN Group, Sasol and perhaps Kumba Iron Ore if funds permit and the stock prices come down without significant change in fundamentals.