Investors in Jamba Juice (NASDAQ:JMBA) have seen tough times in recent years and the start of 2014 is not promising as well. A downgrade from analysts at Wedbush overshadowed the positive news from the company itself, announcing further growth in the Middle-East and offering menu innovations.
Wedbush Turns Cautious On Jamba
Analyst Kurt Frederick lowered the rating on Jamba from Outperform to Neutral. Frederick lowered the price target by $2 to $13 per share, suggesting a limited 8-9% upside from current levels.
There are a few reasons for the cautiousness. Frederick cites negative impacts of cold weather and increased competition as major reasons behind the downgrade. Jamba reported same store sales declines of 3.4% in the third quarter, on poor weather, slower consumer spending and less impact of promotions.
Temperatures in the key Californian market in the fourth quarter remain cooler as well, while promotions which drove traffic last year were not repeated in the final months of 2013.
On top of this comes increased competition from names like Robek's, Smoothie King and Tropical Smoothie Cafe. These firms cut franchise fees significantly to aggressively grow locations in the coming years. Robek is expected to grow from 200 locations to 500 locations, while Smoothie King will increase from 650 locations to an expected 1,000 locations in five year's time.
Jamba has a solid pipeline, expected to add 60-80 stores per annum, offset by store closures and sales to a degree. Following the expansion plans, the companies outlined above become and remain formidable competitors. As such, the overall industry growth could pressure sales growth and margin, as Jamba has to fight for market share.
Expansion In Middle-East And Expanded Menus
On Friday, Jamba Juice came with some upbeat comments itself, as investors listened more to the cautious Wedbush take. The company entered into a master franchise agreement with Foodmark to develop 80 Jamba Juice stores in the Middle-East in the coming ten years.
This deal brings the pipeline commitment to 480 international stores, while management believes there is room for 1,500 stores. The company operated 849 Jamba Juice stores at October of 2013, with the 80 new additions marking noticeable growth going forwards.
At the same time, the company expanded its menu of smoothies and fresh juices with whole food ingredients. The introduction of these healthy offerings has been accompanied by a $2 coupon offer over the past weekend to induce demand for the new offerings.
A Look At The Past
Jamba Juice's shareholders have seen very poor long term returns. Shares approached $60 in 2006 but fell to lows of just $2 in 2008. In 2008, the company posted a $149 million net loss on misaligned store growth as the operational problems resulted in a 8.1% decline in comparable store sales.
This disaster was followed by the turnaround between 2009 and 2011 with capital infusions, menu expansion, store restorations and the focus abroad. As such, comparable store sales recovered to 5.1% in 2012 with margins expanding, allowing the company to return to break-even.
Jamba Juices Focus On Health And Global
In a presentation held just last month Jamba Juice outlined the strategy for the future. The company aims to create a globally recognized healthy lifestyle brand, accelerating growth and building a plus $1 billion lifestyle brand.
The company founded back in 1990 welcomes over a 100 million visitors making it the leader in smoothies, while looking to expand its number four position in the healthy food segment. At the moment, the business has just 42 international locations, representing roughly 5% of its total 849 stores footprint. As such, significant growth potential remains.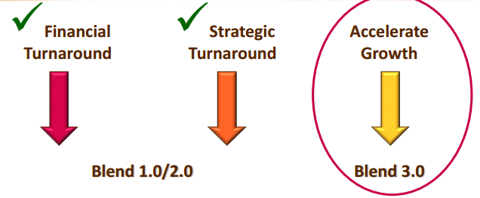 With the financial and strategic turnaround having found place in 2009-2011 period, all eyes are on the acceleration of growth, seen in the period 2012-2015. Key parts include expense reduction, beverage as well as food offerings to better use assets, accelerate development of stores and build a licensing growth platform.
As such Jamba will focus on its healthy image, provide food and smoothies both for breakfast and dinner, and look to operate in 7-9 foreign countries by 2015. Another appealing concept is the Jamba-Go concept which essentially is the installation of vendor machines. This does not require capital investments, nor adds to overheads but brings in revenue of around $2,000 per machine based on the razor/blade model. Some 1,800 machines are installed at the moment, with another 1,000 installations planned for 2014. The revenues from these are consequently seen at a modest $5-$6 million this year.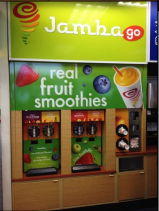 Looking Ahead
The past few years have been difficult. Between the calendar year of 2009 and 2012, Jamba reported a cumulative 24% decline in annual revenues to $228.8 million. After reporting losses of $24 million in 2009, the company essentially broke even in 2012. As revenues are expected to stagnate in 2013, probability might improve a little bit.
Looking into 2014, Jamba expects to deliver 2-4% growth in comparable sales in the company's owned stores. Income from operations are seen at 2-3%.
Implications For Investors
While Jamba Juice claims it is making progress and will show a turnaround in 2012-2015, I am not convinced just like analysts at Wedbush.
At this pace, Jamba is on track to report very limited earnings of a few million for 2013 on expected revenues of around $225-$230 million. Around $12 per share, the market values Jamba at $200 million, or operating assets at $170 million when subtracting the net cash position of Jamba.
While this valuation is limited, at 0.7 times annual revenues, Jamba is structurally reporting poor earnings. While international expansion, same store sales growth and the Go franchise might boost earnings, I see limited potential for significant profit improvement in the short term.
While the start of 2014 will be rough given the cold weather, menu innovations could improve the situation. that being said, Wedbush's identified competitive pressure are on the rise as well, limiting my optimism for the shares. Given the dismal valuation, limited is expected at the moment. To fuel optimistic and share price gains going forward, the market should be able to expect earnings north of $10 million per annum going forwards, something not attainable yet in 2014 in my opinion.
Therefore I remain subdued about the prospects of the shares into 2014, keeping a close eye whether menu innovations can indeed improve the prospects for earnings going forwards.
Disclosure: I have no positions in any stocks mentioned, and no plans to initiate any positions within the next 72 hours. I wrote this article myself, and it expresses my own opinions. I am not receiving compensation for it (other than from Seeking Alpha). I have no business relationship with any company whose stock is mentioned in this article.