There is little doubt that General Electric (NYSE:GE) had a great 2013. The stock was up over 30% for the year, easily beating the broader S&P 500. However, this increase in share price hardly makes General Electric expensive. Instead, it puts its valuation more inline with its peers. However, with 2014 upon us, now is a good time to look at General Electric's future.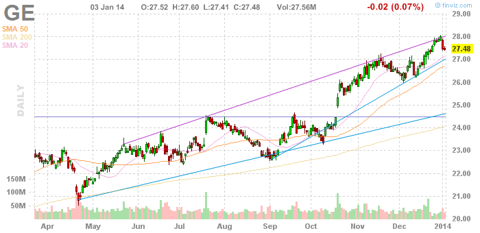 General Electric's long-term plan: Return to an industrial focus
According to General Electric's December presentation, 2014 stands to be quite a profitable year for the company. In the US, the company is seeing the macro outlook improve, with spending increasing in key segments such as aviation, oil and gas infrastructure and healthcare. These are all capital intensive areas which may point toward the Fed's easy money policy having an effect. Even Europe is showing moderate signs of recovery, with companies there making large orders for power generation equipment and related services.
When looking at specific segments, a few are clear standouts. As I noted in a previous article, General Electric's aviation segment accounts for nearly half of the current $229B order backlog. Growth from this segment is expected to continue in 2014, thanks mostly to airlines upgrading their fleets. Also seeing significant growth is General Electric's oil and gas segment. That segment has benefited from the boom in US energy production. Revenues for these two segments are likely to increase in the high double digit range.
Overall, revenues for the company are expected to grow from 0% to 5% next year. However, these estimates are being impaired by GE Capital related divestitures. Looking solely at General Electric's industrial segments, sales are expected to grow by as much 4% to 7%. In addition, industrial profits are likely to post double digit increases, thanks partly to cost cutting, namely SG&A, related efficiencies.
2014 will also be a critical year in General Electric's shift toward an industrial focus. Profits from GE Capital are likely to decline by nearly $700M to around $7.0B next year. However, General Electric is still expected to post flat to modestly higher EPS in 2014. As noted above, most of the slack is being picked up by the industrial segments. Around 60% of General Electric's profits should come from its industrial segment in 2014, up from 55% in 2013. By 2015, this figure should improve to about 70%.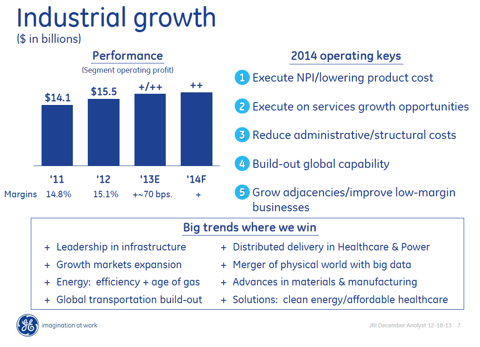 GE Capital Divestitures: Slow and steady with a focus on maintaining high margin assets
As many know, GE Capital nearly bankrupted General Electric during the financial crisis. This segment did return to profitability in 2011 and has been giving the company sizeable dividends since then. However, General Electric has been focusing on divesting large portions of GE Capital's portfolio.
In August 2013, the company announced that it plans to exit North American retail finance by IPOing its consumer lending operations. The company is looking to maximize shareholder returns from this unit, so only a small portion of the equity may be initially offered. Another potential method of divesting this asset is via a share dividend to current stockholders. The company has noted that selling the unit outright is impractical due to its size ($139B in assets as of Q3 2013).
In essence, General Electric is looking to downsize GE Capital over time, but not so fast that it impacts EPS or its capital return programs. The company did note in the presentation that it plans to keep most of the higher return assets, especially those related to industrial financing. General Electric plans for GE Capital to account for 30% of earnings by 2015, down from the current 45%.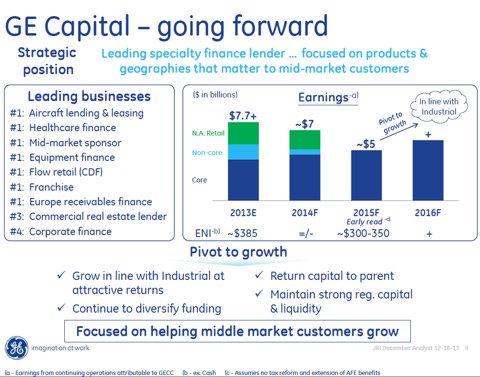 General Electric's shareholder returns plan: A focus on dividends and share buybacks
Finally, let us take a look at General Electric's capital allocation program. The company expects to generate upwards of $90B through 2016. The vast majority of this cash is expected to be used for dividends and share buybacks.
In late 2013, General Electric surprised many by increasing its quarterly dividend by 16% to $0.22 per share. This marks the 6th dividend increase for General Electric since Q3 2010, essentially doubling the payout. Do note that General Electric's dividend is still well below the pre-crisis level of $0.31 per share. I expect the company to continue this trend of higher dividends for 2014. However, another 16% increase seems unlikely as EPS will not be growing at anywhere near this pace due to the above mentioned GE Capital divestitures.
General Electric will also be buying back massive amounts of stock with the company maybe even exceeding the current $18B per year. While some may argue against the effectiveness the share buybacks, the company clearly wants to reduce its float in a meaningfully big way. This also suggests that General Electric thinks its stock is cheap and hence share buybacks are an efficient way to return capital. The long-term plan for the company is to reduce its float to roughly 9.5B by 2016.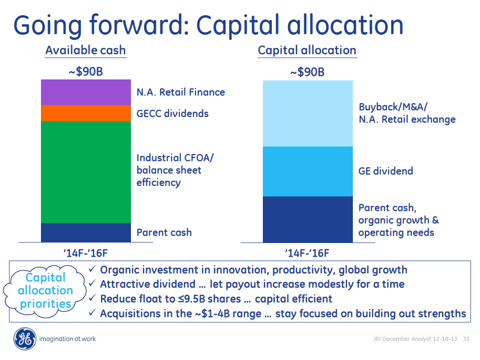 Conclusion
If I had to pick one negative in regards to General Electric's presentation it would be 2014 EPS growth. While this is being caused by the GE Capital divestiture, it still will likely lead to negative Y/Y comparisons. This may limit some of General Electric's potential upside. However, the company is currently running on all cylinders, with its key industrial segments posting solid sales growth and margin improvements. If this trends continues, 2014 is looking to be quite bright for General Electric.
Disclaimer: The opinions in this article are for informational purposes only and should not be construed as a recommendation to buy or sell the stocks mentioned. Please do your own due diligence before making any investment decision.
Disclosure: I have no positions in any stocks mentioned, and no plans to initiate any positions within the next 72 hours. I wrote this article myself, and it expresses my own opinions. I am not receiving compensation for it (other than from Seeking Alpha). I have no business relationship with any company whose stock is mentioned in this article.