General Electric (NYSE:GE) continues to make bolt-on acquisitions to fortify its industrial business empire, this time focusing on its healthcare unit. For a little over a billion, it will acquire promising technologies for diagnostics and manufacturing of new medications.
The deal makes perfect sense from a strategic point of view and marks the next deal in the continued transformation process of the business.
GE continues to be a nice long term investment, supported by an attractive dividend yield exceeding 3%, competing with returns on long term Treasury bonds. The company remains a nice addition for any long term dividend oriented portfolio.
Continuing The Acquisition Streak
General Electric started 2014 by announcing yet another acquisition after making several deals last year. For a sum of $1.06 billion, the healthcare unit of the business will acquire Thermo Fisher's (NYSE:TMO) Hyclone cell culture media and sera, gene modulation and magnetic beads business.
With the deal, GE can expand offerings and technologies for discovery and manufacturing of new medicines, vaccines and diagnostics in the life science business.
The gene modulation business complements GE's current technologies as well as extending its technologies in protein analysis and medical diagnostics. While little is known about the profitability of the unit, note that the deal was a forced sale. Thermo Fisher agreed to sell the unit in order to get European regulatory approval following a nearly $13 billion deal to buy Life Technologies.
GE's healthcare unit includes the $4 billion life sciences business which is one of the fastest growing areas as the world demands better, newer and safer medicines. The increased offerings will reduce time-to-market for biotechnology companies, as GE will offer a further range of "start-to-finish" technologies. GE furthermore announced that the three acquired businesses reported revenues of $250 million in 2013, valuing operations at 4.2 times annual revenues.
Impact On Healthcare
Note that the deal is of a highly strategic nature. The reported $250 million in revenues are just a drop in the bucket. GE's healthcare unit could generate annual revenues of $17.5 billion in 2013 as total industrial revenues alone could approach the $100 billion mark. The unit generates roughly 18% of GE's industrial revenues so far into the third quarter, making up a similar percentage of operating earnings.
These acquired innovative tools match GE's overall strategy to focus on technology and innovation. Within healthcare it already operates the Centricity 360 cloud imaging tool which runs in the cloud, focused on image storing and advanced analytics. The segment is expected to report $2 billion in revenues by 2018, growing at 25% per annum.
Company Wide Operational Strategy..
Back in December, GE gave a big presentation about the future strategy, while providing an immediate outlook for 2014 as well. By 2015, some 70% of the company's earnings should come from the industrial segment, while GE is slowly winding its capital business down.
The guided 4-7% growth in industrial revenues is affected by the wind down of the capital business, resulting in a total revenue guidance of 0-5% growth for 2014. Expected margins of 15.8% in 2013 are set to rise in 2014 making them on track to achieve the 17% target by 2016.
Yet the major driver comes from cost control, with selling, general and administrative costs seeing down from 15.5-16.0% at the moment to 12% by 2016. Increased R&D efforts, among others, prevent the one-on-one translation in operating margin gains.
Note that Immelt is not afraid to take measures. In 2013, GE announced the sale of its stake in NBC to Comcast (NASDAQ:CMCSA) in a nearly $17 billion deal, while it announced its intentions to sell the consumer lending business, in a deal expected to take place in 2014. The company did strengthen its industrial business in the meantime with the acquisitions of Lufkin and Avio Aero, strengthening the major segments of the industrial complex one by one.

..And The financial strategy
While GE is making progress focusing on the industrial base of the company, the transformation is painful to watch for investors. Revenue gains in the industrial business are largely made undone by the shrinking of the Capital business, keeping overall operations stable. Yet shareholders are reaping some gains now, mostly thanks to freed up capital and the higher multiples being attached to the industrial business, given the greater visibility of its earnings.
Still the progress for investors has been painful, with GE unlike many other industrial conglomerates such as Honeywell (NYSE:HON), and 3M (NYSE:MMM), is still trading far below its highs of $60 set in 2000. In comparison, investors in the latter two companies have seen all time highs in 2013.
To please investors somewhat, the company has resorted on providing operational growth through bolt-on acquisitions, like the activities acquired from Thermo Fisher. Further returns have to come from repurchases, as GE aims to buy back some 5% of its shares outstanding in the coming years. The recent 16% hike in the dividend to $0.22 per share, provides investors with a decent yield of 3.2% as well.
As can be seen from the capital allocation plans, GE remains committed to return the majority of capital allocation, seen around a cumulative $90 billion in the period 2014-2016, back to shareholders. This is done through repurchases and dividends, seen at around $20 billion per annum combined.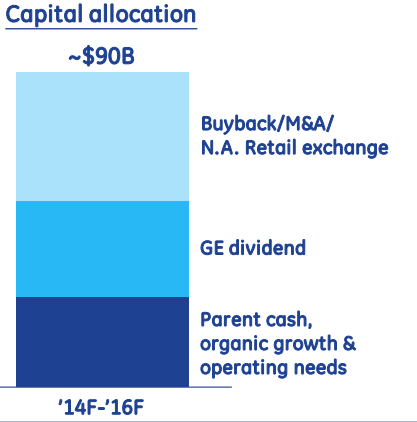 Immelt Remains Under Pressure
Despite the nice come back from the dramatic lows of $6 in 2009 when Warren Buffett needed to come to the rescue, GE's CEO Jeff Immelt is still under pressure.
Even as shares rose 30% in 2013, investors have lost a great deal of value since he took helmet at the top role back in 2000, with shares being cut in half ever since after the capital business nearly sunk the entire business during the crisis.
While Immelt is the one to blame for the Capital business fiasco he has been taking big steps in transforming the business. The problem is that GE is so large, that it is not that easy to turn around with a few quick fixes in a few years' time.
As Immelt remains associated to the capital business disaster, the market is probably still happy to see him go, and his departure could result in a new boost to the stock. Yet I warn for overly optimistic projections as his current strategy is viable and I doubt any other executive could create much more imminent value for GE now replacing him.
Takeaway For Investors
The acquisition of the healthcare activities of Thermo-Fisher once more underlies GE's strategy of making bolt-on acquisitions in the industrial segment, focusing on margins, organic growth and R&D.
The industrial business holds relatively little debt, operating with a modest net debt position of around $2 billion. Overall, GE is expected to reported annual revenues of around $144 billion for 2013, while reporting earnings of around $14 billion on that. Trading around $27.50 per share, the business is valued at nearly $280 billion. This leaves little potential for short term capital gains, with shares trading at 20 times earnings.
The dividend yield of 3.2% does remain attractive, competing with returns on 10-year treasuries. While the long term growth prospects remain attractive, but don't buy into GE now for a quick buck.
Disclosure: I have no positions in any stocks mentioned, and no plans to initiate any positions within the next 72 hours. I wrote this article myself, and it expresses my own opinions. I am not receiving compensation for it (other than from Seeking Alpha). I have no business relationship with any company whose stock is mentioned in this article.