It has been 7 days since DryShips (NASDAQ:DRYS) announced the resumption of their $200 Million ATM equity offering. This was announced at 1.01 pm after the market closed on New Year's Eve. I quickly pointed this out, and voiced my displeasure as a stock holder as to the timing of the press release. CEO, George Economou figured that the time had come to raise a little more cash. Evercore Group L.L.C is handling the offering.
The company previously rose $26M at a price around the $3.60. What price is DryShips getting for their shares? That is the burning question on investors' minds.
Trading range
While it has only been a week, it appears that the stock is in a new trading range. The stock opened the New Year at $4.38, made an intraday high of $4.50 and sold off touching $3.99 on January 6th. In Reality the stock has behaved as one would expect. As I write this article, DryShips is trading at $4.17, a drop of around 12%. The new range appears to be $4.00 to $4.50.
Since the announcement the Baltic Dry Index BDIY has dropped to 1876. Here is the most recent chart.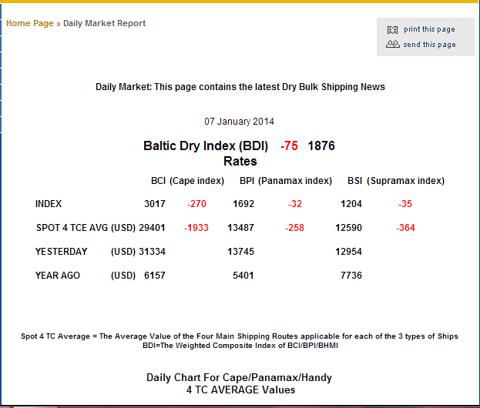 Click to enlarge
The BDI is down substantially from the 2150 level on December 23rd. George Economou is certainly opportunistic, and it appears he may have seen this coming. The share price would have likely seen a natural pullback with a falling BDI and the huge run in December. It is important to note that January has historically seen lower rates coinciding with the Chinese New Year.
So now what? Do you buy sell or hold? Is the thesis still intact? Here is my take from the current situation.
DryShips had a huge rally from $1.97 on August 19th, to $5.0 on December 27th. Investors saw their shares increase a whopping 265% in 4.5 months. The CEO is capitalizing on those gains, positive sentiment and the rising rate environment; doing what he needs to do to relax covenants, and position the company to be a leader in shipping.
He has taken major criticism for massive dilutions, over the past years. He bought Ocean Freight (NASDAQ:OCNF) from his nephew at too high a price; but if I remember correctly, he picked up those Suezmax tankers on a simple novation. He never would have been able to get financing on those ships otherwise. Now they are on spot earning $50K plus per day. A brilliant move? Time will eventually tell this story.
Ocean RIG UDW (NASDAQ:ORIG) was the one company he may have been most criticized about. When the deep water Horizon blew up in 2010, it was rumored that DryShips was going BK. The talking heads said there was no way the company would be able to fund their new build drill ships. Several analysts were obviously wrong. Ocean Rig UDW has grown from 2 semi submersibles to 11 ultra-deep water drilling units, growing revenues, 6B contracted backlog and a publicly traded company with a market cap of $2B. It is important for investors to realize that it takes massive capital expenditures and a long lead time in the oil and shipping business.
There is no doubt the Mr. Economou has diluted shareholders. Some would say he took on unnecessary risk, I would say that most shippers did not see the financial crisis of 2008 on the horizon. Like him or not, George Economou has navigated the worst shipping cycle in our lifetime.
Here is a 240 weekly chart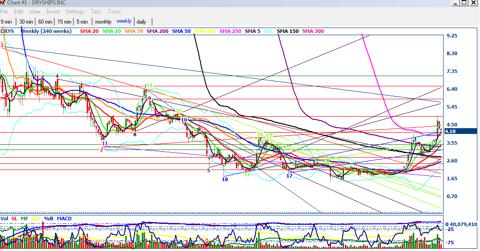 Click to enlarge
In a previous article on December 5th, I stated: now is the time to load the boat on DryShips. At the time the company had just suspended the ATM. I pointed out to investors that the long term saucer type cup with handle was indicating a breakout to new highs. The stock rallied over 40% in 3 weeks. The share price is now sitting on the number 18 trend line that was drawn many months ago. That is a clear level of support going back to April of 2010, when oil was spilling into the gulf.
My view is this: we are consolidating around this level; therefore I would hold the stock. Investors had an idea that the ATM would be revisited at a later date. The share price has pulled back, any panic plunge to the $3.80 level, would in my opinion be a great entry point. I am not so sure the market will present that opportunity. I have a $6.50 upside target on the stock. While there may be some volatility in the near future, I like the long term chart and improving fundamentals.
Conclusion
DryShips is consolidating and possibly selling shares into the market. It is my belief that Evercore Group L.L.C may have a large institution or hedge fund in place to purchase the majority of shares available. While the BDI is weakening, the Suezmax and Aframax rates are at multi year highs, which will help earnings. The economy is slowly improving and the pullback in DryShips' share price gives other investors that missed out, an opportunity to play the rebound in shipping. I encourage you to do your own research, pick your entry points carefully and always have an exit strategy in place before you invest in any stock.
Disclosure: I am long DRYS, PBR, KWK. I wrote this article myself, and it expresses my own opinions. I am not receiving compensation for it (other than from Seeking Alpha). I have no business relationship with any company whose stock is mentioned in this article.