The relentless upward march by the indices came to a temporary pause on the first trading day of the year. In reality, this hardly dented the weekly performance for the DJIA, but did cause a more noticeable weekly change for the NASDAQ Composite and the S&P 500.
Small reversal did also take place for bond rates, and similarly, this did not seem to dent or present any fundamental change. On the other hand, Gold (NYSEARCA:GLD) did attempt to stage a more notable reversal.
I doubt that this was a prelude to a correction, as the volume was hardly there. Further, having a "New Year" in the middle of the week is bound to distort market action, as there are financial P&L realization that happens at the end of a year (realizing loss or gain-depending on which you do not have enough of), and some such activity does carry over to the new year (realizing losses or gains that you did not need for the previous year). Add to that the end of month/quarter/year window dressing, and you reach the conclusion that you have to wait for fresh trading in the following week(s) to confirm any intuition.
My intuition, though, is that some short-term consolidation is in the works. These happen at the rate of once a month, and of varying depth. Yet, none since summer of 2011 mounted to a correction. You see, my short-term oscillator dropped to "bought," as opposed to "overbought" levels. Normally, if this oscillator switches direction it will reach - at least - neutral or beyond before reversing again. Yet, as mentioned in the previous paragraph, we will have to wait and see!
Here let me clarify what I mean by consolidation, correction and crash. As far as I am concerned, if I see the reversal only in the daily charts, then it is a shallow, short-lived "consolidation." If the reversal shows in the weekly charts, then it is a medium depth and duration "correction." A "crash" will show up as a reversal on the monthly charts. This is as true for individual equities as it is for indices. Mind you, "charting" follows the market. As such, certainty about an event comes "after the fact." Predictions, regardless of how competent the person is, are only statistical in nature. That is, "if such a pattern is noted, then there is such probability of this event following!" After all, if you do not believe that market prices progress according to a "mean-reverting, long-normal random process," then the market is a "certain danger zone!"
On this note, I did bring up the possibility of some correction in 2014 - if indices do not reduce the current rate of appreciation. As such, I was amused to read an interview with Mr. Marc Andreessen, currently acting as a VC, relating to him wondering about the bubble talk. Mind you, Mr. Andreessen is most probably a better technologist than most will be - myself included. Yet, this same talk is what we heard during the internet bubble, which, interestingly, Marc's company (Netscape) was the historic point of starting, with its unprecedented mid-1990′s IPO.
Let me borrow a chart from a recent article of mine. If you look at the S&P 500 rate of growth during that 1990′s era (line 1), and if you assume that it remained unabated, as the pundits were lecturing us at the time, then you should ask yourself how much larger than the current total GDP of the USA would the valuation of the S&P 500 listed companies be today? Note that the accepted historical average for this measure in the mid-80%; it was around 130% at the peak of year 2000. On this note, the S&P 500 is noted at $17.3 trillion at end of November with the GDP at around $16 trillion!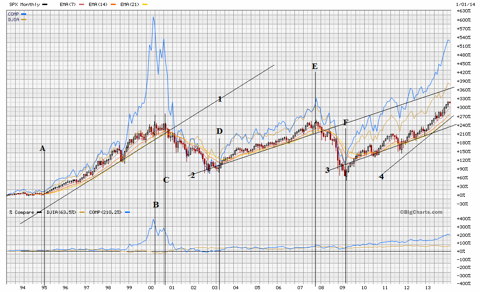 Personally, what is most worrisome about the above chart is the similarity of the behavior of Mr. Andreessenn's playground, the NASDAQ Composite - blue line - to what transpired in the mid-1990′s. Incidentally, 20-years is a generation, and memories usually fade within a generation.
My regular table for the indices follows.
Index/ETF Symbol and Name
Daily 3-EMA-7
Weekly 3-EMA-7
Perceived Trend
SPX
S&P 500 Index
Up
Up
Neutral
DJIA
Dow Jones Industrial Average
Up
Up
Positive
COMP
NASDAQ Composite Index
Up
Up
Neutral
GLD
SPDR Gold Trust ETF
Down
Down
Positive
VIX
CBOE Volatility Index
Down
Down
Neutral
FVX
CBOE 5 Year Treasury Note Yield Index
Up
Up
Positive
TNX
CBOE 10 Year Treasury Note Yield Index
Up
Up
Positive
TYX
CBOE 30 Year Treasury Bond Yield Index
Up
Up
Positive
As usual, the reminder is that the movement of the treasury yields is negatively correlated with the price of the underlying instrument.
Since this is the first update for the new year, it is appropriate to remind of the meaning of each column. The "Daily-3-EMA-7″ is my readings of the patterns on the exponential moving averages for 7, 14, and 21 daily periods. This represents in my opinion a mid-term type of reading on market behavior. The "Weekly-3-EMA-7″ is the exponential moving average pattern relating to weekly intervals of 7, 14, and 21 weeks. This is a long-term reading that is not easily reversed, and I use as a proxy for reading fundamental market movements. The Perceived Trend column is a proprietary measure I use to decide whether to act in the market or not. This is a sensitive short-term measure that can change on daily basis.
As for my trading set, my short term "Perceived Trend Oscillator" stood at a "bought" +38%. This is in contrast of the overbought reading of 78% in the previous week.
As you can see from the table below, I did significantly reduce holdings due to the previous week overbought signal. As it turns out, I did not need to be less aggressive on the buying, there were hardly any fresh buy signals anyways!
A change worth noting is that I dropped J.C. Penney (NYSE:JCP) from my trading set and replaced it with Target (NYSE:TGT). In a separate future article I will go over the process and logic of this change. In essence, the process will allow interested readers to construct their own trading sets that are more suited to their market style and goals. The quick reasons here is that I wanted to remain with emphasis on retail and I still think a JCP-like entity - hence TGT - is more appropriate than more luring high-flyers such as VF Corporation (NYSE:VFC). On the other hand, I did have to think hard regarding including a new issue in the set which has a negative long-term reading, but as other trading-set issues in that group have the same indication (GPS, ANF, MCD), I did make an exception.
The full trading set table is as follows.
Symbol and Company Name
Daily 3-EMA-7
Weekly 3-EMA-7
Perceived Trend
Is a Current Holding?
(NASDAQ:GERN)
Geron Corporation
Down
Up
Neutral
Yes
(NYSE:JPM)
JPMorgan Chase & Co.
Up
Up
Positive
(NYSE:GS)
The Goldman Sachs Group, Inc.
Up
Up
Positive
(NYSE:WFC)
Wells Fargo & Co.
Up
Up
Positive
(NYSE:NLY)
Annaly Capital Management, Inc.
Down
Down
Positive
Yes
(NYSE:MO)
Altria Group, Inc.
Up
Up
Negative
(NYSE:T)
AT&T Inc.
Up
Down
Neutral
Yes
(NYSE:VZ)
Verizon Communications Inc.
Neutral
Neutral
Negative
Yes
((NYSE:GPS))
The Gap, Inc.
Down
Down
Positive
Yes
((NYSE:ANF))
Abercrombie and Fitch Co.
Down
Down
Negative
Yes
(NYSE:JWN)
Nordstrom, Inc.
Up
Up
Positive
Yes
(TGT)
Target Corporation
Neutral
Down
Positive
Yes
(NYSE:DIS)
The Walt Disney Company
Up
UP
Positive
((NYSE:MCD))
McDonald's Corp.
Up
Down
Neutral
Yes
(NASDAQ:MDLZ)
Mondelez International, Inc.
Up
Up
Neutral
(NYSE:BA)
The Boeing Company
Up
Up
Positive
Yes
(NYSE:LMT)
Lockheed Martin Corporation
Up
Up
Positive
(NYSE:CAT)
Caterpillar Inc.
Up
Up
Neutral
(NYSE:DE)
Deere & Company
Up
Up
Positive
(NYSE:EMR)
Emerson Electric Co.
Up
Up
Neutral
(NYSE:DOW)
Dow Chemical Co.
Up
Up
Neutral
(NYSE:ADM)
Archer, Daniels, Midland, Co.
Up
Up
Neutral
(NYSE:MON)
Monsanto, Co.
Up
Up
Positive
(NYSE:POT)
Potash Corp. of Saskatchewan Inc.
Up
Neutral
Positive
(NYSE:PFE)
Pfizer Inc.
Down
Up
Neutral
(NYSE:BMY)
Bristol-Myers Squibb Company
Up
Up
Neutral
(NYSE:ABC)
AmerisourceBergen Corporation
Up
Up
Neutral
(NASDAQ:AAPL)
Apple, Inc.
Neutral
Up
Negative
(NASDAQ:INTC)
Intel Corporation
Up
Up
Positive
(NASDAQ:CSCO)
Cisco Systems, Inc.
Up
Down
Positive
Yes
(NYSE:HPQ)
Hewlett-Packard Company
Up
Up
Positive
(NYSE:CVX)
Chevron Corporation
Up
Up
Positive
(NYSE:BP)
BP plc
Up
Up
Positive
(NYSE:NGG)
National Grid plc
Up
Up
Positive
(NYSE:NI)
NiSource, Inc.
Up
Up
Neutral
(NYSE:WMB)
Williams Companies, Inc.
Up
Up
Positive
(NYSE:WM)
Waste Management, Inc.
Neutral
Up
Negative
Yes
(NYSE:CNW)
Con-way Inc.
Down
Neutral
Negative
Yes
(NYSE:CSX)
CSX Corp.
Up
Up
Positive
(NYSE:NSC)
Norfolk Southern Corp.
Up
Up
Neutral
Disclosure: It is important that you understand and agree that all information provided in this newsletter rely on publicly available data and tools with no guarantees of quality or suitability for any purpose, and that I can be long or short in any of my trading-set equities, at any time, with or without regard to indicated trends and described analytics, and that I do not give buy or sell or any other financial recommendations, and that any and all actions based on this commentary are solely the responsibility of the reader.