2012 marked only the 9th time in 48 years that Buffett's Berkshire Hathaway (NYSE:BRK.A) (NYSE:BRK.B) had a book value increase less than that of the S&P 500's (SPY) price appreciation with dividends included. 2009 and 2010 were two other years where Berkshire fell short of the S&P 500 in this respect.
2013 saw the S&P gain 31.9% with dividends included. Berkshire hasn't seen an increase in book value in that range since the 90s. Most likely 2013 will end up being the 4th year in the last 5 that Berkshire underperformed the index, making 2009-2013 the first ever 5-year period where this has happened while Buffett was with the company.
As Buffett himself points out, this is the yardstick by which his performance as a manager should be gauged, even if book value is an understated proxy for intrinsic value. When Berkshire's FY 2013 is complete and this is finalized, you can bet this is going to be something concentrated on. So has Berkshire finally grown so large it has become an inferior investment to a low cost index fund? I don't think so.
First, it's important to note the environment this happened in. The S&P 500 finished 2008 at 903.25 and finished 2013 at 1,841.40. It was a gargantuan run-up. Berkshire's relative performance usually shines in bear markets. Case in point: 2008. BH finished the year down only 9.6% in their book value, while the S&P 500 with dividends sank 37.0%. As Buffett says, "You only find out who is swimming naked after the tide goes out."
As people sensationalize the 2009-2013 period this shouldn't be left out of the equation. Consider the difference 2008 makes:
From 2009-2012:
| | | |
| --- | --- | --- |
| Year | Berkshire Hathaway BV per-share | S&P 500 dividends included |
| 2009 | 19.8% | 26.5% |
| 2010 | 13.0% | 15.1% |
| 2011 | 4.6% | 2.1% |
| 2012 | 14.4% | 16.0% |
| Total | 61.99% | 72.45% |
Including 2013 brings the S&P 500 gain to nearly 128%. Almost assuredly Berkshire will fall short.
Now Including 2008:
| | | |
| --- | --- | --- |
| Year | Berkshire Hathaway BV per-share | S&P 500 dividends included |
| 2008 | (9.6%) | (37.0%) |
| 2009 | 19.8% | 26.5% |
| 2010 | 13.0% | 15.1% |
| 2011 | 4.6% | 2.1% |
| 2012 | 14.4% | 16.0% |
| Total | 46.44% | 8.64% |
Adding 2013 brings the S&P 500 gain to 43.30%, which is still less than Berkshire without even including their 2013 BV growth. Plugging in even a conservative estimate for Berkshire leaves them well in front.
Estimates always vary, of course, but moving forward I don't think anyone anticipates the next 5 years to have the market offer synonymous returns to the last 5, which was coming out of the Great Recession. Moderation in the market advancement bodes well for Berkshire returning to relative outperformance. Berkshire most likely will only have down years for book value during catastrophic downturns in the market; and then not nearly as severe as the market. Buffett has always been vocal about the margin of safety he requires. Outperformance by a smaller, albeit significant enough margin is something I still anticipate them being able to achieve.
It's going to be a step down from their past though. It's simply a matter of their size. Because of this I anticipate shareholder calls to be rising in the future for these 3 things:
Breaking Up The Company
Spinoffs have undoubtedly created extra value for shareholders in the past. A recent example is members of Berkshire's portfolio ConocoPhillips (NYSE:COP) spinning off its marketing and refining business with Phillips 66 (NYSE:PSX).
While at first glance unrelated, Berkshire's businesses are not a haphazard and arbitrarily mixed group of entities. At the end of the day, Berkshire is an insurance company still. Having over $73 billion in float in 2012, 10 consecutive years of underwriting profits and an $18.6 billion in pre-tax gain over that time period demonstrates the depth and breadth of their operations.
Typical of insurance companies, the float is used to finance investments. Due to its success, Buffett has moved beyond simply purchasing stock to being able to purchase whole businesses. Nevertheless, insurance remains their core operation.
All the various businesses he owns, especially capital-intensive ones like the BNSF Railroad, have the benefit of being reinvested in at fantastic rates from the nearly never-ending supply of Berkshire cash. It's a synergy that would be absent in the event of a breakup, and that has to be kept in mind.
Share Buybacks
Done responsibly, share buybacks can be a great value adder to shareholders, but too often companies initiate buybacks when their stock price is elevated, or to offset stock dilutions. Berkshire has set up two conditions, which must be strictly met before they will initiate a buyback. First, ample funds must be available to take care of operational and liquidity needs - not likely to be a problem for Berkshire. They set the limit at $20 billion in cash-equivalent holdings in 2011.
Second, the stock must sell at a material discount to a conservative estimate of the company's intrinsic value. Originally placed at an ultraconservative 110% of book value per-share in 2011, in 2012 it was raised to 120%. Raising it allowed a $1.2 billion purchase to be made from a long-time shareholder. Although some might call for an even more ramped up program, I wouldn't anticipate another rise in the threshold used. Book value per-share is not that high above its mark where seeing more buybacks in 2014 is out of the question.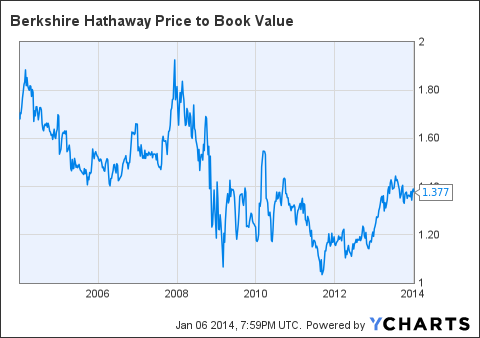 BRK.A Price to Book Value data by YCharts
Dividends
Buffett gave a strict outline of his thought process behind dividends. He has a hierarchical system for allocating available capital.
Reinvesting in currently existing businesses. Widening the economic moat, extending and improving product lines, territory increases and efficiency increases should be the goal. Using $12.1 billion for fixed-asset investments and bolt-on acquisitions in 2012 shows they have plenty of opportunities here.
Make acquisitions unrelated to current businesses. Or, as it has become known lately, "elephant hunting." Burlington Northern Santa Fe was a masterful acquisition, but those kinds of deals are not something that comes by very often and Buffett has been honest about lamenting his inability in recent years to find more of them.
Share Buybacks.
Dividends. Buffett gives 3 reasons for favoring a "sell-off policy," which is basically selling a few Berkshire shares each year in place of getting a dividend. The first reason was a specific example of the math behind it, which you can view here. The second reason is dividends specify a fixed cash-out range, leaving an individual shareholder without a choice. Finally, you have to take into consideration taxes. From the way it sounds, I wouldn't anticipate any Buffett led Berkshire dividends, ever. Post-Buffett, however, if shareholder demand stays strong, I could see it.
Despite still being capable, and being understood by many to be the greatest investor who ever lived, Warren Buffett is getting up there in age. He has spoken many times about Berkshire's succession plan being rock solid, keeping the corporate culture intact. Some things are known-his son, Howard Buffett will become nonexecutive chairman. Todd Combs and Tim Weschler will oversee the Berkshire investments. They're already on board, managing a few billion each. If their early picks are any indicator, things should be great. Picks such as DaVita HealthCare Partners (NYSE:DVA) and DirecTV (DTV) have by Buffett's own admission, "left me in the dust" in regards to his own picks. Still, there is more reticence on the subject than some people would like to see.
The uncertainty is causing a discount in Berkshire shares; one, which will probably remain as long as Buffett stays CEO. This presents an excellent buying opportunity if you think the sun hasn't quite set on Berkshire giving shareholders above-average long-term gains.
Disclosure: I am long BRK.B. I wrote this article myself, and it expresses my own opinions. I am not receiving compensation for it (other than from Seeking Alpha). I have no business relationship with any company whose stock is mentioned in this article.