Overview
In 2013, the retail industry saw several companies struggle. From specialty stores that toiled with declining sales to store closings from large department stores such as J.C. Penny (NYSE:JCP) and Sears Holding Corporation (NASDAQ:SHLD). One of the companies that has been able to maintain positive growth in a tough environment is Macy's, Inc. (NYSE:M), but a stock that I like even more is Dillard's, Inc. (NYSE:DDS). In determining why I find Dillard's an attractive stock, I will be looking at the company's financial performance, current valuation, recent trading activity, dividend policy, earnings and future outlook while comparing those areas to a few competitors.
Company Info.
Dillard's, Inc. sells a wide range of products through its approximately 280 department stores, 20 clearance centers, and its website. The company was founded in 1938 and is based in Little Rock, Arkansas.
Financial Performance
| | |
| --- | --- |
| Gross Profit Margin (Quarterly) | 37.79% |
| Profit Margin (Quarterly) | 3.38% |
| Return on Assets (TTM) | 8.54% |
| Return on Equity | 18.49% |
| Revenue | $6.77B |
| Revenue (Quarterly YOY Growth) | 1.38% |
Looking at the chart below, you can see that Dillard's falls in between Nordstrom (NYSE:JWN) and Kohl's (NYSE:KSS) when looking at increased revenue over the past few years.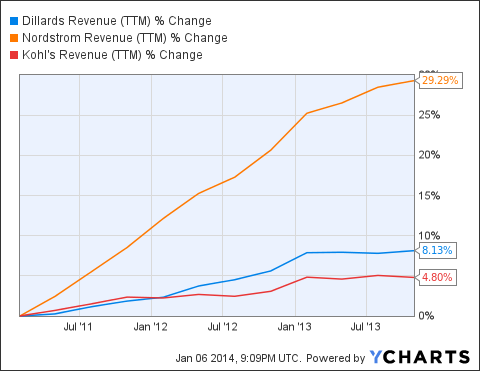 DDS Revenue (TTM) data by YCharts
Dillard's falls in the middle when looking at gross profit over the same time period as well.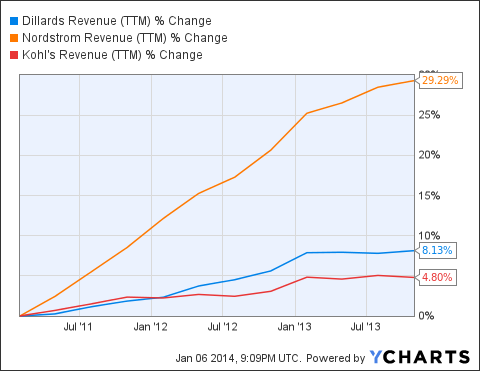 DDS Revenue (TTM) data by YCharts
Current Valuation and Trading Activity
Dillard's closed Monday at $95.81, which is $2.06 lower than its 52-week high and $20.48 higher than its 52-week low. It is trading above both its 50-day moving average of $92.75 and its 200-day moving average of $83.87.
Dillard's has a current PE ratio of 12.31x and a price to book value of 2.25x.
Looking at the chart below, you can see that the stock is attractively priced compared to historical PE values.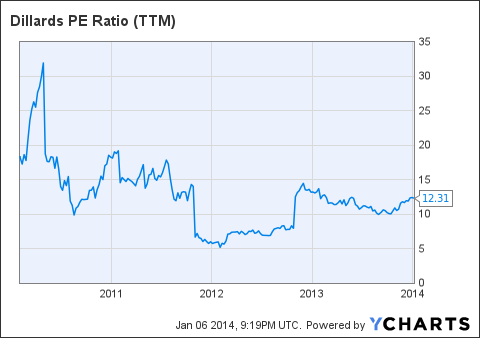 DDS PE Ratio (TTM) data by YCharts
The price seems even more attractive when compared to the PE ratios of Kohl's and Nordstrom.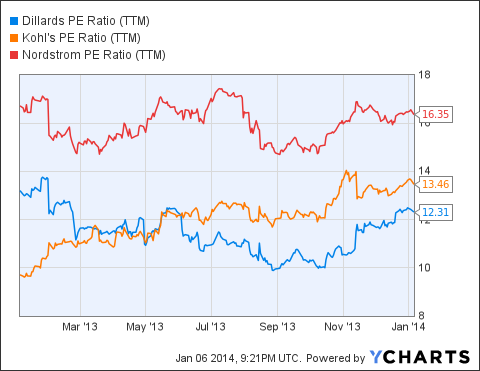 DDS PE Ratio (TTM) data by YCharts
Dillard's has seen the following price returns:
| | |
| --- | --- |
| 1 Month Price Return | 5.30% |
| 1 Year Price Return | 17.88% |
| 3 Year Price Return | 146.80% |
Compared to Kohl's and Nordstrom, Dillard's has seen a significantly greater increase in stock price over the past five years.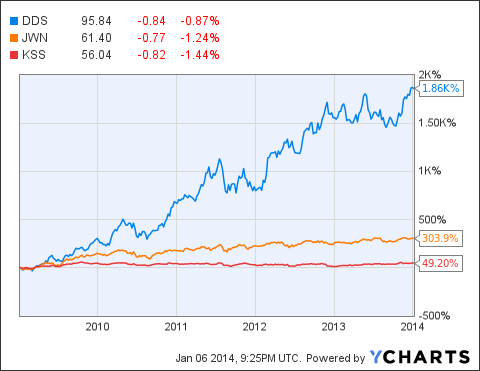 Dividend
Dillard's currently pays a fairly meager $0.06 quarterly dividend that yields 0.25%. While Dillard's dividend is very low, it has been consistent and slowly growing since 2001. (In 2012, Dillard's declared a $5 special dividend to shareholders.)
Earnings
Earnings is where Dillard's has really been able to outshine its competitors. For its latest quarter, the company reported earnings per share of $1.13, which was $0.13 higher than estimates and $0.17 higher than the same period last year.
From the chart below, you can see that Dillard's earnings growth have greatly exceeded its competitors Kohl's and Nordstrom and has even outpaced competitors that have performed well over the past several years such as Macy's.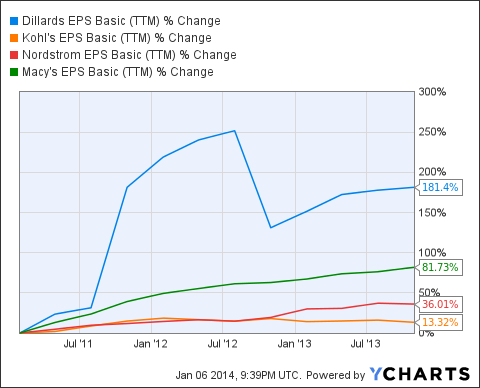 DDS EPS Basic (TTM) data by YCharts
Future Outlook
With growing sales and lower costs, I don't see any reason to assume that Dillard's success will not continue into the future. While the stock pays a small dividend, Dillard's has been strongly committed to returning shareholder value through multiple stock buybacks.
I believe that Dillard's strategy of closing underperforming stores while continuing to build new stores in attractive markets will help the store continue its run of increasing revenue and earnings.
Conclusion
While the department store sector of the retail industry is not without risk, I feel that Dillard's is one stock that is well positioned for the future. I believe the company has made a strong effort to cut costs and return shareholder value through stock buybacks, which enables the company to maintain profit and earnings even if and when the company faces short term struggles with revenue growth.
Compared to other companies such as Kohl's, Nordstrom, and even Macy's, I think Dillard's is currently the most attractive stock. Although I like Macy's as well. As always, I recommend individual investors perform their own research before making any investment decisions.
Disclosure: I have no positions in any stocks mentioned, and no plans to initiate any positions within the next 72 hours. I wrote this article myself, and it expresses my own opinions. I am not receiving compensation for it (other than from Seeking Alpha). I have no business relationship with any company whose stock is mentioned in this article.