Constellation Brands (NYSE:STZ), the world's largest publicly-traded winery, is set to report fiscal third quarter 2014 earnings tomorrow morning. The consensus has Constellation earning 89 cents per share on revenues $1.4 billion.
I've never been a big fan of Constellation, as the economics of the wine business are much less attractive than those of beer and spirits. Wineries have far less brand value than beer brewers and liquor distillers and tend to have lower margins. In February of last year, I recommended readers steer clear of STZ stock and instead focus on Dutch megabrewer Heineken (OTCQX:HEINY).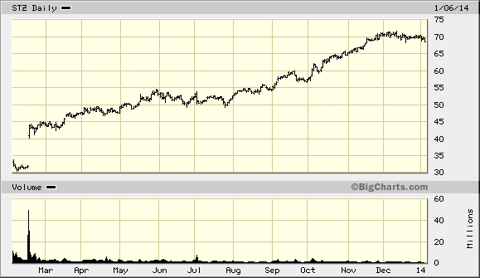 Well, the joke's on me. Since I wrote that article on February 1, Heineken is down about 10%. Meanwhile, STZ stock is up well over 100%.
What gives? Did the economics of the wine business suddenly improve?
Not exactly. The fact it, Constellation is not really a publicly-traded winery anymore, or at least not exclusively. The event that ignited the rally in STZ stock was its transformation into a beer company.
In mid-February of last year, Anheuser-Busch Inbev (NYSE:BUD) acquired Mexican brewer Grupo Modelo, the maker of the Corona and Negro Modelo brands, but as part of the deal BUD had to sell the distribution rights via its stake in Crown Imports in order to keep the regulators happy.
This is where Constellation came into play. Constellation assumed the distribution for Corona and Negro Modelo, and the accounting consolidation was completed in the quarter ended August 31. The result? Constellation's quarterly sales more than doubled and earnings per share jumped by 35%. A majority of STZ revenues now come from beer sales.
So, where does STZ stock go from here?
I don't expect it to crash. Even after the recent run, STZ stock trades for 18 times forward earnings. That's expensive but not out of line with other major brewers in a broadly overpriced market.
But as I noted back in February of last year, "Getting access to Modelo's highly-recognizable brands like Corona and Negro Modelo is good for Constellation's long-term future. But investors need to sober up: the U.S. beer market is flatter than a week-old keg of Budweiser."
At current valuations, Constellation is not attractive relative to its larger and better diversified megabrewer rivals-all of which have better exposure to emerging markets. As long-term holdings, I see better value in Heineken, Anheuser-Busch InBev and SAB Miller (OTCPK:SBMRY).
Disclaimer: This site is for informational purposes only and should not be considered specific investment advice or as a solicitation to buy or sell any securities. Sizemore Capital personnel and clients will often have an interest in the securities mentioned. There is risk in any investment in traded securities, and all Sizemore Capital investment strategies have the possibility of loss. Past performance is no guarantee of future results.