Talk about déjà vu! Shares of Zanett (OTC:ZANE) have risen over 800% in the past few days based on several carefully crafted press releases. Let's stroll down memory lane to 2007 when Zanett released a dubious press release touting a $45 billion dollar contract. The headline read:
"Zanett's Paragon Division Selected For Delivery Team On $45 Billion Department of Homeland Security Program -- Classified IDIQ Contract to Last 5 Years."
This convoluted syntactical distortion of the English language beguiled many to believe that Zanett had signed a 45 billion dollar contract that would last 5 years. But after a judicious review of the entire press release it became clear, "the devil was in the details." Paragon was only selected to be "part of a team" to provide "IT services" to the Department of Homeland Security with no mention of actual revenue to be earned. But before the linguistic detectives could decipher the mysterious language, the genie was out of the bottle. The ambiguous press release succeeded in conjuring unimaginable delusions of ridiculous wealth.
Shares doubled overnight and ZANE soared. But it wasn't long before the facts surfaced and shares began to slide, and slide, and slide until they were below a dollar (pre-split adjusted) and further drained to .20 (post split adjusted) or .05 when you factor in the 1 to 4 reverse split on June 1, 2008. Angry investors spued verbal venom as bag-holders' syndrome set in. The following year Zanett sold Paragon for 8.875 million. Seems like a paltry sum for a company that touted a 45 billion dollar deal.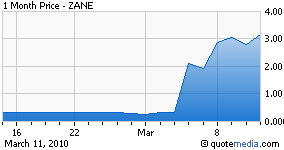 More recently, shares of ZANE were languishing around .35 to .40 (reverse split adjusted .10) with little or no trading activity (1-month chart on right). Zanett was doomed to delisting until new investors provided a stay of execution. Shares jumped to a new 52-week high of 3.57 (reverse split adjusted 0.89). Zanett's 3.3 million share float has traded up to 3.5 times in one session -- and why? Read the 2 new press releases touting record-breaking contracts being signed by Zanett. Better yet, study them over and over. Do your homework and remember "caveat emptor" (let the buyer beware).
The January 2007 press release can still be viewed at the company's website http://zanett.investorroom.com/index.php?s=43&item=48.
Disclosure: Author has no position in ZANE or ACN.