GlaxoSmithKline (NYSE:GSK) is a British multinational pharmaceutical company, ranking among the largest companies within its industry by sales. Currently, it offers a dividend yield of 4.6%, which is higher than the industry's average and is very attractive for income investors. This high-dividend yield does not reflect an unsustainable dividend but is mainly the reflection of negative news flow over the past 18 months, which has resulted in a poor share performance compared to its closest peers during this period, as shown in the next graph.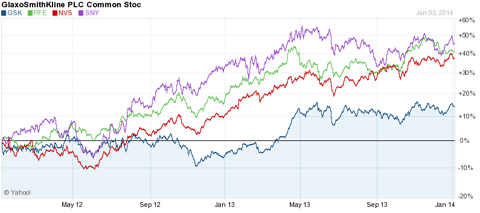 Company Overview
GlaxoSmithKline is a pharmaceutical, vaccines and consumer healthcare company headquartered in London, U.K. It is the world's fifth-largest pharmaceutical company after Pfizer (NYSE:PFE), Novartis (NYSE:NVS), Sanofi (NYSE:SNY) and Merck (NYSE:MRK). The company was established in 2000 by the merger of Glaxo Wellcome Plc and SmithKline Beecham Plc. It is currently the largest healthcare company in the U.K. with over 100,000 employees. GlaxoSmithKline has a market capitalization of about $128 billion, and is traded on the New York Stock Exchange as American Depositary Receipts [ADR]. The company's three primary areas of business are Pharmaceuticals, Vaccines, and Consumer Healthcare. The pharmaceutical division is the largest accounting for 68% of the group's revenues. GlaxoSmithKline's Consumer Healthcare accounts for 19% of sales, with Vaccines representing the remaining 13%.
As a global healthcare company, GlaxoSmithKline's sales are very well diversified geographically. GlaxoSmithKline's revenues outside the U.S. and Europe account for about 40% of its total sales during the past year, being therefore very well exposed to high-growth markets. Sales in emerging markets account for about 26% of the group's total and should be the major growth driver over the coming years. In addition, government's budget constraints throughout the developed economies are also a headwind for the sector's top-line growth and profitability, so companies with more exposure to emerging markets clearly offer better dividend sustainability over the long-term.
A large part of healthcare power to make great profits come from investing in proprietary intellectual property, resulting on brand-name drugs that companies can patent and sell exclusively for a fixed period of time. GlaxoSmithKline has spent about $5.7 billion in research and development [R&D] during 2012, or about 13% of its sales, with the pharmaceutical division being responsible for 80% of the company's R&D investments. It currently has about 14 assets in late stage pipeline, which can be a significant boost to GlaxoSmithKline's top-line growth over the next few years. During 2013, GlaxoSmithKline has achieved four approvals showing that its R&D investments are paying off, and more approvals are expected over the next few months. The company's return on R&D investment is about 12%, which is higher than the industry average of about 8-9% and the company's goal is to improve returns on R&D investment to around 14% over the next couple of years. On the negative side, one the key issues facing the industry right now is major patent expiries over the next few years. GlaxoSmithKline is also affected by this issue given that its most important product is Advair, which accounts for about 20% of its sales, and a reduction of its sales is expected following its U.S. patent expire in 2016. However, as the company is already working to bring improved products to the market the loss of its patent shouldn't be a major problem if they are successful in reducing Advair's weight on sales.
Another issue that has affected GlaxoSmithKline is the negative news flow over the past eighteen months, helping to justify its higher than average dividend yield. In July 2012, GlaxoSmithKline pleaded guilty to criminal charges in the U.S, and agreed to pay $3 billion in fines including a criminal fine of $1 billion. More recently, the company has an issue in China, as its business is being investigated by authorities over allegations of fraudulent behavior. This has led GlaxoSmithKline to announce last December that it intends to end two common industry practices that appear to cause conflicts of interest: paying doctors to promote the company's drugs and linking the compensation of sales representatives to the number of prescriptions that physicians write. Although this is obviously negative, it does not change the company's fundamentals and may provide a good entry point for long-term investors.
Financial Overview & Dividends
Regarding GlaxoSmithKline's financial performance, it has been relatively stable over the past few years which is good for income investors as it also gives a good level of predictability regarding its future. In 2012, GlaxoSmithKline's revenues declined by about 3% to $40.1 billion, but were stable considering the disposal of its OTC Consumer Healthcare brands. It was negatively impacted by a challenging economic environment in Europe and austerity measures implemented, leading to a sales drop of 7% in this geography during the year. On the other hand, sales in emerging markets performed well, growing by 10%. Its new products were responsible for $2.3 billion in sales, or approximately 7% of total sales, helping to offset declining sales of older drugs. Going forward, and according to analysts' estimates, its growth should pick-up to 1.2% in 2014 and 4.2% in 2015 to reach more than $45 billion.
GlaxoSmithKline is a very profitable company given that its EBITDA was $15.4 billion in 2012, representing an EBITDA margin of 35.6%. Within the major pharmaceutical companies only Pfizer has a higher EBITDA margin; a gap that should narrow over the next few years as GlaxoSmithKline has a cost reduction program ongoing, targeting annual savings of more than $6 billion by 2016. Its EBITDA margin is expected to increase to almost 37% in the next two years, mainly from higher efficient operations. During the first nine months of 2013, the company's results were stable with sales flat at $32 billion, and unchanged core operating profit of $9.7 billion. Its full year 2013 guidance is for core earnings-per-share growth of 3-4% in sales growth around 1% at constant exchange rates.
Regarding its dividend, GlaxoSmithKline's history is very good given that it has always paid dividends since its merger in 2000. Furthermore, company is committed to deliver a growing dividend and return excess cash to shareholders through share buybacks. In 2012, GlaxoSmithKline has returned more than $9.5 billion to shareholders through dividends and share buybacks, representing about 7.5% of its current market capitalization. Its last quarterly dividend was $61.6 cents per share, an increase of 6% from the previous quarter. Its annualized dividend is $2.46 per share, which at its current stock price represents a dividend yield of 4.6%. Over the past five years, the dividend CAGR was 6.6% which is quite good for a large company like GlaxoSmithKline. For the next two years, its dividend growth rate should remain in-line with its historical average, increasing to about $2.80 per share in 2015.
On the other hand, its dividend payout ratio is relatively high at 74% but given the company's stable business and good profitability its does not seem to threaten the dividend sustainability. It would be good to see a lower payout ratio over the next few years to about 60% which is more sustainable over the long-term. Even though the relatively high payout ratio may cause some doubts regarding its sustainability, looking at cash flows the picture is completely different.
GlaxoSmithKline's cash flow generation is very good, as usual within the healthcare industry. Its cash flow from operating activities was $11.5 billion in 2012, which was enough to finance its capital expenditures, dividends and share buybacks. As the company's capex is relatively low and is not expected to increase in the near future, its free cash flow should remain robust over the next few years. During the first nine months of 2013, its cash flow excluding legal costs has remained stable with a free cash flow of $5.3 billion more than covering its dividend payments of $4.6 billion, showing that its dividend is clearly sustainable and has some room to deliver a growing dividend without resorting to higher balance sheet leverage.
GlaxoSmithKline's balance sheet is relatively strong, even though it is more leveraged than most of its peers. As of 30 September, 2013, its net debt was close to $25 billion, representing a net debt-to-EBITDA ratio of 1.57x. This leverage ratio is acceptable given the company's fundamentals, namely its stability, good profitability and strong cash flow generation capacity. Moreover, GlaxoSmithKline has recently completed divestitures totaling more than $3 billion and its leverage ratio should will decline to about 1.25x, strengthening even further its balance sheet and increasing its dividend sustainability in the long haul.
Conclusion
GlaxoSmithKline has been negatively impacted by news flow over the past few months leading to a higher than average dividend yield give that its share price has not rallied like the market and its peers, despite its unchanged business fundamentals. Its dividend seems to be sustainable and is expected to continue its growing path over the next few years, making it a compelling investment for long-term investors that look beyond the company's short-term issues.
Disclosure: I have no positions in any stocks mentioned, but may initiate a long position in GSK, over the next 72 hours. I wrote this article myself, and it expresses my own opinions. I am not receiving compensation for it (other than from Seeking Alpha). I have no business relationship with any company whose stock is mentioned in this article.