The strongest sector views for 2014 expressed by leading investment firms are:
FAVOR technology, industrials and energy
AVOID telecommunications, utilities and staples.
The views on the other sectors are more mixed. You can see a video of our development of those views on our blog (video link).
One of the data tables in the video that summarizes the analyst sector preferences is this one:

Click to enlarge
Based on those views, we looked at 7 leading dividend ETFs to compare their sector weights. We favor those that have more technology, industrials and energy; and less telecommunications, utilities and staples.
The 7 ETFs are:
The 3 most attractive to us are:
We prefer them because the have more of the "favor" sector weights and less of the "avoid" sector weights. They maintain their dividend disciplines, but are positioned more in line with the dominant analyst view of best sectors for 2014.
Here is how they compare by sector weight. We pink shaded the sectors for those dividend ETFs that have more of the sectors to be avoided; and green shaded the sectors for those dividend ETFs to be favored.

Click to enlarge
We are particularly adverse to those dividend ETFs with high utility and telecommunications exposure, both of which have worse overvaluation than other sectors.
Historical Hypothetical With 3 Favorites Equal Weight
Should you have owned our current favorite 3 dividend ETFs, these data illustrate how they would have done and how they are current composed.
The quarterly difference between the total return of the 3 equal weighted ETFs versus the S&P 500 was as follows over the past 5 years: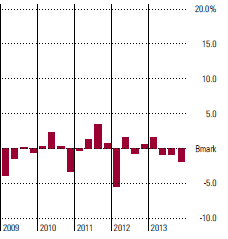 The 3-year and 5-year mean returns, standard deviation and Sharpe Ratios versus the S&P 500 were:

The equity style allocation currently is: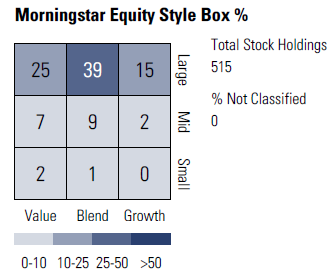 The current sector allocation and comparison with the S&P 500 is: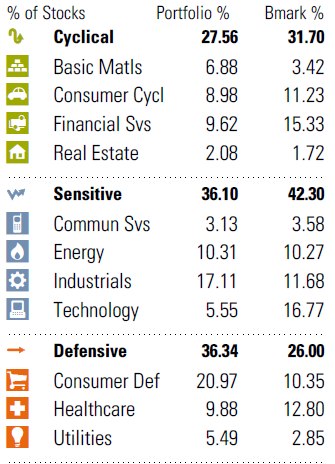 Current valuation and operating metrics are: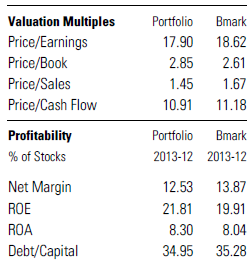 Top 20 Stocks Held In 3 ETF Portfolio
If you currently hold our favored 3 dividend ETFs in equal weight, your top 20 holdings and their weights are:
(NYSE:XOM) Exxon 3.59%
(NYSE:CVX) Chevron 2.97%
(NYSE:PG) Procter & Gamble 2.93%
(NYSE:KO) Coke 2.57%
(NYSE:PEP) Pepsi 2.44%
(NYSE:WMT) Walmart 2.35%
(NYSE:MCD) McDonald's 2.22%
(NYSE:MMM) 3M 1.83%
(NYSE:T) AT&T 1.82%
(NYSE:JNJ) Johnson & Johnson 1.74%
(NYSE:UTX) United Technologies 1.62%
(NYSE:ABT) Abbott Labs 1.56%
(NASDAQ:MSFT) Microsoft 1.30%
(WAG) Walgreens 1.30%
(NYSE:EMR) Emerson Electric 1.27%
(NYSE:GE) General Electric 1.24%
(NYSE:OXY) Occidental Petroleum 1.24%
(NYSE:CL) Colgate-Palmolive 1.11%
(NYSE:IBM) IBM 1.09%
(NYSE:ABBV) AbbVie 1.08%
Disclosure: QVM has positions in SDY, VYM, CVX, JNJ, WAG, and ABBV as of the creation date of this article (January 7, 2014). We certify that except as cited herein, this is our work product. We received no compensation or other inducement from any party to produce this article, but are compensated retroactively by Seeking Alpha based on readership of this specific article.
General Disclaimer: This article provides opinions and information, but does not contain recommendations or personal investment advice to any specific person for any particular purpose. Do your own research or obtain suitable personal advice. You are responsible for your own investment decisions. This article is presented subject to our full disclaimer found on the QVM site available here.