It is no secret. Liberty Media (LMCA) is out to make some moves in 2014. The company started out the year with a bang by offering to take over Sirius XM (NASDAQ:SIRI) in its entirety. The offer, an all-stock deal tied to a ratio, valued Sirius XM at about $3.69 per share. That news has some Liberty Media investors quite excited, while at the same time is frustrating Sirius XM investors. Liberty investors likely see it as a fair deal, while Sirius XM investors are looking for more of a premium.
For their part, Sirius XM has named a committee made up of independent directors to assess the proposal. That committee has Eddy Hartenstein, James Holden, and Joan Amble as members, with Hartenstein acting as the chair.
In assessing the offer, I hear many investors wanting a premium. Some speak to numbers like $4.50, $5.00, or even $6.00. While I agree that there is a lot of potential with satellite radio, I must admit that the equity already trades at a substantial premium over some other media companies. In many ways it deserves to trade at a premium. The question is how much.
When placing a value on Sirius XM, I like to use a method that applies a ratio to the Enterprise Value as compared to Adjusted EBITDA. I must warn readers that some information here is not exact. We have no real way to know how many shares have been taken out in buybacks, nor can we really assess the cash situation. I have applied estimates there. The Enterprise Value is derived from the market cap + debt - cash and equivalents. The adjusted EBITDA is derived from company guidance.
The chart below shows that the Liberty offer gives us an EV/EBITDA multiple of about 18.73. This level is actually where Sirius XM is quite comfortable. In the past year or so, the equity has carried a multiple as low at 17 and as high as about 22. The current Liberty offer likely sits slightly on the low side of "neutral".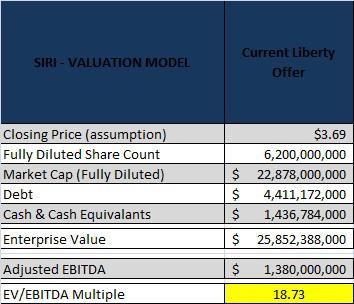 The next chart will show where the multiple stands with Sirius XM trading at $3.85 (the current level). As you can see, that would bring a multiple of 19.45, which is pretty much right in the middle of the most bullish and bearish situations.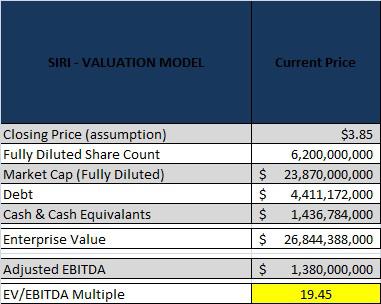 If we place a $4.18 price on each share of Sirius XM, which is the 52 week high, we get the multiple almost to 21. This is now in what would be a valuation premium (vs. how Sirius XM trades) using the EV/EBITDA method.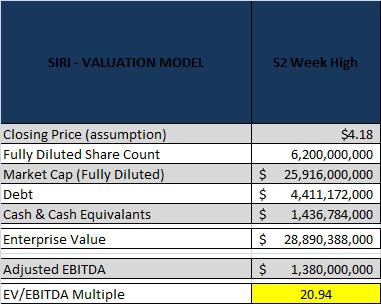 The 52 week high is about the peak of where I see Liberty Media going, and I only see that happening if the situation gets desperate. Just for illustration, I will show the share price that gets us to a multiple of 22. That happens to be a price of $4.42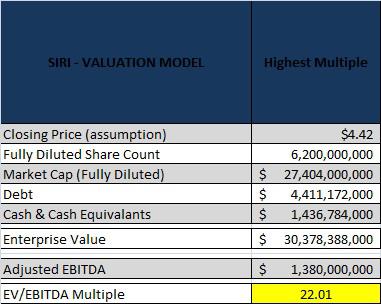 I think that Sirius XM investors would love to see a valuation at $4.42, but I do not think that Liberty is willing to go that high. Sirius XM is a cash machine, but for it to command a market cap of $27 billion on Free Cash Flow of $1.1 billion is really stretching the limits.
Realistically speaking, Liberty will want to value Sirius XM at an EV/EBITDA multiple as close to 20 as possible, while Sirius XM shareholders would likely be content with that multiple being at 21. Simply stated, the stock price that I think will be the sweet spot may be between $4 and $4.20 or so, and I lean toward Liberty keeping an upper hand in the process, thus being closer to $4.00.
Of course, this is a fluid situation. The announcements by Sirius XM today, while positive, are not a massive growth story over 2013. Pay close attention. There are many dynamics to consider.
Disclosure: I am long LMCA, SIRI, . I wrote this article myself, and it expresses my own opinions. I am not receiving compensation for it (other than from Seeking Alpha). I have no business relationship with any company whose stock is mentioned in this article.