MarkWest Energy Partners (NYSE:MWE) is a midstream MLP involved in the gathering and processing of natural gas and related products. The company is a major player in building out infrastructure in several large and growing shale plays, including the Utica and Marcellus. Over the past few years, MarkWest Energy Partners has been shifting more towards stable fee based margins and away from commodity priced exposure. Unlike many of its midstream MLP peers, MarkWest Energy Partners does not have to make any IDR payments to its general partner given that both companies were merged together in 2007. Over the past few weeks, MarkWest Energy Partners' stock is down over 10%, largely thanks to a lackluster Q3 and a $300M equity offering in December. At current prices, MarkWest Energy Partners yields around 5.10%.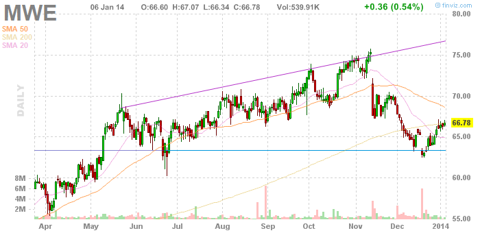 An overview of MarkWest Energy Partners' asset base
MarkWest Energy Partners' assets can be found throughout the US, with a focus on natural gas midstream related services such as gathering, processing, storage, and marketing. Areas of growth for the company include the Marcellus and Utica. MarkWest Energy Partners is currently the largest processor and fractionator in the Marcellus shale, with over 2.2 BCF/D of processing capacity and 136,000 BBL/D of fractionation capacity. This is slated to increase to over 3.7 BCF/D and 232,000 BBL/D, respectively. The company also has a large presence in the Utica, with more than 1 BCF/D of processing capacity currently being built. MarkWest Energy Partners' legacy assets are mostly found in the Texas/Oklahoma area. This corresponds to some of the older shale plays such as the Granite Wash, Barnett, Permian, and Haynesville.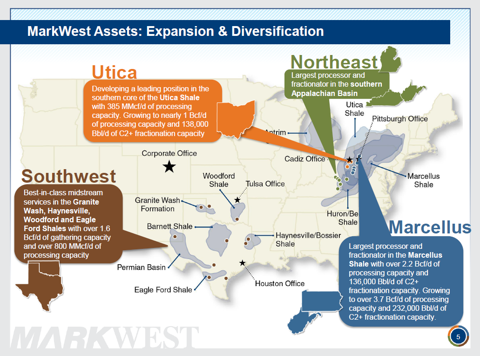 MarkWest Energy Partners has been focusing on reducing its commodity price exposure. The company has significantly increased the fee-based component of its operating margins, from about 25% in 2008 to an estimated 75% for 2014. The company has achieved this via multiple methods including the use of hedges and a move away from crude oil, natural gas, or NGLs priced revenues.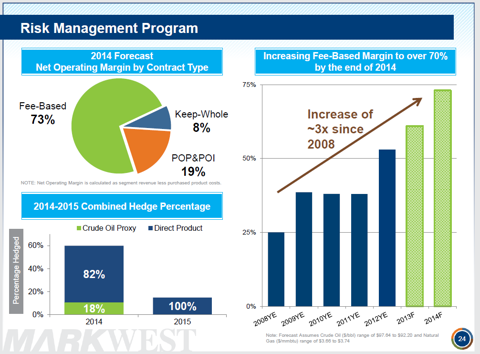 MarkWest Energy Partners is focused on organic growth
Unlike many of its peers which focus on growth by acquisition, MarkWest Energy Partners focuses mostly on organic growth projects. About 60% of its $9B growth capex budget has been spent on growing its present asset footprint, with the vast majority being invested in the Marcellus and Utica. Since 2008, MarkWest Energy Partners has increased its natural gas volume capacity at a CAGR of nearly 23%, from about 1.2 BCF/D to well over 4.1 BCF/D.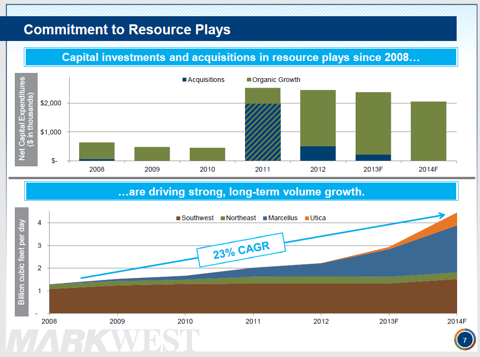 For 2014, MarkWest Energy Partners has 18 major processing and fractionation projects on its slate. These projects are estimated to cost the company from $1.8B to $2.3B this year. While expensive, these projects should provide MarkWest Energy Partners with a stable long-term source of revenues via volume commitments from area energy producers.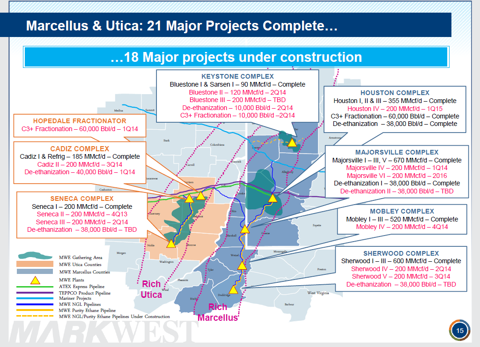 These projects will add significant capacity to MarkWest Energy Partners' systems. As an example, for the Utica, processing capacity is estimated to increase by nearly 600 MCF/D while fractionation capacity is estimated to increase by 138,000 BBL/D by 2015.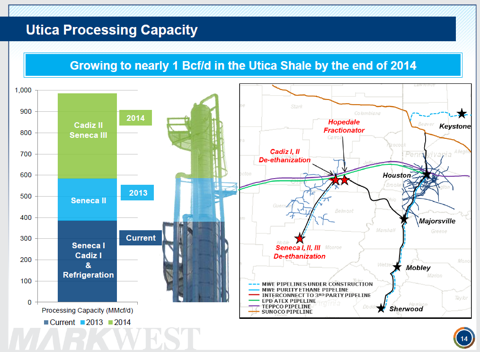 JV with Kinder Morgan could be a big win
Another major project of note for MarkWest Energy Partners is its joint venture with Kinder Morgan Energy Partners (NYSE:KMP) and The Energy and Minerals Group to build NGL takeaway highway to the Gulf Coast. The companies are looking to build a large-scale processing complex in Ohio and convert a corresponding pipeline to the Gulf Coast markets and fractionation facilities in Mont Belvieu. Below is a fuller explanation of the project:
The pipeline will involve converting over 1,000 miles of KMP's 24- and 26-inch Tennessee Gas Pipeline system, currently in natural gas service, from Mercer, Pa., to Natchitoches, La., and building approximately 200 miles of new pipeline of similar diameter from Natchitoches to a proposed Kinder Morgan/MarkWest Utica EMG joint venture fractionation facility with a third party that has existing facilities at Mont Belvieu. Subject to shipper commitments, timely regulatory approvals and necessary capital improvements, the pipeline is targeted to be in service during the second quarter of 2016. The pipeline will have an initial design capacity of 150,000 barrels per day (bpd) and would be expandable to 400,000 bpd with the addition of pump stations.
The Utica Marcellus Texas Pipeline , or Y-Grade Pipeline, is currently in open season, which basically means that the companies are waiting for volume commitments from producers. As a result, the project is technically not in either companies' capital budget plans. If enough interest is shown for the project, this will likely be a major coup for MarkWest Energy Partners as it will add significant demand for its services in the Utica and Marcellus.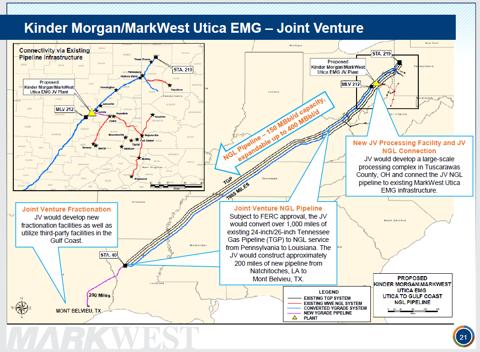 MarkWest Energy Partners: A solid history of distribution growth
Finally, let us take a look at MarkWest Energy Partners' distribution growth track record. The company's quarterly distribution was held steady at $0.64 per share for several years due to the financial crisis. However, MarkWest Energy Partners has now returned to a pattern of solid distribution growth. Since 2011, the company has increased its distribution by around 30%, or about 10% per year.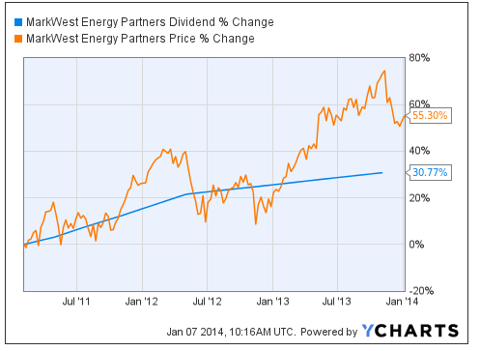 Do note that MarkWest Energy Partners' unit price has grown quite a bit faster than the distribution which may indicate that the stock is currently overvalued based on its historic yield. To get a clearer picture on MarkWest Energy Partners' valuation, let us use the more traditional TTM EV/EBITDA. As shown below, MarkWest Energy Partners appears to be currently overvalued when compared to its midstream MLP peers Kinder Morgan Energy Partners and Oneok Partners (NYSE:OKS).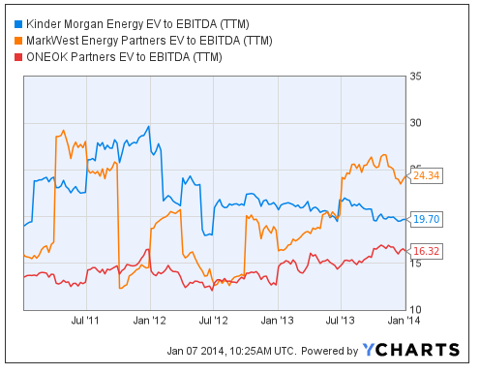 Conclusion
MarkWest Energy Partners certainly has a lot of things going well for it. For starters, it has significant exposure to high-growth shale plays, which allows it to grow organically without the need for expensive acquisitions or risky capital intensive growth projects. In addition, the company does not have to pay any IDR payments to its GP, which allows it to funnel its DCF to its unitholder. However, the company does appear to be slightly overvalued compared to its peers.
For those look for a growth focused midstream MLP, MarkWest Energy Partners appears to be a good pick. However, do keep in mind that you are paying a premium for this growth.
Disclaimer: The opinions in this article are for informational purposes only and should not be construed as a recommendation to buy or sell the stocks mentioned. Please do your own due diligence before making any investment decision.
Disclosure: I am long OKS, . I wrote this article myself, and it expresses my own opinions. I am not receiving compensation for it (other than from Seeking Alpha). I have no business relationship with any company whose stock is mentioned in this article.
Additional disclosure: I am also long KMI