The market today is really confusing me. For some reason, I cannot recommend a Buy Pick. Nothing meets my criteria because it is all way too overvalued. I want to be bullish. I want to blindly recommend some ETF or stock, but I just cannot. The market will most likely rise today, but I think it is going to be pretty neutral throughout the day. If the Michigan Consumer Sentiment Index comes in worse, it will really hurt things. And the question keeps ringing in my head…can we go any higher? I spent the longest time just deciding what to do. It seems like no one has any idea, and I don't feel comfortable recommending stocks that I don't feel comfortable with, so I am going to do a Short Sale that I like. I don't know where the market is going…
If you are looking for a Buy Pick of the Day, without much thought my pick is Pacific Sunwear (NASDAQ:PSUN). It is down 15%. If the market is going to be bouncing up on retail, it will probably move upwards. I won't officially recommend, but I contemplated it for about 30 minutes earlier.
Short Sale of the Day: Hibbett Sports Inc. (HIBB)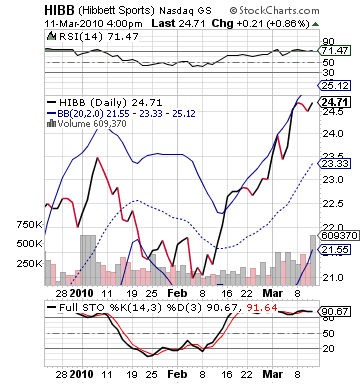 Analysis: We have a typical Oxen Short Sale on our hands, as we are looking for a stock that is getting a bit too much ahead of itself. Hibbett Sports Inc. is one of these companies that might be a bit too much ahead of itself. The stock is opening with over 6% in gains already today. This is a stock with low volume and average beta. This type of move is a large move for it. It is very similar to the Short Sale we had on Wednesday with Harbin Electric (HRBN), a company that gained big going into earnings, gained big after earnings, and had a pop to start the day. Yet, we saw it drop 12% from its high.
Hibbett is most likely going to continue to rise due to the market conditions and the fact that it beat earnings. The company reported an EPS of 0.40 vs. the expected 0.31. That gain is pretty large for a company that has seen very mild growth over the past couple years. Yet, the company, which is based in Birmingham, Ala., saw short-term growth due to victories by the New Orleans Saints and Alabama Crimson Tide this year. A smart investor won't bank on sports teams to get similar profits. In fact, the company will probably get an overestimation into the future.
HIBB is going to see a lot of selling interest as buying interest dies out throughout the day. It will get a pop and stay neutral and die out from there. Get in at a smart entry when we see the stock topping out, which is where I think I have set my range. Hibbett's technicals are too attractive for a short sale. The stock is up over 10% in one month, got bought up going into earnings, meaning traders are involved, and it is overvalued on RSI. All these point to reasons we should see a reversal of fortunes for Hibbett.
Entry: We are looking to get involved at 26.90 - 27.00.
Exit: We want to cover for a 2-3% gain.