This article is a continuation of my previous article on Yahoo (NASDAQ:YHOO). My previous article was focused on Yahoo's historical performance and the future of Alibaba. However, in this article, I have analyzed and valued Yahoo's core operations, and its stake in Yahoo Japan. I have also adjusted the valuation of Alibaba's stake owned by Yahoo on the grounds of expected developments.
As investors know, Yahoo's major sources of revenue are search advertising, display advertising and other advertising fees that it charges commercial and domestic clients. The company earns 75% of its total revenues from America, 17% from the Asia Pacific region and 7% from the EMEA region. Approximately 39% of revenues are contributed by display and search advertising each while the remaining 22% of revenues is contributed by other ads.
As I have already highlighted in my previous article, Yahoo is facing fierce competition from big players such as Google (NASDAQ:GOOG) and Facebook (NASDAQ:FB). This competition has impinged on the company's ability to raise revenue per user.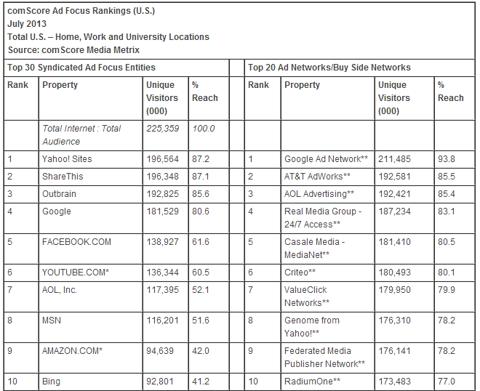 There have been recent developments such as an upsurge in unique visitors to Yahoo sites which is indicative of the fact that proper content and interactivity with the users can help Yahoo to increase its ad prices. I am now convinced that Yahoo has that potential but the only thing that it needs is proper execution by Marissa Mayer.
Anticipated Trends in Coming Periods Expected to Boost Growth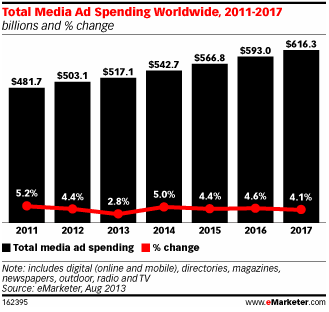 According to research conducted by E-marketer, the total media ad spending worldwide is expected to reach $616.3 billion by the end of 2017 reflecting a CAGR of 3.84% between 2013 and 2012. Mobile ads will especially see enormous growth worldwide and primarily in the developed countries.

Worldwide digital ad spending is expected to reach $173.12 billion reflecting a CAGR of 9.44% between 2013 and 2017. Reports also highlight the fact that by the end of 2017 approximately 36.3% of total digital ad spending will be spent on mobile ads. Moreover, search, display, TV and other kind of mediums will also continue to see growth.
Yahoo has the required traffic to provide the leverage to raise ad prices close to those of Google and Facebook. The only hurdle that I see is the company being unable to convey ads to the intended audience as efficiently as Google or Facebook. However, the company's recent initiatives to improve the content and monetization of its websites and mobile applications can help in this regard.
Alibaba Developments
There are reports that Alibaba may stop its IPO until the end of 2014 despite previously being expected to commence in January of 2014. Implications of this decision could go both ways but I think, in fact I am quite certain that this delay will further boost the value of the company because there would be a few more quarters to impress investors and analysts, plus it may further strengthen the balance sheet.
Moreover, many analysts have actually raised the value of the Chinese internet giant. Some are anticipating its market value may reach $150 to $200 million by the end of 2014. If this materializes, it would be a game changer for Softbank and Yahoo's shareholders who currently own 35% and 24% stakes in the company, respectively.
In the table presented below I have shown the value of Yahoo's stake at different estimates of the market value of Alibaba. Yahoo currently has a market capitalization of $40.78 billion and its shares are trading at $40.2.

Yahoo will maintain its 14.4% stake in Alibaba. Post-IPO this investment will be worth $28.8 billion at an estimated value of $200 billion and likewise the stake would be worth $36 billion at my assumed market value of $250 billion. Moreover the 9.6% stake that it has committed to sell may deliver before tax cash amounting to $18.72 billion. This figure of $18.72 billion has been calculated by averaging out the value of the stake at different estimates of Alibaba's total market value.
Investment in Yahoo Japan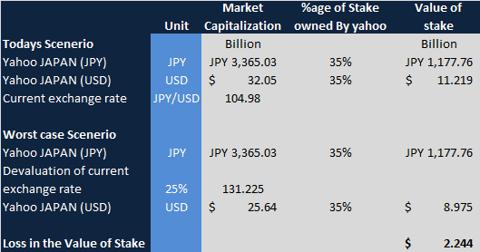 At the current exchange rate of 104.98 JPY/USD Yahoo Japan has a market capitalization of $32.054 billion. Yahoo currently owns 35% of Yahoo Japan which amounts to $11.219 billion or 28% of the current market cap.
In the worst case scenario, if we assume that JPY depreciates 25% compared to the USD in the coming years and we keep Yahoo and Yahoo Japan stock prices constant, the currency may have a negative impact on the value of Yahoo's stake as much as $2.244 billion.
However, this is a worst case scenario assumption. The company hedges devaluation risk by taking a large position of currency future contracts. So I don't see the USD appreciation significantly affecting the value of the stake.
Existing Cash
According to the most recent quarterly filling, the company carries $3 billion in the form of cash and cash equivalents.
Aggregating the Values
I am assuming Alibaba's value to be $200 billion, valuing Yahoo's stake at $47.52 per share. While staying pessimistic let's assume that the value of Yahoo Japan's stake at the current exchange rate which equates to $11.219 billion or $11.108 per share although the company hedged the currency at an approximate rate of 80 JPY/USD.
Moreover, the company carries cash of $3 billion and cash net of debt is approximately $2.954 billion or $2.925 per share. Again I am being pessimistic and assuming that the company's core operations are worth just 15% of the current stock price of $40.02. Therefore, I am valuing the core operations at $6.03 per share.
By adding all of these figures, we get a per share value of $67.583 reflecting an upside potential of 68.87%.
Hence keeping all this in mind, I would recommend buying shares in Yahoo.
Disclosure: I have no positions in any stocks mentioned, and no plans to initiate any positions within the next 72 hours.
Business relationship disclosure: The article has been written by a Blackstone Equity Research research analyst. Blackstone Equity Research is not receiving compensation for it (other than from Seeking Alpha). Blackstone Equity Research has no business relationship with any company whose stock is mentioned in this article.