If you've followed any of my articles, you will know the one thing that I take great pains to do is present a fair and balanced case.
In this article, I would like to take a second to point out the positives and the unknowns going into this earnings report for Advanced Micro Devices (NYSE:AMD), and why I believe the volatility will be at least as great.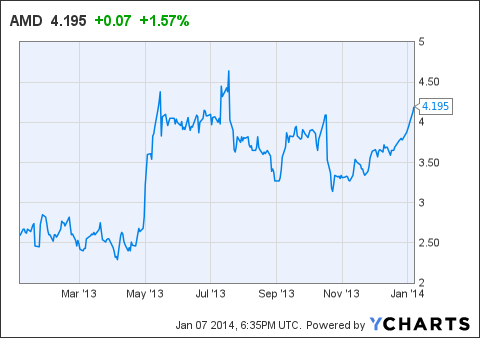 The Positives For Q4
In his first article, new Seeking Alpha contributor Sean Chandler presents a well laid out case for things that he feels are likely to drive a revenue beat when AMD reports Q4 results.
The points he makes are very much in line with my own thoughts.
Essentially, the positives going into Q4 are consoles selling very well, the Mac Pro win, and very high demand for new GPUs, partially in thanks to litecoin mining.
Note that these positives all fall under GVS.
Author's Note: These sections will be longer than the first, and that's not designed to place more of an emphasis on the negatives because I feel they are more important or likely, but simply to cover the negatives as I have not really seen these mentioned elsewhere. I have edited this article numerous times to ensure the meaning I am trying to convey isn't lost, and felt this note would be an effective way to do so. I'm optimistic for GVS this earnings report based on the product releases and console strength, but the CS segment revenues are a little harder to call. I also understand there is no sure thing, so I'm okay with waking up the day after ER realizing my portfolio lost some value and will adjust my perspective based on information released in the ER accordingly. I'm also using this runup to readjust position sizes and average down. Had Kaveri launched earlier in Q4, it would have been easier to judge, but no new and compelling products that would have affected specifically CS revenues hit the shelves over the holidays. The Kaveri delay introduces some volatility for CS revenue into the mix.
Analyst Upgrades and Downgrades, Short Interest
If you look at the recent price movements in AMD's share price, you'll see a few very distinct and quick rises and falls, and most of those are related to analysts releasing various reports, with the majority of the sharp moves being to the downside in the form of downgrades.
As of 12/13/13, AMD had approximately 127M shares short, and if this short interest remains elevated going into the next earnings release, this is only going to elevate the volatility after the release.
Source: Nasdaq.com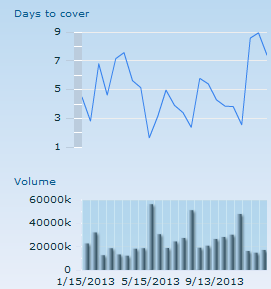 Computing Solutions Revenues
This is going to be where much of the story is written, or at least where I think bears will try and place the emphasis.
The selloff after the last earnings report was largely induced by continued weakness in the PC market, but this was exacerbated by the comparison between Intel (NASDAQ:INTC) and AMD which pointed to the fact that AMD lost market share during Q3, and this market share was specifically lost in the notebook space.
According to the Raymond James technology conference, along with the leaked press deck for Kaveri, AMD has actually been gaining marketshare in desktop recently, and Q3 was no different.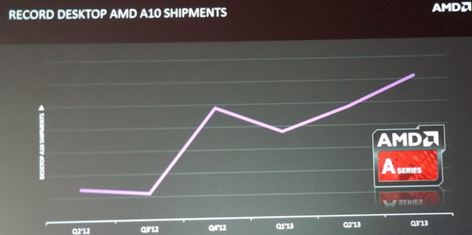 But this is only a partial data point, and doesn't show the true amount of volatility PC chip sales.
Jon Peddie Research provides excellent, but pricey, statistics and research reports on PC graphics. Luckily for us there is enough data available publicly to be quite useful. These research reports happen to track integrated graphics as well, meaning there is some good info about APUs.
AMD only sells APUs into notebooks. In the desktop space, AMD sells both APUs and CPUs (CPUs do not have integrated graphics).
According to a research report released by JPR for Q3, AMD desktop APU shipments jumped 27.8%, while notebook APU shipments fell 21.3%. This is a huge swing in volatility percentage wise, with the net effect being only a ~$50M decrease in CS revenues between Q2 and Q3.
The technology conference transcript linked to above also points out that AMD tendered a sell of 1.5M laptops in India during Q2, which explains why AMD gained market share in both the notebook and desktop space during Q2, and since the sell was made in Q2 and nothing similar in Q3, we see notebook revenues rise and fall between the quarters.
AMD was not rewarded by this increase in CS revenues during Q2, but was then in turn subsequently punished for Q3 because the company did not tender a similar sale to the one during Q2.
With so much volatility quarter to quarter in AMD's overall CPU sales, Q4 did not really feature any major product launches that are likely to impact revenue going into Q4, so this volatility in sales also adds uncertainty to where revenues will fall out.
Kaveri and socketed Kabini chips are a story for later in 2014, but not so much specifically for this quarter based on launch dates.
Conclusion
This article is not meant to detract from the positives AMD has going into Q4 in anyway, but rather paint a complete picture.
Both Sony (NYSE:SNE) and Microsoft (NASDAQ:MSFT) have reported astounding console sales, and by around 3M more units above IHS estimates for 2013 (7.2M sales vs estimates of 4.4M). And with the caveat that I have not cared much about this until now due to the barriers of entry, and therefore have done very little research down this path, I am more hopeful of Microsoft being successful in China due to the partnership with Chinese company BesTV, meaning that I am hopeful that console sales could actually continue to top current estimates if this comes to fruition. But again, I have not researched this as much yet.
AMD's new GPUs have been selling well, and the Mac Pro sold out on launch. AMD has had some very hot products during this holiday season.
But I believe the bearish analysts are currently placing a heavier emphasis on PC chips, as this is where the unknowns lie, allowing their case to be more easily made.
There are two sides to every coin, and despite the positives going for AMD, if the bulls have been betting on heads the coin has landed on tails the previous two flips (earnings reports). While there are plenty of positives to like about Q4, there is also no "sure thing," so more caution is in order at higher share prices.
Disclosure: I am long AMD, INTC. I wrote this article myself, and it expresses my own opinions. I am not receiving compensation for it (other than from Seeking Alpha). I have no business relationship with any company whose stock is mentioned in this article.
Additional disclosure: I own both shares and options in AMD, and may add/liquidate shares or options at anytime. I may initiate a small hedge for my position at anytime.