2013 was a remarkably strong year for equities and many investors are probably wondering whether now is the time to cash in these gains by selling their stocks. Below is a chart of the inflation-adjusted performance of the S&P 500 (NYSEARCA:SPY) or its equivalent since 1871 (Figure 1).
While the valuation of the market plays a role in price performance over longer periods of time, I wondered if strong years statistically tended to be followed by weaker returns in the following year. In order to test this hypothesis returns for one year were compared to returns in the following one-year period.
Figure 1: S&P500 Real Price Since 1871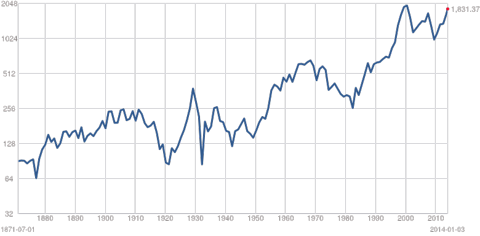 Click to enlarge
Source: multpl.com; S&P 500 Real Price.
Testing this hypothesis resulted in the scatterplot shown in Figure 2. The scatterplot below has one-year forward returns on the y-axis and real price returns on the x-axis. For example, one point on the scatterplot is the most recent return for 2013 plotted on the y-axis, versus the return in 2012 as the x-axis value.
It can be seen that there is no statistical correlation between the two data sets. Thinking that something could be special about a high returning year, I also repeated the analysis and rejected years with returns of lower than 20% for the x-axis. There was again no correlation and the average return in the subsequent year was nearly the same as the average return in any year.

Click to enlarge
Source: Data taken from: multpl.com.
Challenges for the S&P 500 Moving Forward
In some ways the S&P 500's 2013 performance is behind us and is unlikely to influence the market moving forward. However, in other ways the market's strong rally seems to dim the chances for further gains without strong earnings growth.
One primary challenge for the market in 2014 is that over the course of 2013, the forward earnings multiple expanded from approximately 13x to greater than 15x (Figure 3). While it is impossible to know for certain that valuations will not continue to expand, it should be noted that at present the market commands a valuation that is as high as has been recorded over the past two bull market cycles. It is difficult to envision another year as successful as 2013 based solely on multiple expansion.
Figure 3: S&P 500 Forward Earnings and Valuation (click to enlarge)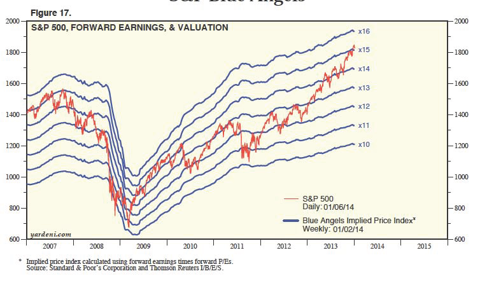 Click to enlargeSource: yardeni.com.
Opportunities for the S&P 500 Moving Forward
It is possible that 2013 was a watershed year in which the compressing valuation of stocks in favor of bonds finally ended. Following the financial crisis, the yield available from a 10 year Treasury note continued to fall, while the earnings yield of the S&P 500 continued to rise. This culminated in the summer of 2011 with a huge spread between the 7.7% earnings yield of the S&P 500 compared to the 2% return available from a ten-year note (Figure 4).
Figure 4: S&P 500 Earnings Yield Vs. 10 Year Treasury Rate (click to enlarge)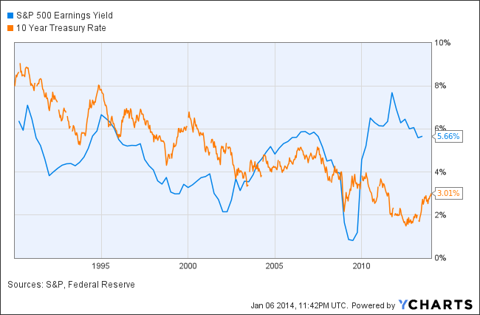 Click to enlarge
The current spread between the earnings yield of the S&P 500 and a ten-year note of 265 basis points has greatly compressed since the summer of 2011. However, since 1987 the average spread has left a ten-year note yielding 39 basis points more than the earnings yield of the S&P 500. Thus it could be argued that the trend of higher stock valuation and lower bond valuation has not yet run its course. Should this spread move back to a historically average valuation, investors in stocks would experience a good deal more capital appreciation due to multiple expansion.
Conclusions:
While it may be tempting to cash in gains after a strong year, it can be seen that returns in a previous year have no correlation to subsequent returns over a one-year period of time. Because the stock market follows a random walk, past returns do not reflect or influence future returns. So if you are thinking that returns have been too good in 2013 and you have to sell relax. 2013 is over and now the market is looking ahead past 2014.
In addition, many reasonably priced stocks are still available including: AFLAC (NYSE:AFL), The Coca-Cola Company (NYSE:KO), International Business Machines (NYSE:IBM), Precision Castparts (NYSE:PCP) and Philip Morris International (NYSE:PM). In the present market conditions, there are still a good many companies that are worth buying.
Disclosure: I am long AFL, IBM, PCP, . I wrote this article myself, and it expresses my own opinions. I am not receiving compensation for it (other than from Seeking Alpha). I have no business relationship with any company whose stock is mentioned in this article.