Editors' Note: This article covers a stock trading at less than $1 per share and/or with less than a $100 million market cap. Please be aware of the risks associated with this stock.
The price of silver (NYSEARCA:SLV) suffered dearly in 2013, along with gold (NYSEARCA:GLD). Typically, as gold rises, silver outperforms, but when gold falls, silver underperforms - so this was not a huge surprise. The price currently sits around the $20 mark, down nearly 50 percent from the start of 2013, making silver one of the worst performing commodities of 2013.
However, I believe that silver's worst days are behind it and it is quite possible we are in the middle of a double bottom reversal - defined as a "bullish reversal pattern which is made up of two consecutive troughs that are roughly equal, with a moderate peak in-between." [StockCharts.com].
You will see below that the price of silver currently sits just below the 50-day moving average ($20.44) and the 200-day moving average ($21.95). A pop above $22 could give silver the momentum it needs in 2014 to get back to the $25-30 area.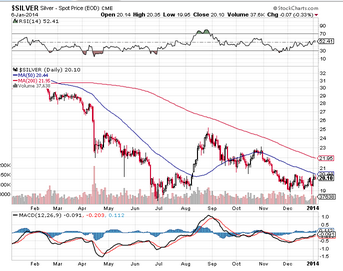 Here, I will briefly touch upon the reasons for investing in silver in 2014 and beyond and offer my top 5 picks for 2014.
Why Silver Over Gold?
I have long maintained that silver presents a better long-term buying opportunity than gold. First, unlike gold, which is primarily used in jewelry and investment, silver has many industrial uses (of which there is no other substitute), including photography, medicine, electronics, the automotive industry, solar energy (panels), etc.
Next, physical silver is easier for the common person to invest in. I'd personally much rather buy 5-10 ounces of silver at a time, instead of buying a single ounce of gold or even a half ounce of gold. You don't need to sell your car or empty your savings to buy silver - it simply takes some spare cash to get in the game.
Right now, the gold to silver ratio sits at 61.58, meaning that one ounce of gold can buy you 61.58 ounces of silver. I feel silver is undervalued compared to gold for this reason. As I mentioned in a previous article, the ratio of silver to gold production is around 9 to 1.(For example, in the year 2011, worldwide gold production was just over 2,600 tonnes, and total silver production was 23,688 tonnes - a ratio of 9.11).
Meanwhile, the historical gold to silver ratio is 16:1. Just by giving silver a very reasonable 40:1 ratio at current prices would put silver at $31.25 or more than 50 percent higher than current prices.
The bottom line is that if you believe gold will recover in 2014 and beyond, then you should also consider silver, which could provide far greater returns.
What Are The Best Silver Stocks for 2014?
Investors with a tolerance for risk who are looking for bigger returns should consider silver miners and streamers for the leverage they provide.
For example, if silver were to double from current prices to $40 an ounce, then several silver stocks could easily return 3-4 times your money, if not more. Still, before I go further I want to point out that I don't recommend trying to time the market or call a bottom; instead, a good strategy is to dollar cost average your positions each month. I also don't recommend trading on margin.
If you are a believer in silver, then read further - here are my top 5 silver stocks for 2014 - picks which I believe will outperform the Silver Miners Index (NYSEARCA:SIL).
#5 SantaCruz Silver Mining (OTCPK:SZSMF)
SantaCruz Silver Mining is perhaps the least known stock on this list, but that could change in 2014 as the company ramps up production at its newly producing Rosario mine in Mexico.
Here is why SantaCruz is one of my top picks for 2014:
- SantaCruz is targeting 500 TPD production by the end of the first quarter of 2014 at Rosario, which hosts 12.7 million silver equivalent ounces at some very high grades (176 g/t silver). Installation of a third ball mill is expected to be completed in January, increasing mill capacity to 700 TPD. The project also took just $12.5 million to get into production.
- The current resource at Rosario is based on just 500 metres of strike and significant exploration upside remains in my opinion, with 2 kilometers of targets to expand the resource.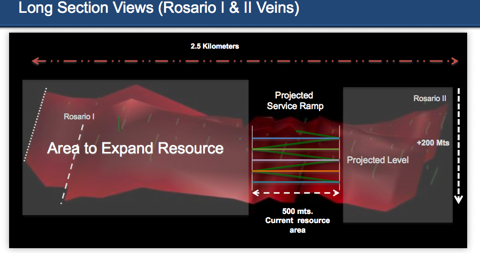 The company has two very exciting advanced stage projects in San Felipe and Gavilanes, and an early stage project in El Gachi.
- San Felipe contains 4M tons @ 70 Ag g/t, 5% Zn, 2.77% Pb, 0.28% Cu. Exploration potential is big and drill results have been very positive. On Oct. 9, the company reported the following drill results:
SCVT-02: 11.80 m @ 116 g/t Ag eq. (84 g/t Ag, 0.02 g/t Au, 0.41% Zn, 0.04% Cu and 0.45% Pb) including; 3.35 m @ 283 g/t Ag eq.
SCVT-07: 3.35 m @ 324 g/t Ag eq. (81 g/t Ag, 0.03 g/t Au, 5.03% Zn, 0.35% Cu and 1.90% Pb).
SCVT-16: 2.60 m @ 409 g/t Ag eq. (122 g/t Ag, 0.04 g/t Au, 8.77% Zn, 0.23% Cu and 0.28% Pb).
Past drill results include 2.41 meters of 822.6 g/t Ag eq.
- The Gavilanes resource estimate just released and was very positive in my opinion. The company reported 6.1 million Aq eq ounces indicated and 28.3 million ounces inferred. Drill results at Gavilanes have shown bonanza grades: For example, in 2013, drill results included 4.58 meters of 1,741 g/t Aq eq and in 2012, one drill returned 2.75 meters of 2,549 g/t Aq eq! These are incredible drill results. It's too early to tell, but Gavilanes and Felipe could turn out to be very profitable, low-cost silver mines.
- In addition, insiders hold roughly 38 percent of the company, according to the company's corporate presentation.
In conclusion, SantaCruz is the newest silver producer in Mexico. While the company has a long ways to go before they get to mid-tier status, I think much bigger things could be in store for 2014. I see SantaCruz as an attractive buyout target or a good long-term growth pick in the silver sector.
#4 Tahoe Resources (NYSE:TAHO)
Shares of Tahoe Resources crushed the SIL index in 2013:

Tahoe Resources is my number 5 pick because the company has a very large, high-grade silver mine set to come online in 2014.
Tahoe owns and operates the Escobal project in Guatemala, which hosts a massive indicated silver resource of 367.5 million ounces, and an inferred silver resource of 36.7 million ounces, for a total of 404.2 million ounces. The grades on this project are incredible - 422 g/t average grade for the indicated resource and 254 g/t for inferred category. Escobal is expected to produce 20+ million ounces once in commercial production, which is expected in the first quarter of 2014.
These high grades could help the company produce silver at all-in sustaining costs that are among the lowest in the entire industry. With 20 million ounces of silver production a year at all-in cash costs of $15 an ounce, Tahoe could produce cash flow in the $100 million area for 2014 (based on current silver prices). However, this could be a conservative as the PEA at Escobal says all-in costs could come in at $8.85 ‐$9.85 per ounce!
Remember, these are just projections but I think anything under $15 an ounce is a very reasonable projection.
The one risk to Tahoe, besides a lower silver price, is country/political risk in Guatemala. There have been some issues, including anti-mining protests and incidents near the Escobal Project, and regulatory and political concerns.
Despite these risks, I think Tahoe can greatly outperform silver in the years ahead. For more insight, read my past analysis on Tahoe here.
#3 Endeavor Silver (NYSE:EXK)
Endeavor Silver has recorded nine years of consecutive growth, and I fully expect that to continue in 2014. A mid-tier silver producer with operations in Mexico, Endeavor owns and operates three high grade silver-gold mines. The company's goal is to be a premier senior silver producer, producing more than 10 million ounces of silver yearly.
I like Endeavor because its a growth story. If you go back to 2007, the company produced just 2.8 million silver equivalent ounces (SEOs). In 2012, that number shot up to 6.4 million and in 2013, Endeavor has produced more than 8.4 million SEOs. In addition, the resource base has also undergone a tremendous expansion - from 53 million SEOs in 2007, to 206 million in 2012 - a growth of nearly 400 percent.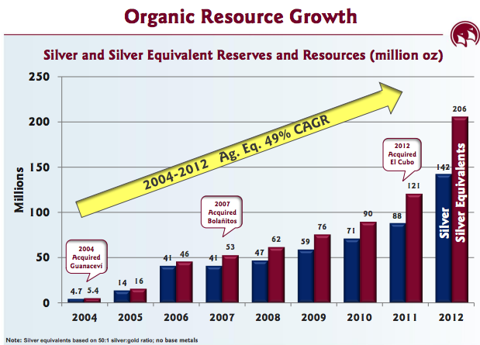 Endeavor is weathering the silver storm better than many other silver miners. Year to date, Endeavor has reported adjusted earnings per share of .23, as well as cash flow per share of .64.
The real potential for Endeavor, in my opinion, comes from the El Cubo operation. One of Endeavor's goals is to "acquire underperforming mines in large historic districts, then apply our expertise to turn around and expand them."This is exactly why El Cubo was acquired in 2012, with historical silver production of 80 million ounces. All-in sustaining costs were more than $30 in Q3 2013, but the company is committed to getting costs down significantly and cash costs are already beginning to come down.
Another thing that excites me is the high grade discoveries at San Sebastian. The gold-silver mineralization at the project is 900 metres long, 200 metres deep, 3 to 10 metres thick, and is still open along the strike. The resource base already contains 11.4 million ounces of silver indicated and 19.5 million ounces inferred, but big exploration upside remains.
For 2014, Endeavor is focused on permitting San Sebastian, expanding El Cubo production while decreasing cash costs, and exploring all of their properties.
The one "downside" to Endeavor is that the company has a cash position of just $25 million. However, Endeavor does not have any long-term debt, a line of credit available to them and the company continues to produce solid cash flow each quarter, so the balance sheet does not concern me in the short-term.
I intend to purchase shares of Endeavor early in the year and plan on holding shares for years to come.
#2 SilverCrest Mines (NYSEMKT:SVLC)
SilverCrest Mines outperformed the SIL in 2013 and I expect this to continue in 2014 and beyond.

I previously highlighted SilverCrest Mines as my "one" silver stock to own, especially during a period of depressed gold and silver prices.
My reasons for owning shares of SilverCrest are simple:
- Low Costs: SilverCrest operates a very low cost mine, producing silver at industry leading costs. For example, the company reported all-in sustaining cost per ounce of silver of $13.26 in the second quarter. Year to date, all-in cash costs are just $13.15 an ounce. This allowed the company to report cash flow of .06 per share in the third quarter of 2013,
- Solid Balance Sheet: The company had working capital of more than $30 million, as of Sept. 30, 2013. The company also has access to an undrawn $40 million line of credit.
- Big Growth Potential: SilverCrest has produced 1.86 million SEOs to date, estimated 2.4 million SEOs for full-year 2013. The company expects this number to increase to 3.5 million SEOs in 2014 - very solid year-over-year growth. However, I feel the company holds enormous long-term growth potential - ultimately, the company could produce 10+ million ounces after expansion plans are executed. This would put SilverCrest in the league of senior silver producers which carry much larger market caps.
- Massive Resource Base: SilverCrest has 37.7 million silver equivalent ounces in reserves with 16.7 million in the indicated category, plus 223 million ounces in the inferred category, for a total resource base of over 276 million silver equivalent ounces.
- The company is undergoing an expansion at Santa Elena, which is expected to increase production considerably. The results of the pre-feasibility for the expansion were very favorable - even using base-case prices of $1,250 gold and $19 silver. Even at these prices, the project carries a NPV of $108.7 million (5 percent discount), carrying an internal rate of return of 49 percent!
- The big long-term potential really comes from La Joya, which hosts 200 million silver equivalent ounces in the inferred category (which includes copper, gold and silver). A PEA for the La Joya "Starter Pit" was released in October and I felt the results were positive, but pre-production capital of $141 million is required. I personally feel the best option is to find a JV partner of this project, as opposed to debt, equity or a streaming deal, but that is just my opinion. Results of the PEA can be found here.
For 2014, I am expecting solid production growth from SilverCrest with the same industry leading cash costs we saw in 2013. SilverCrest should outperform the silver market in 2014, but longer-term I have very high hopes for this company.
#1 Silver Standard Resources (NASDAQ:SSRI)
Silver Standard Resources has one of the healthiest balance sheets in the entire gold/silver sector - one which got even stronger following the recent sale of several assets.
The valuation for SSRI is extremely compelling, plain and simple. At current prices, SSRI has a market cap of $591 million. The company has $401 million cash, plus a $107 million interest in Pretium Resources (NYSE:PVG) and $12 million in marketable securities. This leaves SSRI with an enterprise value of just $223 million. Meanwhile, the company has a total resource base of 1.18 billion ounces, so the market is valueing each silver ounce at just $.19 per ounce (figures as of December Presentation).
SSRI owns and operates the Pirquitas mine in Argentina, which achieved commercial production in December 2009. This mine is expected to finish 2013 with 8.5 million ounces of silver produced.
Meanwhile, the company sold the San Augustin project to Argonaut Gold (OTCPK:ARNGF) for $75 million, and in 2012, announced an option for a JV with Prospero's San Luis Del Cordero high grade silver property in Mexico (Silver Standard has the option to earn a 51% interest within 3 years by incurring total property expenditures of $3.5 million).
My favorite project of Silver Standard is the high-grade San Luis project, which holds a resource base of 8.9 silver ounces at 595.5 g/t (As well as 350,000 gold ounces at 25.2 g/t). The mine is expected to produce 78K gold ounces and 1.9 silver ounces a year and requires just $90 - $100 million to startup.
Silver Standard did produce silver at higher than average costs in 2013, however I feel that the company's advanced cost restructuring program could lead to further cost reductions in 2014. If Silver Standard can get its costs down in 2014 and use its hefty cash balance for accretive acquisitions (I want to see more high-grade, low capex projects, personally), then I think the stock will crush its peers.
Honorable Mention: Silver Wheaton (NYSE:SLW), First Majestic Silver (NYSE:AG) and Great Panther Silver (NYSEMKT:GPL).
Disclosure: I am long SLW, SVLC, . I wrote this article myself, and it expresses my own opinions. I am not receiving compensation for it (other than from Seeking Alpha). I have no business relationship with any company whose stock is mentioned in this article.