Weakness continues for the euro (NYSEARCA:FXE) as 2014 seems to be confirming expectations I have outlined in previous posts.
On January 7th, Eurostat reported eurozone inflation dropped to 0.8% in December on an annual basis. This further supports the earlier decision by the European Central Bank (ECB) to finally cut interest rates again back in November. However, the euro remains higher than that point in trade versus the U.S. dollar.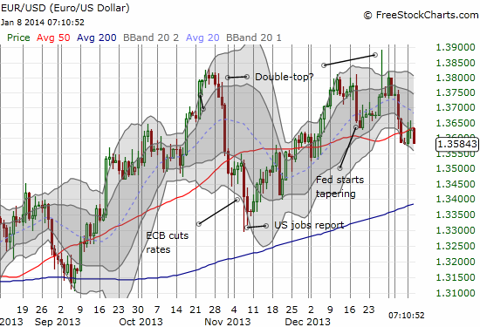 The euro has weakened in 2014 but remains comfortably above levels where the ECB last cut rates
Source: FreeStockCharts.com
Eurostat's follow-up today brought an interesting combination of data. Retail sales soared 1.4% from October to November, well ahead of analyst expectations. Retail sales increased 1.6% year-over-year. Retail sales numbers are very volatile month-to-month, so the overall trend is more important. Eurostat's measure of "Deflated turnover for total retail trade" remains just above post-recession lows but at least seems to have stabilized (bottomed out?) over the course of 2013.
In November, unemployment remained steady for the eighth month in a row at 12.1%. This steady-state could be looked at as progress for the glass half-full crowd since conditions are not worsening. However, this unemployment rate is still a record. Moreover, this lack of progress stands in stark contrast to the steadily improving conditions in the United Kingdom and the U.S. This contrast remains a core rationale for my expectation of a lower euro to start the year.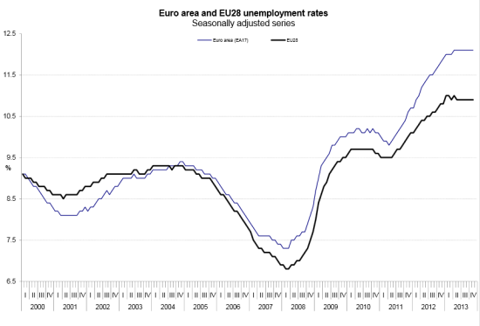 A stubbornly high unemployment rate remains perched at a record

A wide range of economic conditions across the eurozone and European continent
Source: Eurostat
This combination of data will make for another closely watched policy meeting for the ECB on Thursday. I am guessing President Mario Draghi will continue to fins some solace in an unemployment rate interpretable as being capped out, but with inflation still falling, there are still just hollow victories here.
Be careful out there!
Disclosure: I have no positions in any stocks mentioned, and no plans to initiate any positions within the next 72 hours. I wrote this article myself, and it expresses my own opinions. I am not receiving compensation for it (other than from Seeking Alpha). I have no business relationship with any company whose stock is mentioned in this article.
Additional disclosure: In forex, I am net short the euro