The REIT industry did not perform well in 2013, more specifically the mortgage REIT industry. Nearly all of these companies suffered from large price declines; so much so that shareholders suffered losses even with their large dividends. Compare that to the large advance in the S&P 500, and it made me wonder: "What made me like the industry in the first place?"
When you buy a mortgage REIT, you are not just buying a portfolio of assets, you are also buying a management team. What intrigues me is the large difference in performance these companies produce, with access to the same assets. Although it is pertinent to have a good team who knows how to put together the top performing portfolio, it is also important to have a management team that knows how to build shareholder value.
Public offering of common stock is the most powerful tool a mortgage REIT can use to raise capital. However, utilized improperly, public offering of common stock can also be the most destructive thing possible for shareholder value. In this article I will explore the use of secondary offerings throughout 2013 that performed poorly. It is important to note, there are other factors that greatly influence how a stock performs. You can't possibly know whether a company would have performed better or worse without having done said public offering.
My rule of issuing a secondary is that the stock must be so overpriced, it would be a waste not to issue a secondary.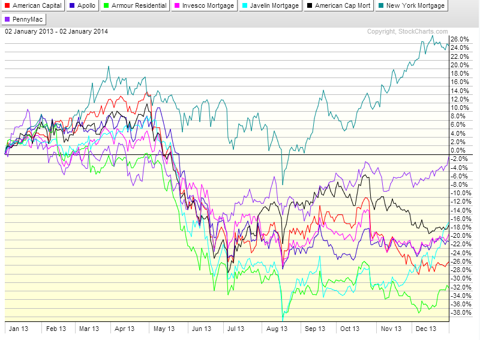 Of the 17 companies I examined, eight companies captured in the image above issued secondary offerings. The chart includes reinvested dividends. Five of the 17 companies had positive economic returns over the past four quarters. They are in order: PennyMac Mortgage Investment Trust Inc. (NYSE:PMT), New York Mortgage Trust Inc. (NASDAQ:NYMT), MFA Financial, Inc. (NYSE:MFA),Two Harbors Investment Corp. (NYSE:TWO) American Capital Mortgage Investment Corp. (NASDAQ:MTGE). Three of the five did public offerings of common stock.
The Wrong Way To Do A Secondary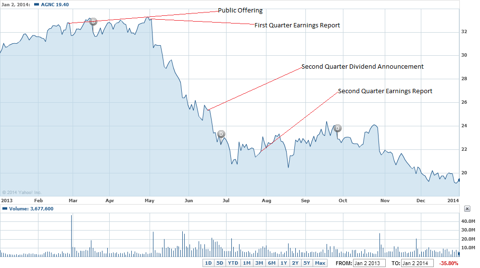 Let us start by examining the price of American Capital Agency Corp. (NASDAQ:AGNC) in 2013. After announcing the public offering of 50,000,000 shares on February 27, there was a small pullback that was recovered quickly. The company announced total expected gross proceeds of approximately $1.58 billion before expenses. Thus, giving a price of $31.60, just shy of the fourth quarter book value of $31.66.
When the first quarter earnings were reported, there was a giant slide in the company's share price, losing over 30% in two months. Multiple things had happened when the earnings were reported:
The earnings were below estimates by over 40%.
Book value per share had decreased by nearly 9%.
An Economic return of -4.64% for the quarter.
As if that wasn't bad enough, AGNC announced a decrease in the dividend on June 16. In fact, when it came time for the earnings report in July, the share price was beaten so far down, even though the report was worse than the previous one, the company had a short rally before falling yet again.
On a positive note, American Capital issued the secondary at near 2013 highs, but the results of the quarter following the issuance are troubling. If you are going to dilute shareholder value then you better have something amazing to show the shareholders. AGNC didn't and they got punished for it. Something to note, is that the company announced they had repurchased 28.2 million shares at an average price of $20.82 including expenses later in the year.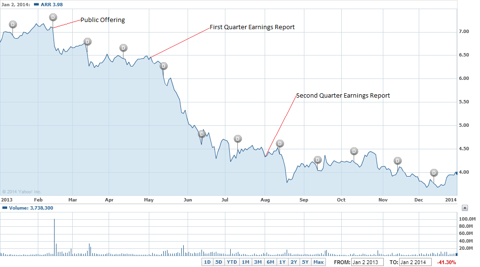 Moving on to ARMOUR Residential REIT, Inc. (NYSE:ARR) we see a very similar situation. After announcing the public offering of 65,000,000 shares on February 13, there was a significant pullback. The company announced in its first quarter earnings report: "On February 20, 2013, the Company completed the sale of 65,000,000 shares of common stock in a follow-on public offering at a price of $6.75 per share during the first quarter 2013."
Over the same two months as AGNC, May 2 to July 2, ARMOUR's share price decreased by over 27%. From the announcement of the public offering in February, the stock had lost 34%. Again first quarter earnings report results showed:
Earnings for the first quarter missed estimates by 13%.
Book value decreased by over 8%.
Economic returns for the first quarter were -3%.
Just like American Capital, ARMOUR issued the public offering at 2013 highs, but unlike AGNC they sold their shares far under the book value previously reported. The fourth quarter book value was $7.29 and the shares averaged $6.75 (before expenses?). So why would they do a secondary? Unlike American Capital, ARR isn't repurchasing shares, even at .76 to book. Economic returns for ARR over the last four quarters is an astounding -15.78%. This is even worse than American Capital's -9% for the same period.
Other failed public offerings include Apollo Residential Mortgage, Inc. (NYSE:AMTG) and JAVELIN Mortgage Investment Corp. (NYSE:JMI).
What Is Missing
As I stated earlier, of the 17 companies I examined, five had positive economic returns. None of the five were agency mREITS. So maybe there is more to it then poor management.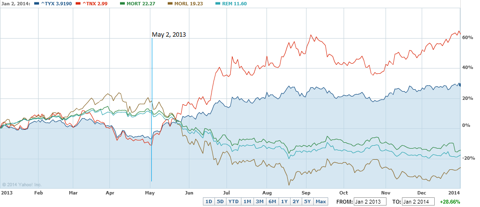 What is very interesting is the year low for both CBOE 30 Year Bond (TYX) and CBOE Ten Year Treasury (TNX) falls exactly on May 2, 2013, the reporting date of both AGNC and ARR. Also marking the start of large declines in ETRACS Monthly Pay 2xLeveraged Mortgage REIT (NYSEARCA:MORL), Market Vectors Mortgage REIT Income (NYSEARCA:MORT), and iShares Mortgage Real Estate Capped (NYSEARCA:REM).
The rise in the 10 year and 30 year could be blamed for the large losses in the industry, and many would, but look back to the first quarter results of both AGNC and ARR who were having significant problems. There is no denying that REITs suffered from the quick jump in interest rates between May and September, but what about a company like Capstead Mortgage Corp. (NYSE:CMO).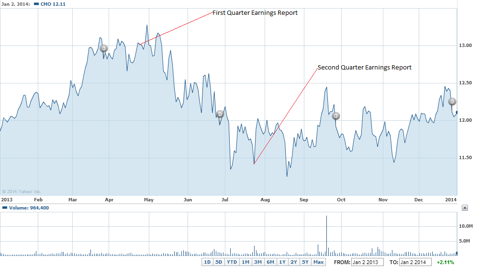 For Capstead the first quarter looked much different than that of AGNC and ARR:
Earnings for the first quarter missed estimates by only 3%.
Book value increased by .15%.
Economic returns for the first quarter were 2.43%.
This is a big difference as opposed to the first quarter results of American Capital and ARMOUR. While CMO didn't have a large price appreciation, the company did pay $1.24 in dividends throughout 2013 giving you a nice return whether or not you reinvested the dividends.
The Big Takeaway
When a company issues a secondary public offering, and reports poor results following, they are setting up shareholders for large losses. Not to mention, dividends become more expensive to keep at the levels they were previous to any offerings. If you want to get solid returns using mREITs, stay away from companies that issue stock below their book value.
Disclosure: I am long PMT, CYS, ANH, ZFC. I wrote this article myself, and it expresses my own opinions. I am not receiving compensation for it (other than from Seeking Alpha). I have no business relationship with any company whose stock is mentioned in this article. This article contains my opinion and shouldn't be construed as advice to buy or sell securities. Recommendations don't take into account individual reader's investment risk or return objectives and constraints. They are for information purposes and you are encouraged to do your own research before making any investment decisions. All information in this article is accurate to my knowledge.