A look at the dominant mobile vendor in each region of the world shows that Microsoft (NASDAQ:MSFT) through Nokia (NYSE:NOK) is really a factor only in Africa, Central Europe and the Middle East.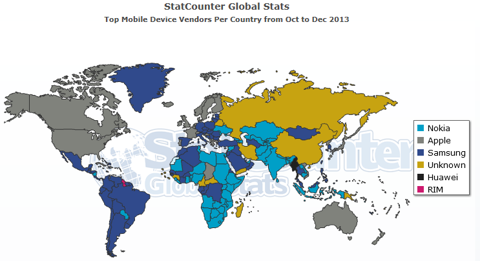 Apple (NASDAQ:AAPL) pretty well owns North America, has a strong showing in Europe and is the key player in Australia and Japan. Samsung is the king of the hill in South America with a major showing in Eastern Europe and Africa. China and India are dominated by local vendors.
The predominance of a particular vendor in a given area is an important indicator of future performance and where the mobile war will be fought in coming years. Two thirds of the growth in the market over the next few years will come from India and China.
A look at the same data by operating system is another perspective. Android is the dominant player in Asia, parts of Africa and in Latin America while iOS commands North America, parts of Europe, Australia and Japan. Microsoft's Nokia handset unit's Series 40 OS is disappearing from the map (as expected) but holding on to parts of Africa where the main issue for users is price, and BlackBerry (NASDAQ:BBRY) OS continues to be preferred in South Africa.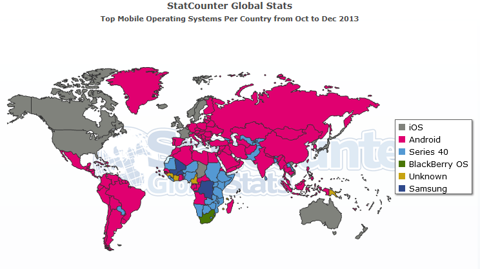 The implications of these data are fairly clear. Two thirds of the growth in smart connected devices will take place in emerging markets like China and India according to IDC data. Unless the customer preferences change materially, Android OS devices will continue to gain share since they are the dominant player in the growing markets.
Samsung will very likely hold onto its position as the key Android vendor but local vendors in China and India will present a challenge at the most price conscious end of the market. BlackBerry OS will do well to survive.
Where is Windows phone in all of this? Windows phone is not the predominant OS in any market so it just does not appear on the leader board. But it is a dark horse in this race.
In Europe, Windows phone missed win, place or show to be an also ran in fourth.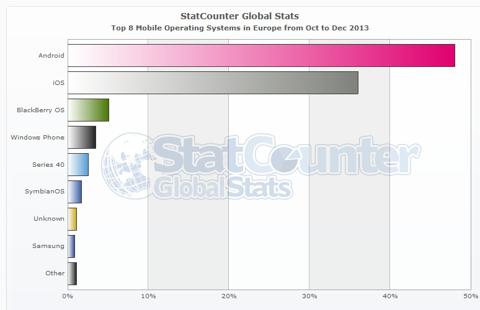 In India, Microsoft has a chance with legacy Nokia Series 40 phones second only to Android and Windows phone OS devices starting to show up in measurable numbers. As an aside, iOS has no real showing in India.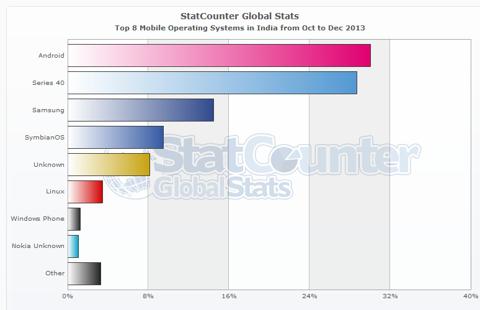 Finally, in fast growing China Android phones are the OS of choice although iOS has a respectable showing while Windows OS phones are barely present.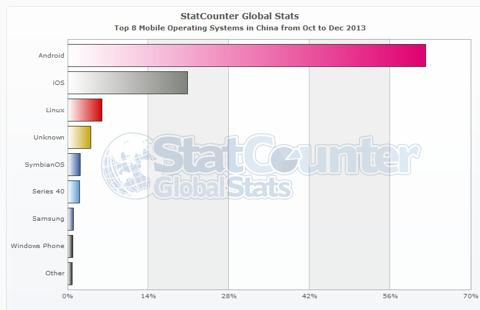 The StatCounter data measure usage rather than units, so the data should be used with caution. Share of iOS devices by usage very likely overstates their share by units since the anecdotal data recited by Apple CEO Tim Cook suggests that iOS devices generate more traffic per device than any of their competitors.
The conclusions I draw from the geographic data are as follows:
Android is likely to be the most popular OS worldwide with its growth propelled by the growth of the user population in the areas where it is predominant;
iOS will grow at a much slower pace than heretofore as its key markets in North America; Europe, Japan and Australia have matured and growth is now hinged on success in China;
Windows phone, while small, is likely to grow in Europe, South America, Africa, the Middle East and India where it can piggy back on the historic success of Nokia; and,
BlackBerry will remain a niche player at best.
I am long Microsoft and BlackBerry calls and hold Apple puts. The BlackBerry calls are a legacy holding and do not reflect a bullish stance today. Surprisingly, BlackBerry stock has been rising and the calls may be worth something before they expire, but I have no expectation that will happen.
Disclosure: I am long MSFT. I wrote this article myself, and it expresses my own opinions. I am not receiving compensation for it (other than from Seeking Alpha). I have no business relationship with any company whose stock is mentioned in this article. I hold Apple puts