Kinross Gold Corporation (NYSE:KGC) is a Canadian gold mining firm established in 1993. It is engaged in the mining and processing of gold and silver ores. They have operational mines in four major geographical regions; North America, South America, West Africa and Russia. The company has probable and proven reserves of 59.6 million ounces of gold, 68.2 million ounces of silver and 1.4 billion pounds of copper as at 31 December 2012. The company was named to the Dow Jones Sustainability World Index (DJSI) and to the Dow Jones Sustainability North America Index for the two consecutive years in 2011 and 2012. Not only that, the company was also recognized as one of the Most Socially Responsible Corporations by Maclean's and Sustainalytics for 5 straight years and Corporate Citizens by Corporate Knights magazine for 3 years.
Industry Overview
During the past few months, gold companies have been facing harsh times due to decreasing prices and the recent announcement of fed tapering. However, the fed taper is not the only factor that has affected the gold prices. A great amount of uncertainty was generated by the impending reduction of the federal stimulus program which led to selling of physical gold. After the tapering announcement, gold went six months low at $1,182/ ounce which has now taken a rebound with the start of New Year as some investors took interest with the expectation of improving gold market. Gold backed ETFs (Exchange Traded Fund) have also been seen the negative effects of the fed tapering. New York's SPDR Gold Trust, the world's largest gold backed ETF, experienced a persistent decrease of their holdings currently sitting at 794.62 tonnes.
Changing Demand
China, which has become the world's largest gold consumer after the imposition of taxes by India, proved to be a failing ground for another gold backed ETF. E Fund Gold ETF closed down with a fall of 0.6% on the Shenzhen Stock Exchange. This showed that China's interest in ETFs is not proven; but the demand for physical gold has almost hit the record high of 1000 tonnes, generating positive vibes in the market. As the Chinese get richer, their demand for gold will keep on increasing due to the fact that the current global average per capita consumption of gold is 24 grams where as China has 4.5 grams per capita consumption, indicating the presence of a huge market in China for physical gold. The Chinese government has also been improving the gold market in their country by taking steps to facilitate the physical gold by increasing trading hours on gold exchange and expanding the list of approved commercial banks to nine. This will increase the supply of gold in the market as now more banks will have the right to import gold from international markets.
To make the gold market more transparent, Switzerland's gold imports and exports will be released monthly rather quarterly and will be broken down by country. This action has been taken by the Swiss in order to comply with the international foreign-trade reporting principles as explained by Jean-Claude Wagnon, head of the foreign trade statistics and economic issues division of the Switzerland's Federal Customs Office. Although this won't affect the amount of gold traded, the picture will become clearer as to where the gold is coming from and to where it is headed; due to the fact that Switzerland imported 2,265 tonnes and exported 1,570 tonnes of gold in 2012.
Fundamentals
For the past few years the company has been struggling to make profits, even during the golden time of gold when the prices were at a record high. The company reported a loss of $2 billion and $2.5 billion in 2011 and 2012 respectively, even with high gold prices due to a high production costs. With respect to share price, the 2013 has proved to be one of the worst for the company when it closed its third quarter of 2013 with $46.9 million in revenue and a 53.4% decline in their share price closing at $4.38 per share. The share price movement for the year has been reflecting the gold prices, indicating that the major impact on valuations has been due to the decreasing value of gold. KGC had been paying dividends until the second quarter of the 2013, after which they announced their suspension due to heavy losses amounting to $2.48 billion in that quarter.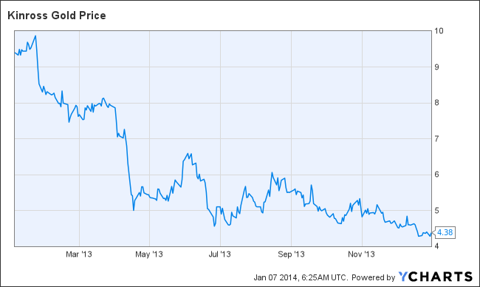 Cost Controls
Even though KGC initially appeared to be unable to offset the declining revenues by decreasing the cost of production, it has begun to reduce operating expenditures in order to cope with the market dynamics more efficiently. The company announced in November that it is going to cut down number of employees by 1000 in total, around the world, of which 300 jobs have already been downsized in Mauritania and Spain, generating around $20 million expected annual cash savings for the company. KGC has also initiated the move to a somewhat centralized administration by merging the North and South American regions. This will cut down the capital costs of running multiple offices and increase the cost efficiency.
In 2013, expected capital expenditure of the company is $1.4 billion, after the planned reduction in capital costs by around $200 million. The company is expecting that the measures taken last year will prove beneficial in the future as well and 2014's capital expenses will be reduced sufficiently, in the range of $800 million to $900 million.
Upcoming Project
Kinross Gold Corp. completed a new mine project which was started back in 2010. The Dvoinoye mine, which cost around $360 million, has recently started its operations and has the capacity of producing around 235,000 to 300,000 ounces of gold annually. This mine was completed at a very low cost as compared to other projects which is of great importance during such crucial times for gold producers.
| | | | |
| --- | --- | --- | --- |
|   | Company | Industry | Sector |
| Quick Ratio (MRQ) | 1.91 | 1.57 | 2.71 |
| Current Ratio (MRQ) | 3.86 | 3.00 | 3.37 |
Both the ratios of the company are better than the industry average showing that the company outperformed the industry and is not currently experiencing any liquidity issues.
Valuation
The company's reserves are as follows:
| | | | |
| --- | --- | --- | --- |
|   | PROVEN | PROBABLE | TOTAL |
| GOLD | 37,844 | 21,755 | 59,599 koz |
| SILVER | 45,859 | 22,366 | 68,225 koz |
| COPPER | 1204 | 240 | 1444 Mp |
*koz = Kilo ounce
*Mp = Million pounds
Based on the proven amount of mineral reserves, we can estimate the profit that can be generated from the mines.
To find the estimated value of the remaining minerals, appropriate cut-off grades based on an assumed gold price of $US 1,200 per ounce, a silver price of $US 22.00 per ounce and a copper price of $US $3.00 per pound are used.
Estimated Profit (Proven and Probable):
| | | | |
| --- | --- | --- | --- |
|   | (Amount x Price per ounce) | Amount in ( $ Billion ) | Amount in ( $ Billion ) |
| Revenue |   |   |   |
| GOLD | 59,599 x 1200 | 71518.8 |   |
| SILVER | 68225 x 22 | 1500.95 | 73019.75 |
|   |   |   |   |
| Production Cost of Sales | 60697.4 x 1069 | 64885.6 | 64885.6 |
| Gross Profit |   |   | 8134.2 |
*All-in Sustaining cost is used as basis of cost of producing
*It is considered that all the minerals are mined and there are no extra costs incurred.
*it is assumed that both proven and probable materials are extracted.
| | |
| --- | --- |
|   | Amounts in ($ Millions) |
| Market Capital | 5290 |
| Long term Debt | 2058.4 |
| Cash and Cash equivalents | (932.1) |
| Enterprise Value | 6416.3 |
*as at 30 September 2013.
The EV is $6416.3 million and the total number of shares outstanding are 1140 million. So the EV/share is $5.63 per share whereas the current share price is around $4.6 per share. This gap shows that there is potential growth in the stock as it is undervalued at this level.
Conclusion
After tapering jolts to the gold market, the industry is showing improvement. The price of gold rose to $1,248/ounce on 6 Jan 2013 after a drop to $1,182/ounce in December 2013. Furthermore, there are speculations that India might reduce its import tariff in near future because its balance of payment has improved during the past few months; which was the reason for the imposition of a high import tariff on gold. This means that the demand for gold by India will once again compete China. Based on the future changes in demand and our estimates, we can see that KGC's stock has potential for growth as it is undervalued at this level and room to increase it with improving gold market. The company has also recently started operations of a new mine in Russia which will result in an increase in output and a decrease in exploration costs contributing to better profit margin. It would be a good investment as the market conditions are showing positive signs.
Disclosure: I have no positions in any stocks mentioned, and no plans to initiate any positions within the next 72 hours. I wrote this article myself, and it expresses my own opinions. I am not receiving compensation for it (other than from Seeking Alpha). I have no business relationship with any company whose stock is mentioned in this article.
Additional disclosure: Equity Flux is a team of analysts. This article was written by our Technology analyst. We did not receive compensation for this article (other than from Seeking Alpha), and we have no business relationship with any company whose stock is mentioned in this article.