General Motors (NYSE:GM) is one of the oldest and most famous USA multinationals which reached the brink of complete collapse during the Lehman crisis. A massive multi-billion dollar bailout by the US government saved the company and like Citigroup (NYSE:C), GM has recovered smartly to become a blue chip once again. GM has been helped by the big haircuts taken by bondholders as well as the huge losses taken by previous stock holders. The company has seen strong sales as the US economy has seen resurgence in recent times, with vehicle sales reaching 15.6 million units in 2013. However, I think that the company stock is unlikely to give more gains as structural issues prevent the company from growing. The company's sales growth in USA as well as other countries is likely to decrease and its 2014 topline/bottomline estimates seem a bit high to me. The valuation is also not as compelling as it was before, with other fundamentally strong auto stocks such as Ford (NYSE:F), Toyota (NYSE:TM) and Honda (NYSE:HMC) available at similar valuations. I would look to avoid GM stock and look for greener pastures.
Why you should sell General Motors
1) Poor December sales in USA - General Motors reported a ~6% drop in auto sales in December 2013, which was the worst amongst the Big 3 US carmakers. Though the company saw a growth of 7% for the whole of 2013, 2014 will be a tough year as USA car growth is expected to slow down to less than ~4%. If the economy sees any shocks, then GM will see a tougher time.
2) Lack of leadership in India and China - India is one of the fastest growing large auto markets in the world and all global automakers have been trying hard to gain marketshare from the market leader Maruti Suzuki. Though the last couple of years have been bad due to stagflation, growth is expected to return with a new government. Hyundai has become the No.2 player through a sustained focus on products and marketing. Toyota and Honda too have become large sellers through quality product launches targeting the Indian market. Ford has caused a stir in the market with the launch of its sub- 4 meter SUV Ford Ecosport. This Ford SUV is the only vehicle to have a backlog of more than 6 months in the lackluster Indian market, where other automakers are idling factories and cutting production. General Motors remains a niche player in the Indian market with its main product offerings figuring very low in the Indian buyer's list.
General Motors India Friday said it has sold 5705 vehicles in December 2013 against 7067 units sold in the corresponding period last year. These include 2073 units of Beat, 1282 units of Sail and 1,088 units of Chevrolet Enjoy. P. Balendran, Vice President, General Motors India, said, "Despite providing highest level of discounts during December, footfall in showrooms failed to pick-up. The outlook for the industry remains grim in the short-term as the dampeners like slow economic growth, high inflation and fuel costs continue to pose challenges and the overall economic scenario continues to be uncertain.''

Source - Nasdaq
In China too, GM has not been as proactive as the other major vehicle makers such as Toyota, BMW, Audi (OTCPK:AUDVF), etc. GM has failed to adapt adequately to the demand of different local markets which has made it a marginal player. China has become the biggest vehicle market and no car maker can afford to ignore it. General Motors is trying hard to make a name with its brands but currently is not making a big dent.
3) GM has not capitalized on fast growing Electric and Hybrid vehicles category - General Motors was one of the first entrants into the electric vehicle market with Volt. However, Tesla (NASDAQ:TSLA) has stolen the thunder despite a much heftier price tag. Tesla has come out of nowhere to become the leading EV brand with its Model S sedan winning numerous awards. Toyota is the leader in the hybrid category with its Prius model. GM has failed to capitalize on its first mover advantage in this fast growing vehicle category.
4) Valuation is not as compelling - The stock rally since 2012 has increased GM's valuation and brought it to the same level as other major global car makers. GM's management and manufacturing is not as good as Toyota or a Honda. Without a valuation discount, GM's stock does not look as attractive that it used to look before. I would look to avoid GM stock and look for better stock substitutes in the car industry.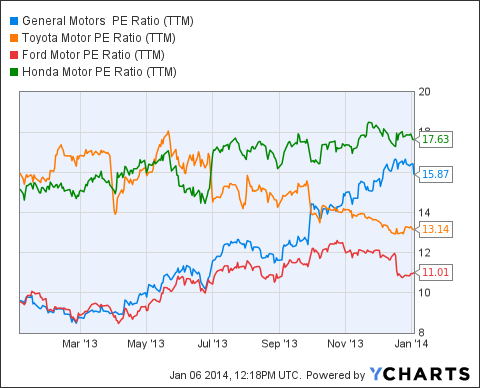 GM PE Ratio (TTM) data by YCharts
5) Cheap Yen strengthens Japanese Auto Companies - The yen has weakened by ~19% in the last one year against the US dollar, which has helped the big Japanese exporters such as Nissan (OTCPK:NSANF), Mitsubishi, Toyota, Honda and others. Japanese companies have not only become more competitive against its Asian competitors but also USA companies. The US dollar is expected to remain strong against the yen as "Abenomics" leads to further weakening of the Japanese currency.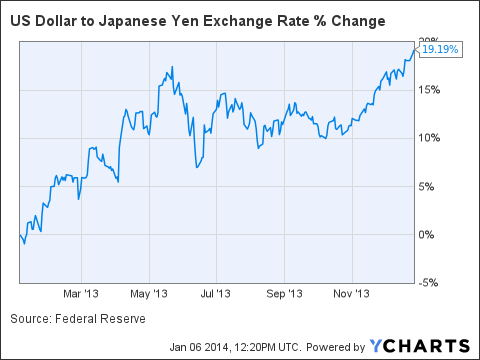 US Dollar to Japanese Yen Exchange Rate data by YCharts
6) Pension liabilities remain a big overhang - While General Motors was able to extinguish a large part of its debt liabilities during the government bailout, the company still suffers from its old pension liabilities. General Motors remains on the hook to pay $71 billion in pension liabilities, which is a big overhang for the stock's further rise.
GM's pension obligation to UAW-represented workers in the United States was $71 billion at the end of 2011, the last time the Detroit company detailed its blue-collar pension obligation. That exceeds GM's current market value by about $20 billion. During the last round of labor talks in 2011, GM and the UAW agreed to discuss ways the No. 1 U.S. automaker could reduce the risk of its pension shortfall, viewed by credit ratings agencies as debt and a concern to GM investors.

Source - Reuters
GM Positives
a) Balance Sheet has become stronger - General Motors has not given a dividend in the last few years which has substantially increased the cash component on its balance sheet. Total cash equals to ~50% of its market capitalization ($28.5 billion total cash). The company is unlikely to face insolvency issues like it did during the aftermath of the "Great Financial Crisis".
b) Stronger US economy than expected - Vehicle sales are strongly correlated with growth in the broader economy. GM has managed to turnaround, as sales in the domestic market surged due to the recovering US economy. There is no consensus on how the US GDP will grow in 2014 with some analysts predicting anemic growth, while others think that US growth will accelerate. The US economy has been more resilient than other developed economies during the last few years. If the economy grows strongly in the coming years, then GM will benefit from the increasing discretionary spending.
Stock Performance
General Motors got relisted on the US stock market in January 2011 and fell by more than 40% during the next one year. The stock has been on an upward trend since then and the company has given an overall return of ~15% since its relisting.
GM Total Return Price data by YCharts
Summary
General Motors has managed to become the largest US automaker after going under the weight of its debt and pension liabilities during the Great Financial Crisis. The stock has performed quite well in the last couple of years as the company's sales and profits have improved. However, I think that the stock has limited upside as the company faces growth issues in non-US markets. It's positioning in non-US markets is not as good as the other global automakers. The US auto market will also see growth taper after a high single digit growth in 2013. The Japanese auto companies look more attractive given the yen cheapness and similar valuations. GM is also weighted down by its $70 billion plus pension liabilities which act as a strong overhang over the stock. I would look at alternative plays in the auto sector as GM's risk reward turns unfavorable.
Disclosure: I have no positions in any stocks mentioned, and no plans to initiate any positions within the next 72 hours. I wrote this article myself, and it expresses my own opinions. I am not receiving compensation for it (other than from Seeking Alpha). I have no business relationship with any company whose stock is mentioned in this article.