First of all, welcome to January 2014. We made it! Now, with that being said, let's make this a banner year!
In this article I will attempt to discuss some stocks to review for January based on stocks on my watch list of growth stock opportunities.
First, Let's Review The January Effect: A Seasonal Anomaly
The "January Effect" as you may be aware is expected to start us off with another exciting year. As defined, it is a seasonal anomaly in the financial markets whereby stock prices generally increase in the month of January more than in any other month. This creates an opportunity for investors to buy stock for lower prices before January and sell them after their value increases. Tax loss selling season ended on December 31st so therefore the motivation to sell a stock loses its appeal. Therefore, the main characteristics of the January Effect are an increase in buying securities before the end of the year for a lower price, and selling them in January to generate profit from the price differences. The January Effect was first observed in, or before, 1942 by investment banker Sidney B. Wachtel. This phenomenon has been observed since 1925, and generally small companies have outperformed the broader market in the month of January, with most of the disparity occurring before the middle of the month. The most common theory explaining this phenomenon is that individual investors, who are tax sensitive and who disproportionately hold small stocks, sell stocks for tax reasons at year end (such as to claim a capital loss) and reinvest after the first of the year (January). Another explanation could be that year-end bonus money is used to purchase stocks, thus driving up stock prices. It does make sense. Whatever the reasoning, economic data remains favorable for 2014. Avoid the "noise."
Here is a recent DOW JONES CHART - It's possible that we may see 18,000 by the end of the year. Wouldn't that be great!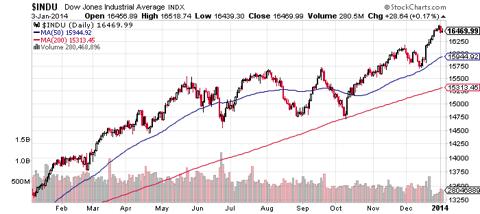 BELOW ARE A FEW STOCKS FOR YOU TO REVIEW NOW:
Note: Please Watch For The Chart Set-Ups On These Or Any Company Mentioned In This Or Anyone Else's Articles.
APPLE (NASDAQ:AAPL)
Apple, Inc. as you are already aware designs, manufactures, and is highly successful in marketing mobile communication and media devices, digital music, personal computers and tablets. As a favorite among consumers, Apple is also a top seller of software, services, peripherals, networking solutions, and third-party digital content and applications related to its products. I suspect that this will be a good year for Apple following the CES conference that has proven to be an international success that packs in tech enthusiasts worldwide, who flock to the 2014 International CES - Consumer Electronics Show January 7-10 in Las Vegas, Nevada.
Lastly, Cantor Fitzgerald initiated coverage on Apple with a recent Buy rating and a price target of $777.00. Analyst Brian White thinks the stock is poised to rally ahead of its new product cycle. I tend to agree.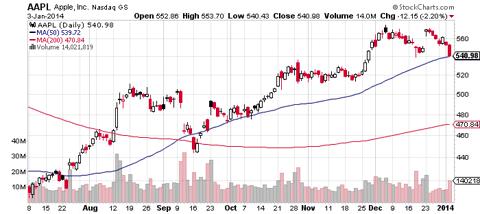 ARIAD PHARMACEUTICALS (NASDAQ:ARIA)
ARIAD Pharmaceuticals, Inc. operates as a biopharmaceutical company, and focuses on the discovery, development, and commercialization of small-molecule drugs for the treatment of cancer. The stock reversed off its lows after the FDA recently and unexpectedly approved the fast return of its leukemia treatment Iclusig to the U.S. Iclusig is a tyrosine kinase inhibitor (TKI) that is approved in the United States for the treatment of adult patients with chronic, accelerated, or blast phase chronic myeloid leukemia, who are resistant or intolerant to prior TKI therapy, as well as for the treatment of adult patients with Philadelphia chromosome-positive acute lymphoblastic leukemia, who are resistant or intolerant to prior TKI therapy. The company sells and markets Iclusig through specialty pharmacies and specialty distributors in the United States. It also has a collaboration and license agreement with Merck (NYSE:MRK) for the development, manufacture, and commercialization of ridaforolimus, for use in cancer. Ariad expects to resume re-marketing Iclusig with a narrower label by mid-January 2014.
New followers might look at this MS Anderson cancer research that talks about chronic myeloid leukemia (NYSE:CML) that was written by Scott Merville; The patient: Back from the brink.
Also, ARIA will present at the 32nd Annual J.P. Morgan Healthcare Conference being held in San Francisco. Harvey J. Berger, M.D., chairman and chief executive officer, will provide an overview of the company's business on Tuesday, January 14 at 3:00 p.m. I'm expecting renewed interest once investors are updated on its progress.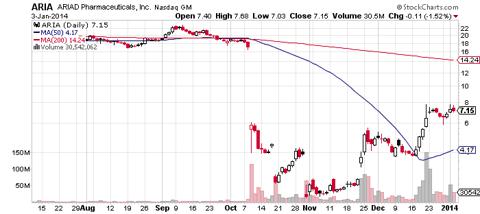 SUNSHINE HEART (NASDAQ:SSH)
Sunshine Heart, Inc. is an innovative medical device company that develops new technologies for cardiac and coronary disease. It focuses on developing, manufacturing and commercializing C-Pulse heart assist system, which is an implantable, non-blood contacting, heart assist therapy for the treatment of moderate to severe heart failure which can be implanted using a minimally invasive procedure. This really is an exciting company to follow and you can read more about its potential by reading one of my recent articles here about SSH.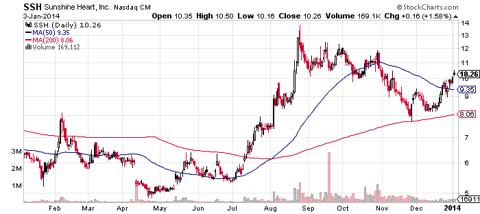 BIODEL (BIOD)
Biodel, Inc. is a development stage biopharmaceutical company. Its focus is on the development and commercialization of innovative treatments for diabetes, namely ultra fast insulin (NYSE:UFI). I suspect that as the company makes more announcements involving its UFI product, we could see more interest like we saw in 2013 when the stock advanced from $2.50 to $6.00. Currently, its way undervalued and in due time may be good for a double with more news. To become more familiar with the BIOD story I would suggest reading a colleagues in-depth article that discloses the truly unique investment article in BIOD now. The article is titled; Biodel: Creating A Better, Faster Acting Insulin, The Next Big Thing For Diabetic Therapy.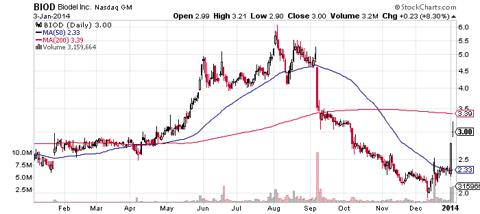 ROCKWELL MEDICAL (NASDAQ:RMTI)
Rockwell Medical is a 2013 top performing biopharmaceutical company developing a pipeline of drug therapies targeting end-stage renal disease (ESRD) and chronic kidney disease (CKD) with innovative products and services for the treatment of iron deficiency, secondary hyperparathyroidism and hemodialysis. As one of the few major suppliers in the U.S., Rockwell's products are sold in the two largest dialysis centers, DaVita (NYSE:DVA) and Fresenius (NYSE:FMS) and used to improve the quality of life of patients with kidney failure on hemodialysis, by removing toxins and replacing critical nutrients in the dialysis patient's bloodstream. Look for this stock to change course and reverse to the mid-teens in due time. For more due diligence please refer to one of my earlier articles written here and here.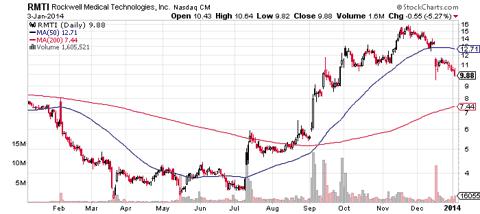 WALTER ENERGY (NYSE:WLT)
Walter Energy, Inc. is a producer and exporter of "metallurgical coal" used for the global steel industry. It also produces thermal coal, anthracite, metallurgical coke and coal bed methane gas and other related products. The company operates through two segments: U.S. Operations and Canadian and U.K. As you see, the stock has been lifting from the bottom and broke out in the $14's. A "Golden Cross" chart formation is pending a breakout, meaning that this is very bullish sign. Stay tuned to see what happens here near term. SA colleague Equity Watch has a new article that you should review that talks more about this opportunity.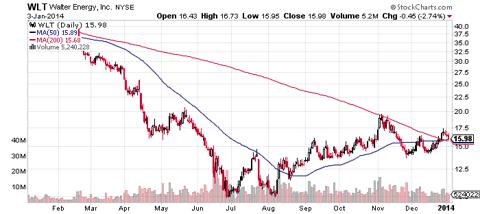 NQ MOBILE (NYSE:NQ)
NQ Mobile, Inc. provides mobile Internet services. It offers mobile security software and mobile games. The company also offers advertising, consulting, mobile platforms and mobility services for the consumer and enterprise markets. Its other services include mobile privacy, mobile productivity, personalized cloud, family protection and enterprise protection. The company operates its business through two segments: Consumer and Enterprise. Several 13G filings have been filed in the past few months. Most recently by Morgan Stanley (NYSE:MS).
For some detailed coverage, I would like to refer you to a colleague's articles regarding NQ that can be seen here and here, as well as, by another reputable colleague who wrote about NQ's opportunity here.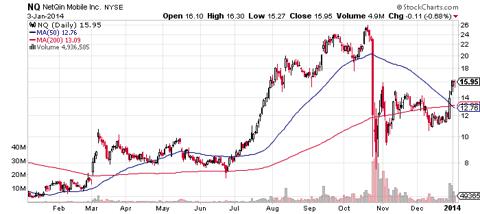 Disclosure: I am long NQ, ARIA, BIOD, SSH, AAPL, SSH, WLT. I wrote this article myself, and it expresses my own opinions. I am not receiving compensation for it (other than from Seeking Alpha). I have no business relationship with any company whose stock is mentioned in this article. I may add to my positions on any drop or fades.