Like a majority of columnists I have been publishing a series of predictions for the New Year over the past week or two (I, II, III). Today I want to make my fourth prediction for 2014.
Bank of America (NYSE:BAC) will hit $20 a share in 2014.
There are myriad reasons I believe this is a highly probable event:
Normalization:
The stock has had a roller coaster ride over the past five to seven years. It has survived a near death experience along with a good portion of the financial sector. The stock has tripled since 2011. However, even after these substantial gains the shares sell at a third of their level prior to the crisis. As the economy & market continue to "normalize", I believe Bank of America and some of its deeply hit financial brethren will slowly creep back to pre-crisis levels.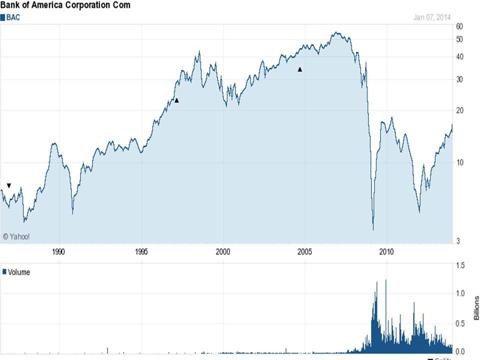 Economic Acceleration:
After five years of "Summer of Recoveries" and other false starts, the economy finally looks ready for a sustained acceleration in 2014. 3Q GDP came in at over 4% and job growth looks ready to surpass the 200,000 monthly job creation level on a consistent basis. In addition, there will be no big tax hikes to start the year as in 2013. Any political disruption also looks like it will be pushed back as both sides get ready for the mid-terms in November.
All of this adds up to an economy that should grow around 3% in 2014. Although still weak in the context of the ten other post war recoveries, it is a good sight better than the 2% growth the economy has been stuck in for five years now. Interest rates should rise a bit in the New Year, but not enough to kill the continued housing recovery.
Bank of America will benefit from an accelerating economy in several ways. The bank should see improved loan growth, continued gains in credit quality and lessened credit write offs as well as increasing home values which will help its mortgage book.
Earnings Growth:
As can be seen from the chart below, the bank's earnings are starting to recover and show substantial growth over the past few years. Provided the economy continues to improve, there is no reason to believe this growth cannot continue for several more years. Litigation expenses should also slowly drop as we move on past the aftermath of the financial crisis.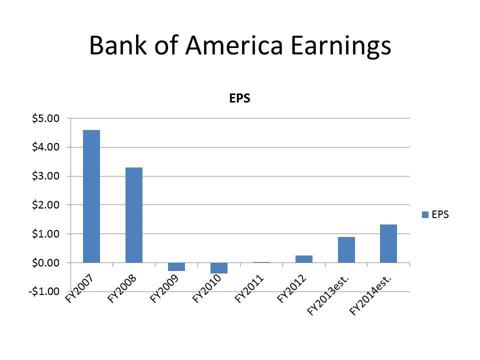 Valuation:
Despite the stock's gains over the last couple of years, the shares are still cheap at under 80% of book value. In addition, the bank should receive permission from the Federal Reserve to start paying a significant dividend again sometime in 2014. BAC posted gains of ~30% in 2013. I do not see the same stellar returns in 2013. However, given the positives listed above for the company, I think the shares can return 20% this year in a more subdued market. This gives me a year end price target of $20 on BAC. BUY
Disclosure: I am long BAC. I wrote this article myself, and it expresses my own opinions. I am not receiving compensation for it (other than from Seeking Alpha). I have no business relationship with any company whose stock is mentioned in this article.