The technology names continue to show strength in many ways and are indicating to us that 2014 will be a strong year for many names. Yes it is true that some valuations are sky high and in some cases absurd, but overall many of the IPOs seen in recent years have strong underlying businesses. Our friends in California who work for a number of these young start-ups have great stories about new products and services which are changing the way their customers do business and most importantly the sales are profitable at an early stage. No longer are companies forced to create loss leaders to get in the door, but are selling these products based on merit and doing very well with the approach.
The value proposition is real, and as these companies redeploy their profits into R&D they are developing product lines which create so-called ecosystems. This is all reinforcing our belief that 2014 is going to be very good to tech names and the tech heavy Nasdaq.
Chart of the Day:
We are heading higher early in the year and are not all that far from recent multi-year highs. Remember, we believe that within the next two years that the Nasdaq could take out its old all-time highs.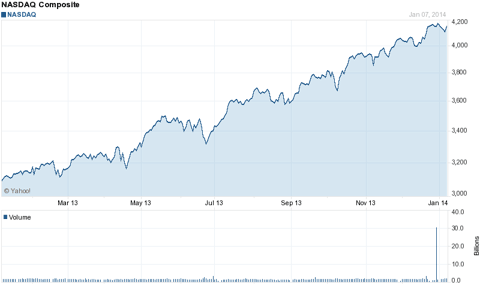 Source: Yahoo Finance
We have economic news today and it is as follows:
MBA Mortgage Index (7:00 a.m. EST): Est: N/A Act: 2.6%
ADP Employment Change (8:15 a.m. EST): Est: 203k Act: 238k
Crude Inventories (10:30 a.m. EST): Est: N/A
FOMC Minutes (2:00 p.m. EST): Est: N/A
Consumer Credit (3:00 p.m. EST): Est: $15.2 Billion
Asian markets finished mostly lower today:
All Ordinaries -- down 0.02%
Shanghai Composite -- down 0.15%
Nikkei 225 -- up 1.94%
NZSE 50 -- CLOSED
Seoul Composite -- down 0.02%
In Europe, markets are trading mostly lower this morning:
CAC 40 -- down 0.22%
DAX -- down 0.16%
FTSE 100 -- down 0.28%
OSE -- up 0.21%
Analyst Moves
Analysts continue to switch sides on the Twitter (NYSE:TWTR) trade, something we find interesting as the company's first quarterly report is coming up. One has to believe that these analysts are trying to swim against the current in hopes of gaining notoriety as one of the few who made a good call on valuation ahead of earnings. Personally we have no horse in this race, but we are skeptical of anyone who claims to know that a stock is priced to richly ahead of earnings when in fact the company in question has never reported results as a publicly traded company.
It sure seems like analysts have developed a bit of a trader's mentality, especially as it pertains to Twitter shares.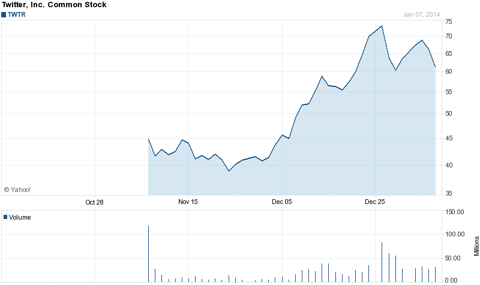 Source: Yahoo Finance
Cantor Fitzgerald is the latest to downgrade Twitter, as they moved the company to a Sell rating from a Hold. The analysts believe that the business model is fine, but that the valuation is the main issue and has much more downside versus upside. Instead the analysts at Cantor Fitzgerald recommend Facebook (NASDAQ:FB) and Google (NASDAQ:GOOG) as substitutes.
Silicon Valley Consolidation Continues
We are on the record as stating that 2014 will see much more M&A activity than 2013, with a belief that tech names will lead the charge. Although it is a very small deal, it is being reported that Facebook purchased Little Eye Labs, an Indian outfit which lets app developers test the performance of their app on the Android service. This is another roll-up acquisition by a large Silicon Valley firm as Little Eye will move their employees to Facebook's headquarters and only keep their service available to other app developers through June 30th. The acquisition is yet another move by Facebook to position itself as one of the top mobile destinations on the web and continue to increase its ad sales, for which it is second behind Google (which also happens to be the developer behind the Android OS).
More Of The Same At Yahoo
At the CES yesterday, Yahoo (NASDAQ:YHOO) CEO Marissa Mayer discussed the company's ongoing efforts in mobile and also disclosed another purchase which should help the company catch up to rivals who already seem to have figured out the mobile market. Although there is a lot of effort going into the transition from a desktop web company to a mobile web company, Yahoo is still focused on content. Katie Couric was present and it was announced that Yahoo would begin Internet magazines, with the first two focusing on food and tech. The tech magazine will be led by former New York Times tech columnist David Pogue.
As one of those who was lucky enough to make a bullish call just before Yahoo shares began this move upwards, we are a bit worried when thinking about where the stock goes from here. Our view is that most profits should be taken and deployed elsewhere until the new strategy shows promise of moving the needle in regards to the bottom line.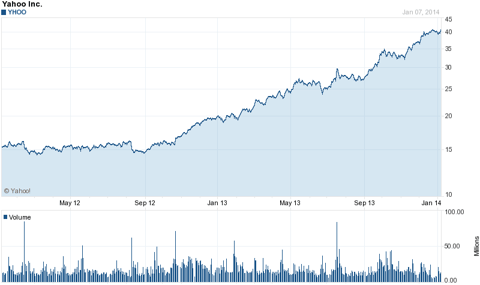 Source: Yahoo Finance
There were a lot of other topics covered such as a new advertising tool for buyers as well as new ideas on how to monetize content, but the big takeaway in our opinion is that Yahoo is sticking to content that applies to the masses and tweaking it to continue to meet consumers viewing habits. The trend at Yahoo, in our opinion, has it on a crash course to be able to deliver news, entertainment and other media via web, mobile and possibly even the television in a big way in the next five years. The content is there, now it is about developing (and in some cases maintaining) the channels with which to connect with the end users.
Macro Earnings For Micron
Micron Technology (NASDAQ:MU) is higher after reporting earnings which beat consensus estimates and has caused quite a few analysts to come out and give either new guidance and/or an increased price target. Sterne Agee reiterated its rating on Micron at Buy and raised its price target from $26/share to $28/share. Credit Suisse raised its price target on Micron shares to $30/share from $28/share and Jefferies, which has the Street high estimates stated that they believed other analysts were going to have to raise estimates in line with theirs, which is obviously bullish for the stock.
We doubt that the company repeats last year's performance, but most of Micron's business is doing very well. We would point out that there was some weakness in the flash business but overall a great quarter for the bulls as many in the market were taking a neutral or bearish stance on the name in recent weeks.
Disclosure: I have no positions in any stocks mentioned, and no plans to initiate any positions within the next 72 hours. I wrote this article myself, and it expresses my own opinions. I am not receiving compensation for it (other than from Seeking Alpha). I have no business relationship with any company whose stock is mentioned in this article.