The outlook of the gold market is showing some promising sign due to increasing price of gold after it took a rebound from $1,182/ounce, when it was hit by Fed's tapering. Share prices continue to fluctuate still trying to find stability; and the investors that purchased gold during the recession were mainly equity investors who are now moving back to the equity market, resulting in a contraction in the commodity market of gold. But China has been supporting gold prices by keeping their demands high. Revenues are being affected due to high volatility in gold prices whereas the costs of production are going up, leaving very little in terms of profit margin.
Introduction
Yamana Gold Inc. (NYSE:AUY) is a Canadian company that has operations and exploration underway throughout South America; namely Brazil, Argentina, Chile and Mexico. The company currently has provable and proven reserves of 17.7 million ounces of gold, 89.2 million ounces of silver, 2.7 million pounds of copper, 138,000 pounds of zinc and 7,800 pounds of molybdenum as at 31 December 2012.Yamana's production levels also improved in 2012 and it reported 1.02 million ounces of gold production and 9 million ounces of silver. Copper production was reported at 150.6 million pounds. In 2012, Yamana Gold bought Extorre Gold Mines Ltd for $404 million which will increase their revenues as at the time of deal, output was expected to increase to 1.75 million ounces in 2014 from the production level of 1.2 million to 1.3 million in 2012.
Fundamentals
Yamana Gold has been performing impressively for the past few years, reporting positive earnings and showing a 0.95 (5 year average) dividend yield with an increase of 18.93% in share price during last 5 years. 2013 proved to be a tough year due to market chaos, and the company experienced a plunge in share price with a decrease of around 50%, bringing it to $8.72 per share. Despite this decrease, the company was able to increase its revenue by 6.1% in the third quarter (compared to second quarter) but that was not a substantial increase when compared with last year's quarter. The slow increase in revenues can be related to the low price of gold, which has been persistent for this year, but Yamana has been able to control its cost of production more efficiently as compared to the industry giving them a slight advantage over its competitors. The company still managed to achieve earnings of $43.5 million, an impressive figure taking into account the struggling market.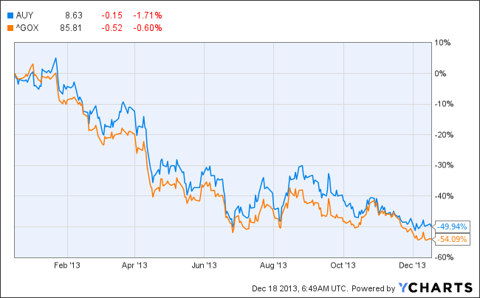 After the second quarter of 2013 many companies suspended their dividend due to high costs, but the situation at Yamana Gold remained changed. During the last quarter the company reported a dividend yield of 2.96, which is higher than the industry average, showing that the company outperformed the industry and managed to give better dividends while some companies opted for suspension; though it also points out that there may be no more room for dividend growth. Yamana paid a dividend of $49.8 million which can be covered twice by the cash flow from operations. This is positive in terms of dividend sustainability.
| | | | |
| --- | --- | --- | --- |
|   | Company | Industry | Sector |
| Dividend Yield | 2.96 | 2.67 | 2.45 |
| Quick Ratio (MRQ) | 0.86 | 2.78 | 2.65 |
| Current Ratio (MRQ) | 1.28 | 3.62 | 3.31 |
The liquidity position of the company does not paint a good picture as there is a huge gap in both quick and current ratios when compared with the industry average. This can create hurdles in the future if steps are not taken to improve, as it can create issues regarding payment of short term obligations.
New Project:
Despite the low price of gold, Yamana is investing $450 million in the Cerro Moro project which was acquired when the company took over Extorre Gold. The mine will be operational by late 2015 and will have the capacity to produce 200,000 gold equivalent ounces annually. Although this won't have any effect on the share price at present, the company will able to increase its supply in the future; and if prices improve by that time, this mine will provide an incremental benefit. At the time of the acquisition, the mine had an estimated 1.36 million ounces of gold equivalent indicated resources and 1.05 million ounces of inferred mineral resources, but this estimation changed after the identification of new veins which has increased the resources by 44%.
Yamana Gold has invested in development projects at the Chapada mine in Brazil, which will lead to an expected increase in production of 130,000 to 150,000 gold equivalent ounces and 130 million pounds of copper.
Valuation
The Cerro Moro project will be completed in late 2015 so its reserves cannot be considered proven or probable and won't be added in the calculations.
| | | | |
| --- | --- | --- | --- |
|   | PROVEN | PROBABLE | TOTAL |
| GOLD | 5,847 | 11,829 | 17,676 koz |
| SILVER | 19,267 | 69,924 | 89,191koz |
| COPPER | 1.2 | 1.5 | 2.7Mp |
| ZINC | 70,000 | 68,000 | 138000 pounds |
| MOLYBDENUM | 7500 | 300 | 7800 pounds |
*koz = Kilo ounce
*Mp = Million pounds
As the amount of Zinc and Molybdenum is too low, we will only consider gold and silver to estimate the expected profit that can be generated from all the existing operational mines.
To find the estimated value of the remaining minerals, appropriate cut-off grades based on an assumed gold price of $950 per ounce and$20 per ounce of silver are used.
Estimated Profit (Proven and Probable)
| | | | |
| --- | --- | --- | --- |
|   | (Amount x Price per ounce) | Amount in ( $ Billion ) | Amount in ( $ Billion ) |
| Revenue |   |   |   |
| GOLD | 17,676 x 950 | 16792.2 |   |
| SILVER | 89,191 x 20 | 1783.82 | 18576.02 |
|   |   |   |   |
| Production Cost of Sales | 19,459.82 x 888 | 17,280.32 | 17,280.32 |
| Gross Profit |   |   | 1295.7 |
*All-in Sustaining cost is used as basis of cost of producing
*It is considered that all the minerals are mined and there are no extra costs incurred.
*it is assumed that both proven and probable materials are extracted.
Yamana Gold is using $950 to calculate its reserves whereas other companies are using around $1200. Even with such a low value, the company is still earning a profit of $1295.7 billion.
| | |
| --- | --- |
|   | Amounts in ($ Millions) |
| Market Capital | 6565 |
| Long term Debt | 1084.4 |
| Cash and Cash equivalents | (232.1) |
| Enterprise Value | 7417 |
*as at 30 September 2013.
The enterprise value of the company is $7.4 billion and the total number of outstanding shares is 752.9 million, from which it can be calculated that the EV per share will be closest to $9.85 per share. Currently the shares are priced at around $8.7, and according to our calculation this is an undervalued giving room for growth. The gap between estimated and current price shows the shares have potential growth, making them an attractive investment.
Conclusion
Looking at the current conditions of the gold market, it is difficult to predict where the price of gold will end up because of a high dependency on external factors, such as the Fed policy to decrease the stimulus program or the relaxation of imports by countries like India. Despite these factors, Yamana Gold itself is in a stable position and has potential to grow in the future. The company's output is expected to increase as it has undertaken development projects which will result in an increased production levels. Even though Yamana has invested in the Cerro Moro project during such low times, but this investment will be beneficial for the company in the future due to the substantial increase in expected output. Yamana Gold expects to increase production to 1.4 - 1.5 million gold equivalent ounces in 2014 and to over 1.55 million gold equivalent ounces in 2015, and expects to maintain its all-in sustaining cost at $925. If the company is able to do so it will be in a position to increase its revenues and outperform the industry due to its current low all-in sustaining cost of $888, compared with other top gold producers. Yamana Gold is also paying good dividend yield and seems an attractive buy at this level.
Disclosure: I have no positions in any stocks mentioned, and no plans to initiate any positions within the next 72 hours. I wrote this article myself, and it expresses my own opinions. I am not receiving compensation for it (other than from Seeking Alpha). I have no business relationship with any company whose stock is mentioned in this article.
Additional disclosure: Equity Flux is a team of analysts. This article was written by our Technology analyst. We did not receive compensation for this article (other than from Seeking Alpha), and we have no business relationship with any company whose stock is mentioned in this article.