Northern Trust had a nice way of describing the problem with real assets in 2013 (Dec. 18, 2013 "Investment Strategy Commentary").
They said,

"Real assets are typically utilized to provide protection against unexpected inflation. However, 2013 has shown that other factors are also at play. Global real estate and global listed infrastructure (considered real assets because of their ability to pass-through to the end user - through increased rents or utility prices, for instance) showed their interest rate sensitivity as real interest rates surged mid-year. Increases in real rates (rate increase is not tied to accelerating inflation) represent the worst of both worlds for these asset classes - as funding costs go up, but the lack of inflation results in little pricing power."
Rather than just thinking about interest rate sensitivity as a one dimensional matter, they pair it with inflation. So, if inflation were rising faster than interest rates, (declining real rates) real estate presumably would not have had the problems it had in 2013.
It may also be a useful way to differentiate between types of yield oriented equities. Non-real estate and non-infrastructure dividend stocks don't necessarily have the same relationship to inflation, and may have more degrees of flexibility to adapt to increases in real rates.
I think that's a nice way to describe real estate's and infrastructure's greater sensitivity to interest rates than was found among dividend stocks.
Following that line of thought, if interest rates are currently adjusting to a real rate coming out of QE, and perhaps in anticipation of inflation, once rates have risen a bit more, real estate and infrastructure should be able to catch up and move ahead, partially aided by a greater ability to implement price increases.
Within real assets there were certainly pockets of strength, such as apartments being able to raise rents on a supply/demand basis; and pipelines with more volume from natural gas wells, but nonetheless there was price damage to the category.
With exception of selected situations, the categories are not attractive yet, but when interest rates stabilize or begin increasing less rapidly than inflation, the real estate and probably the MLPs should do from OK to well.
Whether 2014 will see more of what we saw in 2013 is yet to be seen, but (1) we do not face the psychological risk of a shift from more QE to less QE, (2) we are not expected to experience as large a Treasury rate increase in absolute points or relative size as we had in 2013, and (3) inflation is not expected to decline. There may be a further increase in real rates, but not as much of a change as in 2013. 2014 should be a better year for real estate and pipelines. It is important to note, however, that both categories, along with utilities are roundly rated unfavorably by the Street consensus.
In addition to security specific and sub-category specifics, keep the Northern Trust "real rates" idea in mind as a macro overlay.
This chart shows the significant difference between the way real estate (NYSEARCA:VNQ), energy pipelines (NYSEARCA:AMLP) and utilities (NYSEARCA:XLU) handled the past year versus how dividend stocks in general, represented by (NYSEARCA:SDY) and (NYSEARCA:VYM), dealt with the year. They all lagged the S&P 500, but dividend stocks in general came close, while REITs, MLPs and utilities were well behind.
The performance of each ETF, including (NYSEARCA:SPY) the S&P 500 ETF, is divided by the performance of SPY in this chart to show relative performance.
The dashed lines are real estate, pipelines and utilities; and the solid purple and gold lines are general dividend stocks.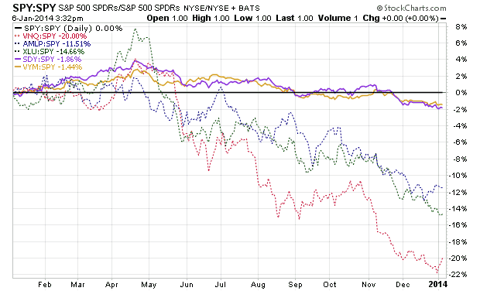 We are keeping our allocation to dividend ETFs, but have previously reduced our exposure to real estate, pipelines and utilities months ago, pending more developments in the interest rate realm.
General Disclaimer: This article provides opinions and information, but does not contain recommendations or personal investment advice to any specific person for any particular purpose. Do your own research or obtain suitable personal advice. You are responsible for your own investment decisions. This article is presented subject to our full disclaimer found on the QVM site available here.
Disclosure: QVM has positions in SPY, SDY, and VYM as of the creation date of this article (January 8, 2014). We certify that except as cited herein, this is our work product. We received no compensation or other inducement from any party to produce this article, but are compensated retroactively by Seeking Alpha based on readership of this specific article. I have no positions in any stocks mentioned, and no plans to initiate any positions within the next 72 hours. I wrote this article myself, and it expresses my own opinions. I am not receiving compensation for it (other than from Seeking Alpha). I have no business relationship with any company whose stock is mentioned in this article.