This is part of a series of articles on stocks that show significant volatility and/or are heading into a binary event that is likely to move the stock price significantly. The point is to be able to recognize stocks with significant volatility and benefit from it through both short-term and long-term trades.
My article of this same nature on Amarin (NASDAQ:AMRN) was the first in this series. My recent article on Tesla (NASDAQ:TSLA) was the second piece in this series. I wrote about Twitter (NYSE:TWTR) last week for this series, as well. Twitter, since then has already moved 12% to the downside, pushing this trade well on its way. SA Contributor Michael Blair also had the timing down right for Twitter.

I feel there's the same time of opportunity in Questcor, as well.
Questcor (QCOR) - a battleground pharma company with a huge short position - is today's candidate, as we're likely to see a massive catalyst before Q3 2014, in my opinion. Questcor is either, depending on regulatory opinion, legal and extraordinarily undervalued, or simply an outright sham.
Personally, I've shorted QCOR in the past, and for the long-term remain bearish on the company, calling it a "too good to be true" story in the past. I think it's a candidate for a volatility trade because again, we know the market can't stay irrational longer than we can stay solvent sometimes. This article is going to present both the bullish and the bearish argument behind the company, and then introduce the volatility trade.
About Questcor
From Questcor's website:
We are a biopharmaceutical company focused on the treatment of patients with serious, difficult-to-treat autoimmune and inflammatory disorders. Our efforts are currently focused on the fields of neurology, nephrology and rheumatology, areas of medicine which have significant unmet medical needs.

Our main product is H.P Acthar® Gel (repository corticotropin injection), a naturally-derived formulation of adrenocorticotropic hormones used in a variety of disorders having an inflammatory component.

We are currently supporting research in a number of rare conditions, where there is significant unmet need for treatment alternatives to standard therapies. We are also actively supporting research efforts to better understand disease processes and therapeutic mechanisms of action in conditions where Acthar might potentially play a role in treatment.
The stock's fundamentals are as follows: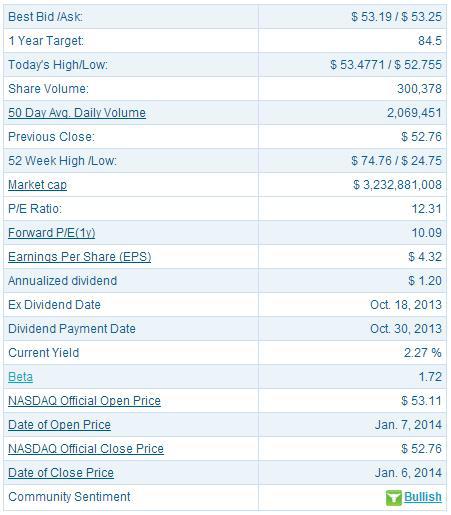 As of December 13th, and according to Yahoo Finance, Questcor has an astounding 41.60% of its float held short - which equates to roughly 19 million shares. What does such an enormous short position show us? It shows us that the bears are either really right, and that this is a "no brainer" short - or that, in the case of bears being wrong, we're going to see a monstrous short squeeze.
Questcor has one drug, Acthar Gel, and has made its monstrous profits by hiking the price of it up substantially from $40 to $28,000 a vial. Just simply capitalism? Supply and demand? Or, unethical price gouging? Time will tell the tale, as regulatory scrutiny is heavy on the company.
The stock is truly a house divided.
The Bullish Argument
The bullish argument revolves around several factors:
Longs generally seem to think that the price being charged for Acthar Gel is a bona fide result of simple supply and demand.
The sales of Acthar skyrocketed by over 60% YOY from the third quarter of 2013, bolstering Questcor's revenue to $227 million.
The company has an operating margin of roughly 55%.
The company trades far below the multiples that comps in the same sector trade, with a P/E of 12 and change.
Acthar sales are likely to continue to grow before fizzling out a bit, as Acthar's introduction for several new indications is just starting to see the "rubber hit the road". Additionally, the company continues to seek other indications.
Analysts are predicting annualized growth of 31% for the next 5 years, which should command a significantly higher valuation, if it weren't for the bear argument.
The Bearish Argument
For my entire bearish argument on Questcor, you can read my recent article "The Idiot's Guide to Why Questcor is Suspicious".
The company's promotional tactics and business have been subjected to ongoing investigations from four U.S. agencies, including the U.S. attorney's office and the SEC.
Insiders - namely the CEO - continue to dump millions of dollars in shares in the midst of this controversy.
Scrutiny on the company's one product, Acthar Gel, leaves it susceptible to having "all of its eggs in one basket". Acthar has an almost "too good to be true story" of being bought for $100,000 at the equivalent of a biotech garage sale, and now being the sole drug responsible for a multi-billion dollar company.
Questcor is already at the upper end of its all time highs, trading near a $3.6 billion market cap.
38% of the float is held short and there's a significant amount of short interest and bearish arguments in the public domain with regards to the company.
The company is being looked at under a microscope for its questionable relationship with the Chronic Disease Fund.
Big names like Whitney Tilson and Citron Research have both staked short positions in the company on the very same argument.
The Trade
The trade is based on the fact that at some point over the next three quarters we're going to have insight as to what the regulatory agencies plan to do with Questcor, if anything. If there were to issue a small fine or do nothing at all, Questcor is likely to rocket upwards. Should they find some hard, concrete evidence of wrongdoing, it could be catastrophic for Questcor's "dream" story.

The trade we're looking at is going to be a simple $50 long straddle with a July 14' strike. It's going to cost $21.90 to buy, and its break evens are going to be $29.10 or $71.90, both easily achievable if catalyzed by the above events.
Unlike some of the other trades in this series, this is one where I'm not advocating trying to cash both sides of the straddle, as I don't think it's prudent in the long-term. Be steadfast and wait for the news to arrive before July. Additionally, there will also be two earnings releases before then where material events (like other ongoing investigations or continued Acthar progress) could be disclosed.
Best of luck to all investors here.
Disclosure: I have no positions in any stocks mentioned, and no plans to initiate any positions within the next 72 hours. I wrote this article myself, and it expresses my own opinions. I am not receiving compensation for it (other than from Seeking Alpha). I have no business relationship with any company whose stock is mentioned in this article.