Sandridge Energy (NYSE:SD) has experienced some volatility since I last covered it but, nonetheless, the company remains an attractive contrarian buy. Sandridge Energy shares dropped about 11% after the company announced in November that it will raise its FY 2013 production guidance by 300 MBoe to 33.6 MMBoe and Sandridge Energy also issued a FY 2014 production estimate of 36.3 MMBoe (plus 8% y-o-y). Sandridge Energy is an interesting oil and gas exploration company because of its extensive footprint in the Mississippian region where the bulk of Sandridge's production growth is happening.
Volatile twelve month performance
Shareholders haven't had it easy with an investment in Sandridge Energy. The stock started 2013 at about $7 but sold off quickly after the company released lower production guidance in February. Shares ultimately dropped as low as $4.52 but have recovered nicely from May to October. Shares recently experienced another blow as the market wasn't overly impressed with Sandridge's production guidance for FY 2013 and FY 2014. Shares are now hovering around the $6 mark, just about the same level I previously recommended the shares at, waiting for further impulses to either edge higher or fall toward the $5.50 level.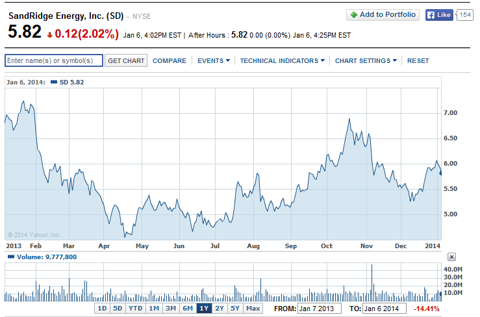 The return differential between Sandridge Energy and other independent oil and gas companies has widened again in November and highlights the relative underperformance of Sandridge Energy compared to other companies in the sector. Sandridge Energy's shares have lost about 32% of value over the last 24 months while Occidental Petroleum (NYSE:OXY) as well as Anadarko Petroleum (NYSE:APC) lost 2% each and Apache Corp. (NYSE:APA) 11%. Marathon Oil (NYSE:MRO) is the only oil and gas exploration company in the peer group with a positive return of 12%.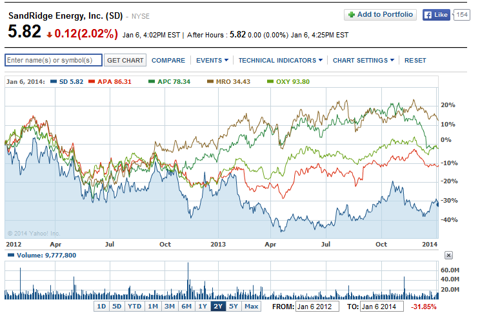 Mid-Continent/Mississippian footprint will drive share returns
64% of Sandridge's reserves are located in the Mid-Continent and Mississippian region, 10% relate to the Permian basin, 17% to offshore areas (Gulf of Mexico/Gulf coast) and 8% to other regions. Also, 46% of reserves relate to oil and 54% to gas. Over the last two years production growth has shot up for Sandridge's Mid-Continent operations: Liquids production growth is set to increase 76% from 2012 to 2013 and is projected to increase a further 50% in 2014. Total y-o-y production growth stood at 67% from 2012 to 2013 and is expected to hit a still whopping 35% in 2014. Quarterly and yearly production volumes per commodity are broken down in the graph below: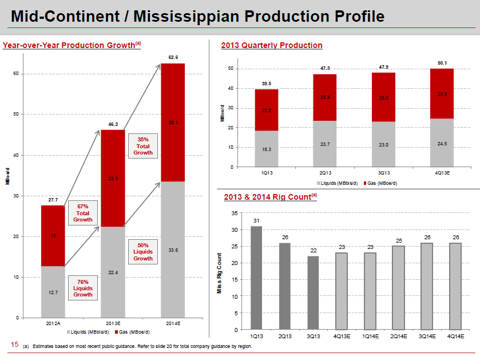 Break down of production guidance
Sandridge Energy expects to increase total company production from 33.6 MMBoe in 2013 to 36.3 MMBoe in 2014 (an increase of 8%). While gas seems to be less of a production growth driver, oil and NGL make up Sandridge's fast growing commodity segments.
More importantly, the graph below depicts that Sandridge Energy's Mississippian operations will increase in dominance over the next year and I expect this trend to continue for the years after 2014 as well. Estimated 2013 Mississippian production will account for 52% of total company production and this percentage is expected to increase to 63% in 2014. Sandridge Energy's share price will be largely driven by the operational success of its Mississippian operations.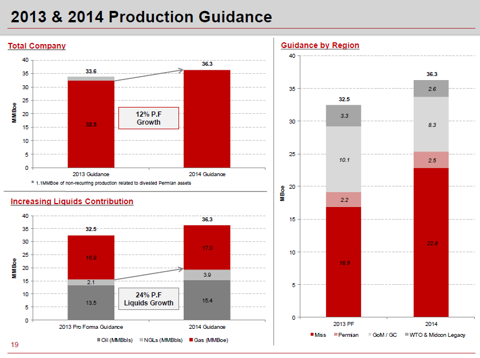 Leon Cooperman still bullish
Renowned investor Leon Cooperman has repeatedly voiced his bullish stance on Sandridge Energy. In December 2013 Cooperman appeared on CNBC and pointed toward the turnaround Sandridge Energy achieved after hedge funds flexed their activist muscles. He considers Sandridge Energy's management to be of high quality and he could see Sandridge double in value which would translate to an implied target price around the $10 mark.
Conclusion
Sandridge Energy's operational success is highly dependent on its Mississippian production and it is likely that the company will be even more of a concentrated bet in the future. Past production growth has been quite impressive and I presently see no clouds on the horizon that would suggest production growth in this region is going to slow down. In addition, shareholders have renowned value investor Leon Cooperman on their side who heavily and publicly endorsed both Sandridge Energy as an investment as well as the management of the company. Investors who desire exposure to a concentrated energy play profiting from the US oil and gas exploration boom might want to consider Sandridge Energy. Long-term buy.
Disclosure: I am long SD, APA. I wrote this article myself, and it expresses my own opinions. I am not receiving compensation for it (other than from Seeking Alpha). I have no business relationship with any company whose stock is mentioned in this article.