First impressions are difficult to overcome. In fact, in some instances, the long-term effects of a poor first impression are dire. For example, no matter how competent a candidate for a job may be, if he or she shows up late for their interview, or is disoriented and aesthetically unkempt, the likelihood of that person being extended an offer is minimal at best. There is value in that initial introduction. There is a lasting imprint in that first handshake. There are consequences of that inaugural exposure.
Companies function the same way, and in terms of introductions, no event is more pivotal than an IPO. For a company transitioning from private ownership to the trading floors of a public exchange, the importance of making a strong first impression is invaluable. The company wants to appear organized. They want to offer investors a clearly defined investment vehicle. They undoubtedly want to separate themselves from the pack. Each of these intents serves as a non-optional objective. So what happens when a company doesn't meet these goals? What happens when a company stumbles out of the gate like a three-legged horse? What happens when a capable company, with innovative science, and a sizeable addressable market, makes a poor first impression? The answer is, in most cases that the company fails to attract investor interest, and then struggles to ever capture an evenhanded audience.
Such has been the case for Regado Biosciences (RGDO). In the late summer of 2013, Regado made their IPO under relatively disappointing and chaotic circumstances. In a year where biotech entities soared to unprecedented heights, an IPO such as Regado's should have provided a launching pad for the company. It should have been received with shareholder acclaim. Regado's IPO did nothing of the sort. In a convoluted mix of mismanagement, conflicting priorities, and standoffs over opening price, the Regado IPO disappointed on many levels. Now, sadly, nearly six months after the fact, the company is still struggling to attract noteworthy investor interest. This article will argue however that the company deserves just that.
A Cursory Introduction to Regado
Regado Biosciences is a New Jersey based pharmaceutical company developing actively controllable antithrombotic drug systems for acute and sub-acute therapeutic settings. What that basically means, to those of us without advanced degrees in medicine and science, is that Regado is developing drug systems designed to minimize the risk of, and threats associated with, blood clots and hemostasis. The company is striving to improve treatment, and reduce side effects, in areas including, but not limited to, the following:
• Coronary revascularization procedures
• Acute Coronary Syndrome (known as ACS)
• Venous thrombosis indications
• Rheumatoid Arthritis
• Diabetic Vasculopathy
In order to take on these otherwise daunting tasks, the company is developing therapies utilizing aptamer technology. Aptamers are versatile molecules that bind to specific target molecules. They can be used for both basic research, and clinical purposes, as macromolecular drugs. Regado's aptamer-active control agent technology is designed to give physicians the ability to directly control the degree of antithrombotic activity in real time on a "per patient, per setting" basis. In other words, at the risk of over simplifying the process, this technology would give physicians and surgeons the ability to control blood flow, clotting, and bleeding in real time. This would minimize risks associated with blockages, and would maximize efficiency through minimizing costly on site corrections. Through the process of targeting, the technology being employed at Regado can plan for where clotting is needed, and where clotting would be dangerous. Then, through aptamer-controlled agents, the technology is capable of performing in a way suitable to that individual patient's needs. Regado's clinical programs are specifically concentrated on acute and sub-acute care injectable anticoagulants. That program focus is significant.
Anticoagulants represent an established multi-billion dollar worldwide market opportunity in need of therapeutics with improved safety and flexibility, which optimize therapeutic outcomes. The company owns, or has pending, patent protections for worldwide rights to all of its development products, which, for the anticoagulant systems, extend through 2025 and beyond. The company's pipeline can be observed directly below: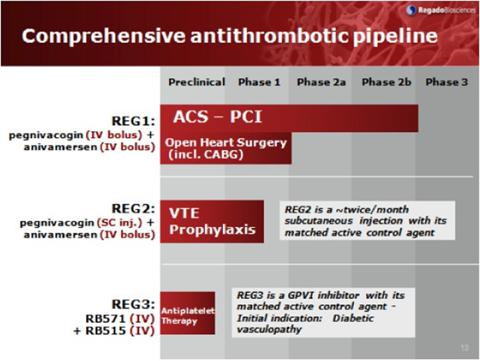 As can be seen the company is currently focused on developing three specific treatments. The first, REG-1, is currently recruiting participants for its pivotal Phase three trial. The randomized, open-label, multi-center, active controlled, parallel group study is designed to determine the efficacy and safety of REG-1 in comparison to bivalirudin in patients undergoing percutaneous coronary intervention. The trial is currently expected to be completed in December of 2015.
The company's second drug candidate, REG-2, has initiated its Phase one trial. As per the company's website, REG-2 is described as follows:
"Regado has initiated a Phase 1 trial using a subcutaneous formulation of pegnivacogin (aka RB006) paired with an IV bolus formulation of anivamersen (aka RB007) for eventual application in venous thrombosis indications. Subcutaneous administration of RB006 is anticipated to provide a therapeutic profile complementary to the IV formulation, with a slow onset of activity and duration of effect of several days, ideally suited to venous prophylactic indications, while still maintaining the benefit of active control by IV RB007 administration."
The company's third drug candidate, REG-3, is considered by Regado to be their "lead anti-platelet candidate." While still in its developmental infancy, the company believes that indications thus far have shown the treatment to be potentially effective in a wide range of platelet-mediated diseases including ACS, rheumatoid arthritis and diabetic vasculopathy. Thus far, the company describes its efforts and plans as follows:
"Current programs are focused on validated platelet receptor targets involved in platelet adhesion and activation. Such receptors typically represent challenging targets for the discovery of small molecule inhibitors, but are ideally suited to the development of aptamer inhibitors designed to block the protein-protein interactions which occur between these receptors and their ligands. Such a drug, in combination with a specific active control agent would provide unprecedented control of antiplatelet therapy to physicians."
The Antithrombotic Conundrum
Regado is, in all likelihood, considerably underappreciated by investors for two reasons. First, as stated herein, the company stumbled a bit in the planning and execution of its 2013 IPO. That misstep, undoubtedly, affected the company's launch during a year where nearly all other biotech IPOs were loud and exciting. Secondly, investors likely fail to fully comprehend the potential impact that the REG-1 drug system could have on the market. This occurs, quite frankly, because many investors don't appreciate the "antithrombotic conundrum."
Since the introduction of the first antithrombotic treatment into the medical establishment, there has been one unavoidable issue; how can physicians successfully, safely, and consistently prevent harmful blood clots from forming, while allowing healing clots to develop normally? That is the "antithrombotic conundrum." Harmful clots form and block blood flow, whereas healing clots form, and prevent bleeding out, without blocking blood flow.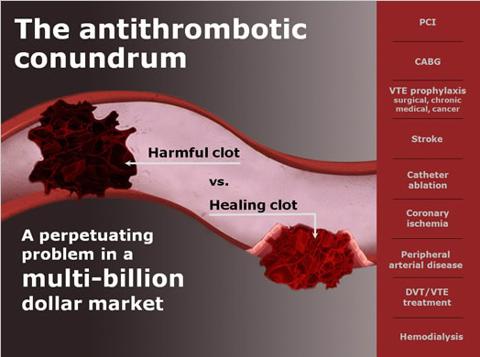 As can be seen, to the right of the above picture, there are a myriad of ailments, which would benefit from a more targeted and controllable means of preventing bad clots, and encouraging good clots. The more commonly known ailments include stroke, various open surgeries, peripheral artery disease, and coronary ischemia. In fact, in using coronary ischemia as an example, one could perhaps better understand the conundrum further. In the case of unwanted ischemia, treatments such as heparin and bivalirudin are used. The treatments have demonstrated varying degrees of anticoagulant behavior; however neither of them has an active control or is reversible. In other words, once they are activated in the body, they are largely on their own. At that point, the administrator cannot control what they do, how they do it, or where they do it, to any significant degree. Furthermore, in the event that the treatments act in the body in a way which is potentially harmful, reversal of that action without severe and costly counter-action is nearly impossible.
In the case of bleeding, treatments include everything from frequent monitoring of anticoagulation levels to intense medical staff interaction. This often requires compression or closure devices to be employed. In the case of major bleeding, a transfusion may even be needed. These approaches to address bleeding are not always effective and are expensive and disruptive to the healthcare system. As a result, alternative measures are often pleaded for.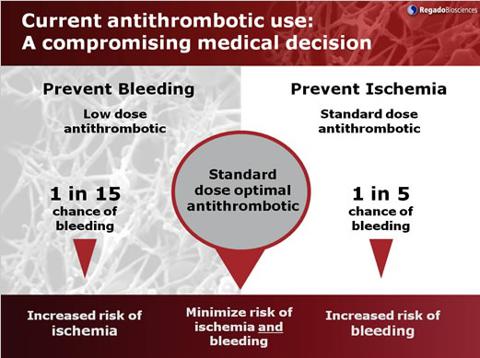 At Regado, it is believed that the Phase three trial for REG-1 will prove that their mechanism of action can become the new standard for antithrombotic execution among surgeons, physicians, and all other healthcare practitioners. Since their system is composed of two components, an aptamer-based anticoagulant and its complementary active control agent, the company believes they offer a far superior product. The anticoagulant component of the system, pegnivacogin, and the way it is utilized in the system, is believed to make the difference. These methods enable wanted clotting, but prevent unwanted clotting and blockages. This contains and controls blood flow, and gives surgeons and physicians an unparalleled level of control.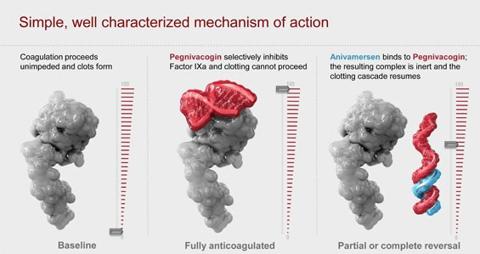 Regado offers an explanation of this system, in their own words, as follows:
"The REG1 anticoagulant component, pegnivacogin (aka RB006), is a single-stranded, nucleic acid aptamer. RB006 selectively and potently binds to blood coagulation Factor IXa, inhibiting its activity and preventing blood clot formation. The active control agent, anivamersen (aka RB007), consists of a nucleotide sequence complementary to RB006. Binding of RB007 to RB006 releases RB006 from Factor IXa, causing the predictable and rapid reversal of its anticoagulant effect and allowing the patient's blood to return to normal. Because binding of RB007 to RB006 is energetically favored and irreversible, reversal of the anticoagulant activity of RB006 by RB007 is sustained.

By adjusting the dose of RB007, physicians can reverse partially or completely the activity of RB006, titrating the anticoagulant effect based on each patient's individual needs in each clinical setting. For this reason, Regado believes REG1 has the potential to be the anticoagulant therapy of choice from the emergency room to the operating room."
Moreover, this innovation is not only being applauded by Regado's own executives and insiders, but also among a considerable number of analysts.
Analyst Expectations for Regado Biosciences
Since the time of the company's IPO in 2013, multiple analysts have supported the company's vision. In fact, in September of 2013 Regado immediately saw coverage initiated by five well-to-do analyst firms. BMO Capital, Cowen, and Wedbush all currently have "outperform" ratings on the stock with a consensus price target of 12.00 per share. Meanwhile, Canaccord Genuity and Needham & Company currently have "Buy" ratings on the stock and an average price target of 13.00 per share.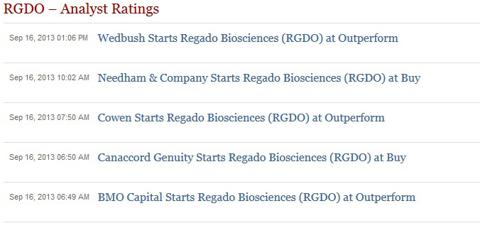 BMO Capital analyst Jim Birchenough, citing the Phase two results for REG-1, has stated the following:
"REG-1 has shown statistically significant improvements in bleeding and stroke side effects compared to heparin, an older generic drug used in surgery."
Whereas Canaccord Genuity analyst Ritu Barral has been quoted as having made the following statement:
"We see REG1 as a highly innovative new anticoagulant that could improve outcomes across a large number of 'cardiovascular' procedures. The drug could eventually garner $2.5 billion in worldwide sales."
Insider and Institutional Activity
In addition to the support and optimism shown by analysts for the future of Regado, it appears as though insiders and institutional investors share a similar perspective. Institutional investors currently hold 31% of shares at Regado, and included among these investors are the following shareholding entities:
• Wexford Capital
• Goldman Sachs
• Morgan Stanley
• Deutsche Bank
As it pertains to insider holdings, Regado currently has 17% of shares held by insiders at the original IPO price of 4.00 per share. Aside from other insiders who were in possession of private placement shares, which were later distributed at the time of the IPO, there have been zero shares sold by insiders. Therefore, of the approximately 21 million shares outstanding at Regado, 48% of shares are held by insiders and institutions.
Recent Events
Within the last month, two major events have unfolded at Regado which are worthy of being mentioned herein. On December 9, 2013, the company named Michael Metzger as the President and Chief Operating Officer at Regado. Mr. Metzger was previously employed in executive capacities at Mersana Therapeutics, Forest Laboratories (NYSE:FRX), and Onconova Therapeutics (NASDAQ:ONTX).
In response to this addition to the executive team, Regado CEO Dr. David Mazzo stated the following:
"We are delighted to have Michael joining Regado. His background in corporate and business development along with his operational experience will enhance our already high performing team. We look forward to his contributions and to collectively bringing REG-1 and the entire Regado pipeline through successful development. It is my expectation that Michael will quickly become an asset to Regado and will help us establish the new standard of care in anticoagulant therapy, starting with REG-1."
The second noteworthy event, which occurred within the last month, was announced on December 17, 2013 when Regado declared that Dr. Deepak Bhatt joined the company's already highly capable Medical Advisory Board. Dr. Bhatt is currently the Executive Director of the interventional cardiovascular programs at Brigham & Women's Hospital's highly regarded heart and vascular center. He is also a senior physician there, and a professor of medicine at Harvard Medical School. He has completed fellowships in interventional cardiology, and cerebral and peripheral vascular intervention. He has authored, or co-authored, over 600 publications, and has been listed in Best Doctors in America from 2005 to the present. He was the principal or co-principal investigator for a number of late-stage international cardiovascular clinical trials.
In response to this addition to the Medical Advisory Board, Regado CEO Dr. David Mazzo stated the following:
"Dr. Bhatt is a world-class clinician and cardiovascular researcher, and we are honored to have him join our Medical Advisory Board. His academic and clinical contributions have advanced the field significantly, and we look forward to gaining from his expert insight as we advance the ongoing Phase 3 study of REG1."
Financials
As one would expect, the financial circumstances at a clinical stage biopharmaceutical company are less than impressive empirically. This is especially so for a company which has only been trading publicly for less than five months. While the company's summer of 2013 IPO managed to raise 46.7 million dollars, and the company's venture round hauled in 51 million dollars, the costs, revenues, liabilities, and cash flows regularly attributed to operations have yet to truly get off the ground. The company's most recent, and only, 10-Q can further attest to such.
As it pertains to the IPO, the net proceeds to Regado were 41.1 million dollars after deducting underwriting discounts of 3.3 million dollars and offering costs of 2.3 million dollars. Upon the closing of the IPO, all shares of convertible preferred stock then outstanding automatically converted into an aggregate of 9,396,767 shares of common stock. This was then added to the 11,671,500 shares of common stock sold at the IPO.
By the company's own declaration in the above linked 10-Q, Regado is not profitable and does not expect to be profitable in the near future. The company has suffered negative cash flows from operating activities of 22.1 million dollars during the nine months ended September 30, 2013 and a net accumulated deficit of 130.8 million dollars since the company's inception. They have devoted most of their financial resources to research and development, including preclinical development activities and clinical trials. Regado has not completed development of any product candidate yet, and have therefore not generated any revenues from product sales. As a result, they expect to continue to incur net losses and negative cash flows for the foreseeable future.
Regado as an Investment
At this stage, assessing Regado as an investment vehicle based on financials and metric data would be shortsighted. The company has been trading for less than two quarters, and as a biopharmaceutical company functioning at the clinical stage, operating at a deficit is a foregone conclusion. With no fully developed product candidates approved or generating revenue, the company has no applicable metrics available for evaluation. There is no calculable P/E, PEG ratio, price to sales considerations, or run rate to utilize. The company's market cap is barely over 100 million, and its beta is reported differently at every source; if it is reported at all. In fact, at this stage, evaluating Regado is a matter of largely subjective data. Therefore, let's evaluate the company based on those criteria.
First, consider what must be considered for any company at this stage; insider and institutional holdings. Those are considerable. Not only are nearly half of the outstanding shares held by insiders and institutions, but no post-IPO shares have been sold by insiders, and the institutions, which maintain positions in Regado, are highly regarded and widely followed. That level of support offers investors moderate protection against downside risk.
Secondly, consider the factors most viable to companies functioning specifically in the biopharmaceutical space. Most notably, these factors include "blockbuster potential" of drug candidates, addressable markets, scientific innovation, trial stages, and pipeline. In the company's lead candidate, REG-1, Regado has a treatment potentially applicable to a multi-billion dollar market comprised of various ailment sub-sectors. Given the candidate's performance in earlier phases of the trial process, and its potential to offer improved control, efficacy, safety, and overall applicable cost basis, the term "blockbuster" as it pertains to relevant impact would be warranted. REG-1 is now in Phase three of the trial process, and reported result updates every three months or so moving forward could offer catalysts for shareholders. As it pertains to the pipeline, it is quite diverse despite only having one advanced candidate and only two preliminary candidates. REG-1 serves a variety of needs, REG-2 offers a widespread therapeutic improvement, and REG-3 could potentially address a considerable market in platelet therapy with multiple unmet concerns.
On the basis of measurable subjective criteria, Regado has all the makings of an attractive investment opportunity.
Risks
As is the case with any investment, especially those which present themselves in the biopharmaceutical realm, there are considerable risks associated with Regado, which must be considered and evaluated by any prospective investor. First, there are the usual suspects; potentially disappointing trial results, exorbitant research and development costs, bureaucratic bumps in the road, and a highly competitive industry. However, in the case of Regado there are two risks which substantially trump the others; extortion level costs, and convincing Wall Street of the company's value.
The company is staring down the barrel at a 150 million dollar bill to complete the Phase three trial for REG-1. That is, for lack of a better word, excessive. The drug is a two-component anticoagulant, combining pegnivacogin and anivamersen to control bleeding during coronary interventions and open-heart surgeries. The trial will take place at multiple locations all over the world, and will encompass 13,000 patients for evaluation, and an interim analysis. The 24-30 month trial will almost certainly require additional fund raising, perhaps through sizeable equity offerings, in order to manage expenses successfully. This would need to be acceptable to prospective investors.
Furthermore, Wall Street is yet to be convinced that Regado has real value. This has been an ongoing issue for the company since its IPO, and was one of the factors which contributed to the IPO price being dropped from an initially proposed value of 15 dollars per share, to the eventual offering of 4 dollars per share. The fact that the company's trial costs for REG-1 are well in excess of its market cap further attest to this. Wall Street likes drugs that clearly treat a definitive ailment conclusively using a proven model. As that is not the case with Regado, Wall Street has remained less than convinced. Regado is developing a first of its kind treatment, to address a multitude of needs in various medical applications, and is taking on a dynamic trial to prove its worth. Wall Street remains uncertain.
Conclusion
Regado's IPO left much to be desired. In many respects, the company is still suffering from that experience. Despite shares being up 31% from the time of the IPO, investors still seem to be disinterested. The average daily volume is under 25,000 shares, and in an oversaturated biotech sector where the word "potential" is too frequently used as a replacement for the word "value," it is easy for companies to get lost. Regado has gotten lost.
For a moment, forget the price targets and opinions of the analysts detailed herein. Step away from the laundry list of ailments which REG-1, REG-2, and REG-3 could "potentially" address. Let us, for the sake of conservative simplicity, forecast the impact of only the current Phase three trial for REG-1 as a treatment candidate for Coronary Artery Disease patients undergoing a Percutaneous Coronary Intervention. A Percutaneous Coronary Intervention, more commonly known as an angioplasty, is a procedure which has become the dominant form of revascularization in patients with atherosclerotic disease. This includes Coronary Artery Disease. In fact, the most unadventurous estimate available from medscape.com suggests that no less than 31% of Coronary Artery Disease patients seriously consider an angioplasty at one time or another. As Coronary Artery Disease is a 2.6 billion dollar market in the United States and Europe combined, then 31% of that would give REG-1 a total addressable market of approximately 810 million dollars. Now, assume that only half of that 31% actually move forward with a Percutaneous Coronary Intervention, and forecast an addressable market of 405 million dollars for REG-1 alone. Moreover, in an effort to not leave any expectation unturned, let's assume further that the number of outstanding shares increase by 75% as a result of probable dilution in an effort to raise more money for the Phase three trial. Now we have a company with 36.75 million shares outstanding, and a market cap of 405 million dollars. That would provide a forward-looking price target for the company of 11 dollars per share in 24 months. That indicates significant upside.
Companies, like people, should not be punished forever for a bad first impression. A lackluster IPO doesn't indicate incompetence. It simply provides context. Regado has a targeted, safe, and presumably effective product in REG-1, capable of becoming a new standard in a considerable space. Significant institutional support, insider commitment, highly competent recent appointments, universal optimism among analysts, and a conservative price target defined herein, all provide a view of what Regado is capable of. As a result, Regado Biosciences should be considered a capable investment vehicle for any patient investor. Further due diligence, and individual consideration, is well warranted.
Disclosure: I have no positions in any stocks mentioned, and no plans to initiate any positions within the next 72 hours. I wrote this article myself, and it expresses my own opinions. I am not receiving compensation for it (other than from Seeking Alpha). I have no business relationship with any company whose stock is mentioned in this article.
Additional disclosure: It is advised that all prospective investors complete their own relevant due diligence prior to initiating an investment into any company detailed herein, or on any other web based platform.