All eyes are on the holiday sales of struggling retailer J.C. Penney.
J.C. Penney (NYSE:JCP) has been in a heck of a downward spiral since I first reccomended shorting it at prices of $21. The company is desperately trying to pull itself out of its own quicksand. With JCP diluting recently to raise more cash and to buy it time, there was extra scrutiny on holiday sales from this particular retailer.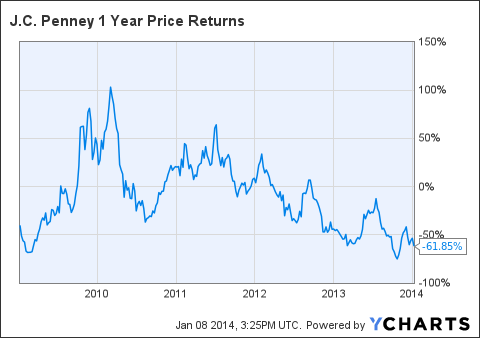 JCP 1 Year Price Returns data by YCharts
The stock has performed brutally over the past year and a half, in the midst of a Board struggle, a botched rebranding plan under Ron Johnson, and continued astronomical cash burn.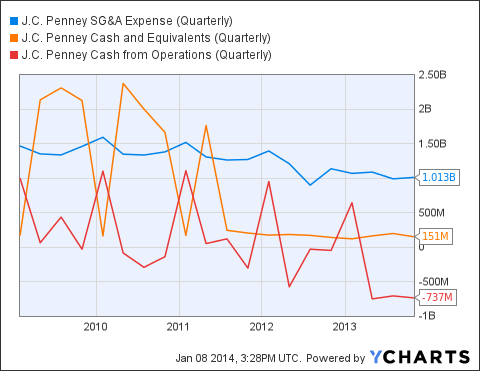 JCP SG&A Expense (Quarterly) data by YCharts
This morning, J.C. Penney released a suspiciously concise press release that reads:
J.C. Penney reported today that the Company is pleased with its performance for the holiday period, showing continued progress in its turnaround efforts. Customers responded well to the Company's offerings this holiday shopping season, both in store and online.

J.C. Penney also reaffirmed its outlook for the fourth quarter of 2013, as previously set out in the Company's third quarter earnings release dated Nov. 20, 2013.
Good, right? Meeting guidance? Wrong. The stock promptly traded off 7.4% pre-market and is currently trading down more than 8% on the day. The market doesn't seem to be buying J.C. Penney's line here.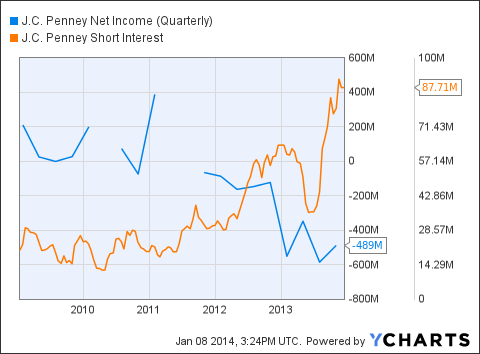 JCP Net Income (Quarterly) data by YCharts
JCP's cash flow statement has gotten uglier and uglier since 2010, and the key for the company is to stop the bleeding. Shorts, on the other hand, smell blood and are moving in for the kill.
Just like Tesla's (NASDAQ:TSLA) Q4 guidance at the end of Q3, the lack of numbers associated with this press release has left a bad taste in the market's mouth - as well it should. In a case like JCP, where the cash flows are so incredibly important, especially in a holiday quarter, the choice to leave the concrete numbers out of the equation here shows that they likely have results that they are not overly pleased about. Also, some shareholders just find it downright annoying to release a statement like this without any concrete figured tied into it.
The stock's performance this morning goes to show a general distrust for what management has to say as meeting guidance really isn't that bad of news for the retailer. Hiding the numbers, however, doesn't look good.
I remain bearish on JCP's future prospects and think we will soon add it to a list of once iconic but now defunct names in retail, alongside RadioShack (NYSE:RSH) and Sears (NASDAQ:SHLD).
Disclosure: I have no positions in any stocks mentioned, and no plans to initiate any positions within the next 72 hours. I wrote this article myself, and it expresses my own opinions. I am not receiving compensation for it (other than from Seeking Alpha). I have no business relationship with any company whose stock is mentioned in this article.