While the world watches the benchmark 10-year Treasury rapidly moving to the heralded 3.00% to 3.125% Maginot Line which separates a Fed in control with one that is not, investors now fear Annaly Capital Management's (NYSE: NLY) steady decline to $9.97 from its April high of $14.61 has more downside to go as the consensus expects longer-term rates to continue aggressively higher through that Line during 2014.
"In 2013, the benchmark 10-year note Treasury yield already saw a fairly sizeable increase from 1.69% in late December 2012 to an intraday high at 3.021% in late December 2013, its highest level since July 2011," Forbes contributor, Kitco, states. "And, that trend is likely to continue. Get ready for higher rates."
A continuation of this steep incline in long-term rates will devastate investors of NLY, as it already has.
During the rapid rebound in long-term rates throughout 2013, Annaly management was forced to liquidate the company's MBS assets at losses, killing net income for the third quarter and the performance of the stock, which, in the case of the latter, shed 31.7% from its April 2013 high watermark after NLY settled at $9.97 at year-end - a rather steep decline further exacerbated by year-end tax selling.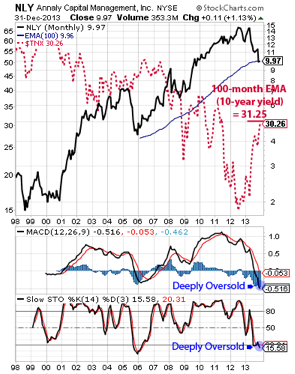 However, it's my thesis that the bloodshed in NLY is nearly over, as most would-be sellers have already been flushed out of the stock during the 7-month-long sell-off in the US Treasury and Mortgage-Back Securities (MBS) market of the past year.
Aside from management functioning properly, the key to Annaly's future is the next phase in the recent budding crisis in the US Treasury market.
Will the sell off in long-term Treasuries, and by extension MBSs, continue, torpedoing the real estate market, MBS valuations and NLY's valuation?
Why should rates stabilize from here, especially given the consensus forecast for even higher long-term rates of as high as 4% on the 10-year Treasury in 2014?
Though the Fed has scheduled to taper $10 billion per month from its $85 billion-per-month QE3 program, starting in January - allowing the long-end of the yield curve to "normalize" - investors may be overlooking a cooperating buyer of US paper to replace the $10 billion monthly purchases.
That buyer is: Japan.
Just as the Fed opened its swap window to aid the ECB during the 2011-12 'liquidity' crisis in the eurozone, the Bank of Japan (BOJ) will most likely step in to aid the Fed and US media in selling their red-herring meme that rising rates suggest a recovering US economy, a monetary "tapering," and an eventual unwinding of the Fed's $4 trillion balance sheet has begun in earnest.
"[W]hile it may not be China stepping up at the U.S. Treasury auctions, there is speculation that the Japanese could be eager buyers of U.S. debt in 2014," Kitco reports. "Looking at the comparative landscape, U.S. 10-year yields stood at 2.996% on December 27, versus a 0.711% for 10-year Japanese government bonds. As Japanese institutions and retail money searches for yield in 2014, there has been speculation that there could be a rotation toward U.S. debt."
What began as an article from Kitco - tilting heavily in favor of a one-way argument for inevitably higher 10-year Treasury rates in 2014 - concluded with the most likely catalyst for ending the upward spiking trend in US long-term rates.
That catalyst is: Japan.
Investors fearing a blowout in US long-term rates and further damage to Annaly's ability to pay out dividends in 2014 may find themselves missing out on a bargain price of $10 for NLY. With the most recent dividend payout of $0.30 per share for the third quarter (or a $1.20 annual payout rate), investors could be staring at an approximate 12% yield from a stock also trading at a 23% discount to book value.
Technically-speak (see chart, above), NLY trades a penny above its 100-month exponential moving average (EMA), while, simultaneously, the US 10-year Treasury trades only 22 bases points below its 100-month EMA.
A coincidence? No. The inverse correlation between the NLY and TNX is quite high (R=-0.92), suggesting a drop in the 10-year Treasury will also see a rally in NLY.
So, investors need to ask themselves: Is it likely the Fed has finally lost control of the Treasury market? Unlikely.
Therefore, NLY may be a wonderful risk-reward proposition at this time.
Disclosure: I have no positions in any stocks mentioned, but may initiate a long position in NLY over the next 72 hours. I wrote this article myself, and it expresses my own opinions. I am not receiving compensation for it (other than from Seeking Alpha). I have no business relationship with any company whose stock is mentioned in this article.