Units of Kinder Morgan Energy Partners (NYSE:KMP) were down upwards of 1% on Wednesday as investors digested an analyst downgrade. With the notable exception of Hedgeye's Kevin Kaiser, the Street has been pretty positive on KMP with price targets in the $90 range. However, Morgan Stanley has broken trend and become the first major bank to slap the MLP with an "underweight" (analogous to sell) rating. While positive on many MLPs, Morgan Stanley believes that KMP is fully valued with relatively small distribution growth capacity, leading to an $82 price target, which is actually slightly higher than where shares trade today. As a side note, this analysis also applies to Kinder Morgan Management (NYSE:KMR) an LLC that owns units of KMP.

Very often, analyst upgrades and downgrades can be backward looking. When they hate a stock at $30, but it soars to $50, many start to love it at the elevated price. In the MLP space, KMP was a disappointing performer in 2013, which could be a reason for increased negativity of late. Still, just because the unit price sagged in 2013 does not mean 2014 will be a bad year. In fact, a key driver of alpha is finding stocks that suffer from misplaced negativity. I continue to believe KMP is one such company, and as I have explained in the past, investors who reinvest dividends should be happy the unit price is lower than it was a year ago.
Morgan Stanley also believes that KMP is overexposed to natural gas compared to other MLPs, and as a consequence, they see it as a relatively undesirable holding. While KMP derives a significant portion of its business from gas pipelines, it is important to recognize that KMP functions like a toll road and collects fees based on volume rather than gas prices. With booming production and long term contracts, KMP should profit handsomely from the U.S. energy boom even if commodity prices remain soft. The company also has a diverse set of assets, including the recent acquisition of Jones Act Tankers. While I was not a fan of that deal, it will be accretive in each of the next three years and was widely cheered on by investors.
I also believe that the company will be able to keep growing the distribution by 5-7% thanks to the major backlog of growth projects. The company has an investment backlog of $14 billion in growth projects and will spend about $3.6 billion on growth projects in 2014. With its current backlog, KMP has the capacity to expand its network by 30-35% over the next five years, which will help to consistently boost distributions for several years to come. With dramatically increasing U.S. production over the next five years thanks to major oil and gas fields throughout the country, KMP will maintain ample pricing power while simultaneously expanding its network of pipelines to boost returns even further.
With planned cap-ex, I believe that over the next five years, investors will continue to see solid distribution growth going forward. As a consequence, now is the time to buy rather than sell KMP. Using a DCF model, I found KMP's present value to be $114. I have attached my estimates below, but first, I will explain my assumptions. I used a discount rate of 8% and projected actual distributions through 2020. Beyond 2020, I used the dividend growth model, assuming 2% annual distribution growth and an 8% discount rate, which leads to a value of $132. I then discounted that value back to the present day at 8% annually to reach my present value of $114, which represents over 40% of potential upside.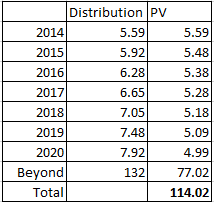 Even if you assumed no long term distribution growth beyond 2020, KMP would have a present value of $94, suggesting significant upside. Morgan Stanley made a mistake with this downgrade, and KMP remains the premiere play on the U.S. energy boom thanks to its exposure to oil and gas volume rather than price. With its backlog of projects, KMP has the capacity to grow the distribution for years to come and is steal at $80 and lower.
Disclosure: I am long KMP. I wrote this article myself, and it expresses my own opinions. I am not receiving compensation for it (other than from Seeking Alpha). I have no business relationship with any company whose stock is mentioned in this article.