Merger Monday brings many deals in the first week of 2014, including a deal announced by Verint Systems (NASDAQ:VRNT). The provider of actionable intelligence solutions announced the acquisition of KANA software.
The deal with a price tag of roughly half a billion dollar is applauded by investors sending shares of Verint 9% higher during the session.
Acquisition Of KANA Software
Verint announced the acquisition of KANA software for $514 million in cash, subject to closing conditions.
With the deal, Verint aims to revolutionize customer engagement and empower companies to enhance customer loyalty, maximize revenues and reduce operating costs for its clients. The deal extends Verint's Actionable Intelligence strategy, enabling organizations to improvement a single-vendor suite, thereby boosting consumer engagement.
With the deal, Verint will gain another 900 global customers in addition to its current 10,000 customer base, allowing for significant cross-selling opportunities.
The combined solutions offer the management of cross-functional information exchange around customer intersection, business processes and workforce performance. This is needed to boost operational efficiency, reduce risks and enhance customer loyalty.
The deal is expected to close in the first quarter, as Verint will purchase the company from funds affiliated with Accel-KKR.
Implications For Verint
The deal is expected to close in the first quarter of the fiscal year of 2015, so it will not impact the outlook for the fiscal year of 2014. Verint expects that the KANA deal will add $140 to $150 million in non-GAAP revenues and non-GAAP EBITDA by $40 to $45 million.
Despite the cost of financing, the deal is expected to be accretive to non-GAAP earning per share in 2015.
Of course the deal comes at a price, $514 million to be exactly. This deal will be financed with $100 million in cash, $300 million in incremental loans and the remainder from the company's credit facility. As such, the deal tag values KANA at 3.5 times revenues and 11.4 times adjusted EBITDA.
Adding To Verint's Growth Trajectory
The deal makes perfect strategic sense, and adds to Verint's long term growth strategy. According to an investor presentation, Verint continues to focus on providing intelligent organizations with the means to differentiate themselves and create a competitive advantage with big data analytics.
Besides focusing on the enterprise market, security offerings remain a crucial part of the business as well.
It can be easily seen from the revenue trends over the past decade that Verint's operations have been growing, at a very solid pace. Including the deal, Verint should be able to break through the $1 billion dollar revenue mark this year.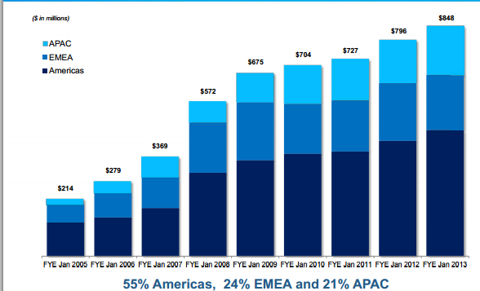 Yet what is very important to notice is the excellent quality of growth. Gross margins have been on the rise in recent years, as the company focuses on higher margin products, and most of these gains have translated into operating margin improvements, almost on a one-by-one ratio, providing a huge boost to earnings.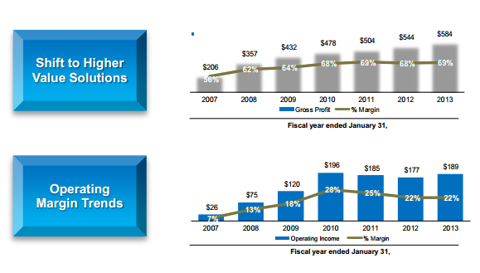 All these incremental earnings have provided Verint with a lot of cash flows. As the company does not pay a dividend, most of these funds were used to strengthen the balance sheet, reducing the net debt position steadily. Deleveraging has been quite spectacular.
As such, the deal will of course boost the net debt position, but this will be very manageable.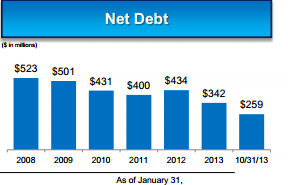 But What About The Valuation?
Factoring in the big jump on Monday, with shares trading at $46 per share, the market values Verint Systems at $2.5 billion.
Now Verint's own revenues for the fiscal year of 2014 are seen around $900 million. Non-GAAP earnings are seen around $2.75 per share, or close to $150 million. Note that GAAP earnings are seen much lower, at around $30-$40 million this year. The big discrepancy between these earnings is largely caused by huge amortization charges and share-based compensation expenses.
On a pro-forma basis, Verint is reporting revenues of around $1.05 billion at the current pace. Non-GAAP earnings could advance to $200 million. Assuming that the acquired assets are equally profitable, net earnings could come in around $50 million.
Even then the $2.5 billion valuation seems rather steep. Paying 2.5 times annual revenues for a growing, and very profitable firm seems reasonable. Yet I am not comfortable using non-GAAP earnings for Verint, given the huge and structural discrepancy between non-GAAP and GAAP earnings. Therefore a valuation at 50 times GAAP earnings is a bit too steep.
Takeaway For Investors
Still investors are happy with the deal, believing in better service offerings and opportunities for cross-selling. The valuation of the deal seems fair. Verint pays 3.5 times annual revenues for KANA and 11.4 times adjusted EBITDA. This compares to its own valuation at 2.5 times revenues and 11-12 times EBITDA.
As such, all cost and revenue synergies through cross-selling will accrue to Verint's shareholders. This is after Verint acquired the company at similar valuation multiples to its own valuation. Despite this good news, I am still held off by the consistent and large gap between non-GAAP and GAAP earnings.
Being conservative, and valuing the business on a GAAP basis, the valuation is way too high, given the relatively low net profit margins of the business. This is despite solid gross and operating margins. So despite the solidly growing operations, I remain on the sidelines. The greater than 50% returns over the past year, haven't made shares cheaper already as well.
Verint has acquired its parent company almost a year ago and focused on growth ever since. While the company focuses on "actionable intelligence" solutions, part of the big data rush, the valuation is still very reasonable. This is especially true compared to other "big data" items. This gives the company too much credit, as its revenue growth is much lower than pure play big data players.
The current market momentum and steep valuations being paid for competitors could easily cause further momentum for the shares if the market perceives the company to be a big data player. As such I am stuck between the high GAAP valuation, which makes me cautious, and possible further momentum driven by market's perception about the business.
I remain on the sidelines.
Disclosure: I have no positions in any stocks mentioned, and no plans to initiate any positions within the next 72 hours. I wrote this article myself, and it expresses my own opinions. I am not receiving compensation for it (other than from Seeking Alpha). I have no business relationship with any company whose stock is mentioned in this article.