The bull market in the S&P 500 (SPX, SPDR) is set to celebrate its fifth birthday in March this year.
This makes it one of the longer-lived uptrends of the last 140 years or so.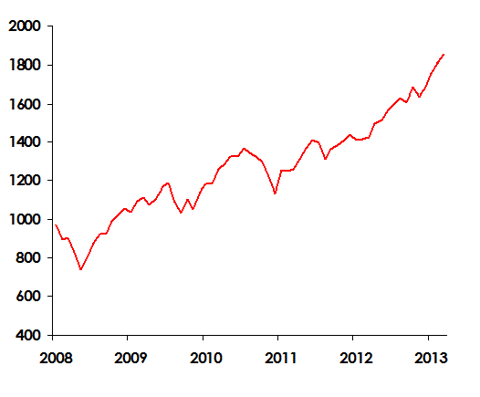 According to my calculations, the median bull market has lasted a mere 32 months, or 44 months on average.
It is also one of the bigger-returning bull markets, with only four notching up greater gains.
 
Gain

(%)

Time

(months)

Average
132.5
44
Median
84.2
32
Biggest
617.3
149
Smallest
22.2
8
Today
177.4
57
Only six out of twenty-five bull markets have made it to the five-year mark, and two of those ended right at it, including the last one (2002-07).
The longevity of the current bull run is being stressed by some of those calling for an imminent top in the S&P, incorrectly on both counts, I believe.
The Joy of Six
While it is rare for a bull market to make it into a sixth year, those that do can be especially worthwhile.
On average, the S&P's price gain in the sixth year of a bull market has been 21% and 25.5% once dividends are included.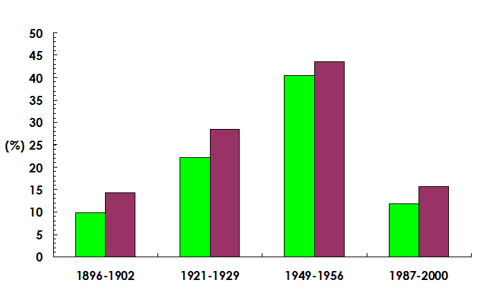 Almost by definition, these sixth years have all happened within secular bull markets.
And, in all but one case, the bull market went on some way beyond the sixth year.
 
1896

-

1902

1921

-

1929

1949

-

1956

1987

-

2000

Total gains after 60th month

(%)

10.1
141.7
77.6
257.9
Longevity from month 60

(months)

14
37
26
90
Our admittedly limited historical experience therefore suggests that any gains between March 2014 and March 2015 could be pretty decent.
Did the bull run only begin in 2011?
An alternative view is that the present bull market actually began in the autumn of 2011, after the dramatic shakeout of that year.
This has been put forward by some bulls who are keen to argue today's bull run is much younger than it appears, and therefore has much more scope to continue.
After all, the S&P did fall by 21.6% in 2011, meeting the most widely accepted definition of a bear market.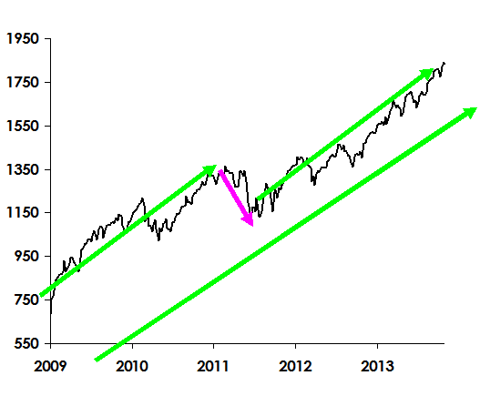 However, treating the action since March 2009 as two bull markets rather than one is artificial, in my book.
The 2011 shakeout only barely qualified as a "bear market" and was over and done with in just five months.
My classification of a decline of this magnitude lasting fewer than 6 months is a "mid-cycle correction", rather than the true ending of a market cycle.
For the sake of completeness, however, I show the record of bull markets as episodes interspersed with 20% falls.
 
Gain

(%)

Time

(months)

Average
85.3
26.5
Median
60.2
23.0
Biggest
394.6
97.1
Smallest
20.3
0.98
Today
72.0
26
By this measure, the upswing since autumn 2011 has been more profitable than the median bull market, and has lasted slightly longer.
However, I maintain that it makes sense to treat the move since 2009 as one bull market, and its forebears the same way.
2009: start of a new secular bull?
Logically enough, bull markets that have made it past the 5-year market have all been of the secular or "long-term" variety.
If the current bull run extends beyond March, it might add a little bit of weight to the case that 2009 marked a major secular bottom in equities and the S&P 500 is now in a secular bull market.
That is not my view, however, particularly in light of valuations today compared to those during previous secular bull markets at an equivalent point in time.
 
1896

-

1902

1921

-

1929

1949

-

1956

1987

-

2000

CAPE at 60 month mark
23.1
12.5
12.2
19.4
Longevity from month 60

(months)

14
37
26
90
The S&P's 10-year cyclically-adjusted price/earnings ratio (NYSEARCA:CAPE) - at 25.4 times - is today above where it was at the 60-month mark of all four previous secular bull markets.
The market was substantially cheaper before the booms of the late 1920s, mid-1950s and 1990s.
The closest comparison with today's situation is therefore the early 1900s, when stocks were on a similar, albeit slightly lower CAPE.
After that episode, the S&P experienced two significant busts over the next six years.
Further bust and boom is also my best guess about what the coming years hold for the S&P. I am staying tactically long of the US market for now, however.
Disclosure: I have no positions in any stocks mentioned, and no plans to initiate any positions within the next 72 hours. I wrote this article myself, and it expresses my own opinions. I am not receiving compensation for it. I have no business relationship with any company whose stock is mentioned in this article.