2014 may be the year a raft of industrial and precious metals mining companies generate oversized investor gains after three years of incredibly weak performance. Stillwater Mining (NYSE:SWC) is well positioned in the sweet spot of producing metals with both industrial and investor uses after restructuring its management team and its core focus in 2013. Palladium and platinum mined in Montana are the main source of income for Stillwater. The company owns the only profitable "long-lived" palladium/platinum resource outside of Russia and South Africa, with an estimated 50-year mine life.
David White, one of the more popular contributors on Seeking Alpha, posted a solid piece last week on North American Palladium (NYSEMKT:PAL), the only other currently minable palladium reserve in the Americas. I actually bought and sold North American in my own account during December for a small profit. However, its assets may be quite short-lived in terms of production, with just 3-5 years left of economically viable reserves if palladium prices remain stagnant. In addition, the company is highly leveraged and a major dilution to shareholder value could happen at any moment to maintain solvency. Just this week North American announced it is looking for a partner and may sell the company.
Palladium's supply/demand fundamentals are likely the strongest positioned of all metals for large price gains in 2014, as it is widely recognized to be in short supply. Rising industrial demand from the automobile and clean energy industries is growing far faster than mined ounces coming out of the ground. Forecasts call for the small deficit in supply in 2012-13 to expand markedly into the end of the decade. HSBC has a 500,000 ounce shortage in 2013 doubling to 1 million during 2014, in line with mainstream Wall Street consensus numbers.
All told, palladium prices have not fallen much as the entire metals complex declined 30%-50% between 2011 and today. Russia held above ground palladium supplies accumulated as a byproduct from its prolific Norilsk nickel mining venture for decades, but has steadily sold off this surplus inventory and price overhang into 2013. Most experts believe Russia holds little or no palladium inventory during early 2014. Norilsk actually bought a large ownership stake in Stillwater between 2003 and 2010 in an effort to manage the global palladium marketplace.
The company's ownership and leadership structure has changed markedly since Norilsk/Russia sold its controlling stake in late 2010. In 2011 Stillwater management made an ill-advised purchase of the gold/copper Altar development asset in Argentina. Just as gold and copper prices were peaking and Argentina was making a historic turn away from outside investment, the acquisition could not have come at a worse time for capital investment. Stillwater paid top dollar of nearly $500 million for an asset that may never be developed. Needless to say long-term investors in Stillwater, like myself, were very upset that management would move away from its asset pure play on palladium and platinum into a different metal, while paying top dollar at a cyclical price peak to boot. Ending the Argentine purchase fiasco, the board of directors was reshuffled, the CEO position and others were purged in 2013, and the company wrote down the carrying value of the gold/copper asset substantially on its books. Today Altar is held as an asset for sale, with hopes of recovering $100-$200 million in value during 2014.
New management has all but promised to stay focused on its Montana palladium/platinum assets in 2014, but a bid for North American Palladium can and should not be ruled out, if paying a low price. Altogether Stillwater's strong balance sheet and growing production of palladium/platinum into decade's end, plus an expanding presence in the platinum group recycling business, argue for a considerably higher stock price over time. Perhaps the preeminent sales pitch regarding Stillwater's growing production profile and upside investor potential is to review the company-generated September 2013 Denver Gold Forum slide shown here.
Stillwater has a conservative balance sheet with almost enough cash and short-term investments on hand to pay off all liabilities. At $13 a share, the stock is priced at 1.5x book value, 10x trailing cash flow, and 25x estimated 2013 EPS from continuing operations by Wall Street consensus. Considering the disparity between mined platinum group supplies and quickly growing industrial demand, Stillwater's valuation is better than fair. The future pricing of palladium and platinum is key. If quotes for the metals rise at a 10%-plus annual clip in 2014 and 2015, Stillwater's stock price will almost surely rise. If we get a spike in palladium prices, and management stays focused on cost controls and increased production, the stock quote could double or triple the next 12-24 months.
Rising Victory Formation Score
Climbing from #30 to #10 last week in the Victory Formation system, Stillwater's stock price rose out of a 6-month based pattern to the highest level since May as buyers appear to be gaining the upper hand. Just like the Cliffs Natural Resources (NYSE:CLF) iron ore mining situation mentioned in my earlier Seeking Alpha article, many mining stocks appear to be bottoming in late 2013 and early 2014 for a possible strong move higher. From my perspective Stillwater may be transitioning into a prolonged uptrend and should be given a serious look by those contemplating hard asset investments. Record central bank money printing the world over clearly points to devalued local currencies and increasing prices of important international stores of wealth, regardless of supply/demand fundamentals. The kicker for Stillwater owners is the fundamental economic forces for palladium and platinum are working in your favor alongside the out-of-control money printing by the U.S. Federal Reserve Bank, et al. Please do your own research and due diligence before investing.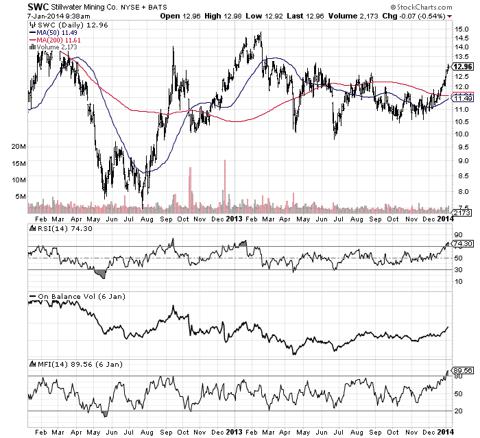 Charts courtesy of StockCharts.com
Disclosure: I am long CLF. I wrote this article myself, and it expresses my own opinions. I am not receiving compensation for it (other than from Seeking Alpha). I have no business relationship with any company whose stock is mentioned in this article.
Additional disclosure: I owned SWC shares in December 2013, and am looking to repurchase on weakness.