On Friday, I read Richard Shaw's commentary with a great deal of interest (Brick Chart View of Major Indexes). In the editorial, Shaw explained the nature of "brick charting," including:
(1) Time Independence. Like Point & Figure Charts, new blocks (bricks) rely on price changes alone, and they may not occur for several time increments.
(2) Recovery. The number of "up" white bricks relative to the number of down red bricks from a previous high determines an ETF's recovery stage.
(3). U.S. Versus Emerging Markets. The S&P 500 SPDR Trust (NYSEARCA:SPY), S&P 400 MidCap SPDR Trust (NYSEARCA:MDY) and iShares Russell 2000 (NYSEARCA:IWM) have fully recovered; in contrast, iShares MSCI Brazil (NYSEARCA:EWZ) and iShares China 25 Index (NYSEARCA:FXI) are still in the process of recovering lost ground.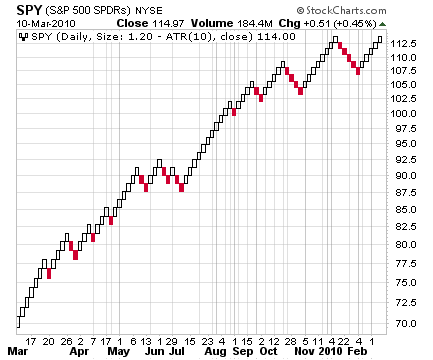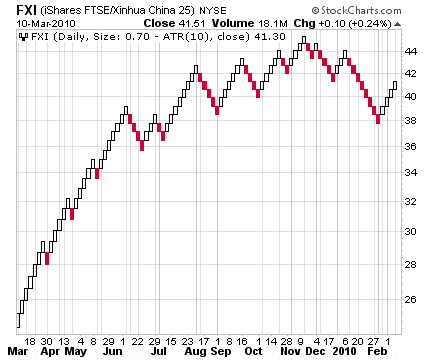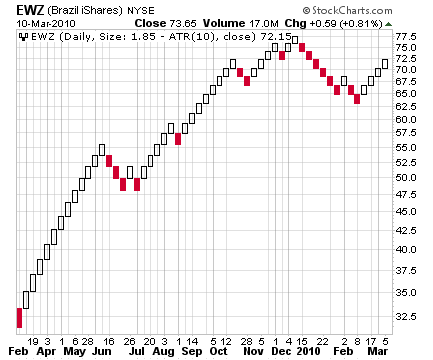 Mr. Shaw concluded that the China 25 Index (FXI) is in the worst shape, down 10 bricks from its November high versus up 4 bricks from the low. And while Brazil (EWZ) may be faring better than China, the implication of the presented material is that the markets of emerging regions are in "worse shape" than the more robust U.S. market proxies.
In truth, an OHLC Chart or a Closing Price Chart would be equally effective at helping one visualize that U.S. stock ETFs are back to new highs; meanwhile, emerging markets may be… in a collective sense… "halfway there."
From my vantage point, however, this speaks to the greater opportunity for key emerging nations. In particular, an investor in Claymore BRIC (NYSEARCA:EEB) may see that he/she is only "two-thirds" of the way home. Yet we may be looking at an uptrend with definitively more upside.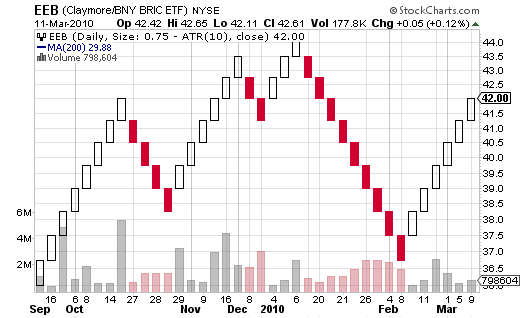 Put another way, these "brick charts" were designed with two things in mind. First, one can follow the general price trend of an asset. So we can note that the price trend is "up" for both the emerging market ETFs and the U.S. ETFs.
Second, traders use "brick charts" to determine signals for trend changes. At the present, there are no "red bricks" for U.S. ETFs or the above-mentioned emergers. It follows that U.S. ETFs and funds like Claymore BRIC (EEB) are in the same boat.
Disclosure Statement: Gary Gordon, MS, CFP is the president of Pacific Park Financial, Inc., a Registered Investment Adviser with the SEC. The company and/or its clients may hold positions in the ETFs, mutual funds and/or index funds mentioned above. The company does not receive compensation from any of the fund providers covered in this feature. Moreover, the commentary does not constitute individualized investment advice. The opinions offered herein are not personalized recommendations to buy, sell or hold securities.