Commodities are coming under pressure again today with each commodity we highlight in the morning updates red, so we are red across the board. The good news is that this all appears to be short-term as we have analysts upgrading certain names and there is now talk on the national level about allowing US produced crude to be exported in order to keep prices high and encourage continued production growth among the domestic E&P names.
Chart of the Day:
Oil prices failed to take out $100/barrel and subsequently fell back down the $93/barrel area where there is support. We view this as yet another opportunity to nibble among the premier names.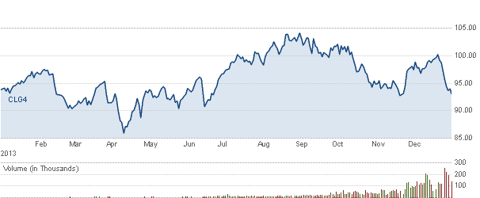 Source: CNBC
Commodity prices this morning are as follows:
Gold: $1,219.90/ounce, down by $9.70/ounce
Silver: $19.375/ounce, down by $0.412/ounce
Oil: $93.13/barrel, down by $0.54/barrel
RBOB Gas: $2.6721/gallon, down by $0.0065/gallon
Natural Gas: $4.27/MMbtu, down by $0.029/MMbtu
Copper: $3.3535/pound, down by $0.006/pound
Platinum: $1,411.80/ounce, down by $3.60/ounce
BP Upgraded
BP (NYSE:BP) shares were upgraded by Howard Weil to an "Outperform" from a "Sector Perform" this morning. The move was spurred in part by a myriad of factors, most notably the company's deepwater exposure, fresh projects beginning to come online and produce, increased exposure to LNG and the company's continued willingness to divest lower performing assets. We have recommended BP as a value name among the oil names and think that the continued divestment of non-core lower margin assets will pave the way for future growth on both the top and bottom lines. It is also a reason we view the name as extremely friendly to those seeking income via dividends, because the increasing free cash flows paired with the decline in legal costs should lead to the continued raising of BP's dividend.
Mass Exodus From Down Under?
The latest rumor is that BP will sell its refineries and service stations in Australia for A$3 billion with Australian news agencies also reporting that Royal Dutch Shell (NYSE:RDS.A) (NYSE:RDS.B) will also sell its refinery and service stations for A$3 billion. This has caused speculation that Chevron (NYSE:CVX) might also want to look at exiting the service station business in Australia. This is all very interesting as you have three large players looking to exit the retail business in a country where they are also looking to have a large presence on the E&P side of the business.
Shares of BP have been strong performers as of late and we believe shall continue to be so long as the company continues down the path it is going.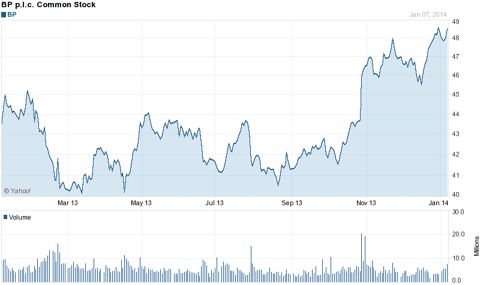 Source: Yahoo Finance
At this time the rumors have only attached the names of buyers to the Royal Dutch Shell sale, but we could see a scenario where possibly two of these retail and refining operations are combined, thus giving the buyer some pricing power.
Exporting US Produced Oil?
As crazy as it sounds, it might actually be a real possibility as Senator Murkowski (a Republican from Alaska), who is the top Republican on the Senate's Energy and Natural Resources Committee, has thrown her support behind the initiative. Readers know that there has been much attention paid to the price discrepancies in WTI Crude and that of Brent Crude, which has been caused by a lack of infrastructure in the US that is causing certain parts of the country to have cheaper energy than others because new production is flooding local markets.
Although allowing the exportation of US produced crude would be great for a name such as EOG Resources (NYSE:EOG), refiners such as Valero (NYSE:VLO) are very much against this proposal as it would drive up there costs and whittle away at the margins they enjoy that are caused by the pricing discrepancy. It is important to point out that although it is currently illegal to export crude, the refiners are allowed to export gasoline and enjoy the higher prices afforded their production so the argument that this keeps gasoline prices artificially low as well may not be entirely true.
Although this is in the early stages of discussion, it does warrant attention and could be a big catalyst for domestic E&P names as well as the entire US economy.
Disclosure: I have no positions in any stocks mentioned, and no plans to initiate any positions within the next 72 hours. I wrote this article myself, and it expresses my own opinions. I am not receiving compensation for it (other than from Seeking Alpha). I have no business relationship with any company whose stock is mentioned in this article.