NQ Mobile (NYSE:NQ) may have recently received a large investment from Morgan Stanley, but it is still being questioned by Muddy Waters and others. Estimates have been slashed and as a Zacks Rank #5 (Strong Sell) it is the Bear of the Day.
Bear Raid
Muddy Water Research, an independent research group that is known for its calls for investors to short a particular stock, published a report on NQ on October 24, 2013 claiming the company "is a massive fraud."
You can access the Muddy Water report here.
Company Description
NQ Mobile Inc. provides mobile Internet services in the areas of mobile security, privacy, productivity, personalized cloud, and family protection. NQ Mobile Inc. was founded in 2005 and is headquartered in Beijing, the People's Republic of China.
Morgan Stanley Stake
In a late-December 2013 Morgan Stanley disclosed a passive stake of 5.2% of the company. Institutions have to disclose via SEC form 13-G or 13-D if they own 5% or more of a company. Those filings will tend to drive smaller investors to follow them into the position. At the time of the filing, NQ was trading below $12.
By the end of that week, the stock moved higher to $15.95 and had posted a dramatic gain of 40%.
NQ Sees Estimates Moving Lower
The Zacks Consensus Estimate, which is made up of all contributing research reports made available to us, shows that estimates for 2013 and 2014 are moving lower.
Prior to the bear raid in October, the 2013 Zacks Consensus Estimate was $0.43, but has fallen to $0.15. That is a drop of 63%.
The estimates for 2014 were also slashed. Prior to the Muddy Waters report, the Zacks Consensus Estimate was at $0.87, but was cut to $0.66, a reduction of 31%.
Yes, those are dramatic cuts in estimates, but it does imply that there could be huge growth in earnings. The question remains though, are the analysts done cutting numbers?
Cash and Carry?
Among the concerns that were raised by Muddy Waters was the cash position of the company. NQ has since moved its cash balances (RMB 628M onshore and $166M offshore) to its account with Standard Chartered and HSBC. The management team also announced that it would purchase $3M of NQ shares, although no date or price range was supplied.
Where did that cash come from? Well Morgan Stanley and Deutsche Bank AG helped NQ Mobile raise $173 million in a private placement of convertible bonds on Oct. 9. The conversion price was about $25.61 per ADR.
The fact that Morgan Stanley sold convertible bonds to clients when the stock was in the mid 20s allowed the company to average down to the mid-teens by buying stock and then filing the 13G.
Numerous Media Appearances Since
Following the report by Muddy Waters, the company hosted two conference calls and was a frequent guest of several financial broadcasting shows. The company has denied the accusations and they suggest that the authors do not understand the business or the capital structure of the company.
Muddy Waters wasn't done though. They offered to pay for an independent third party to perform and audit. Carson Block noted that this would cost a considerable amount, but since he believes the stock is worthless, it would go a long way in proving his point.
Valuation
Investors that have gotten past the idea of whether or not this is a fraud have the valuation to discuss. The trailing PE of 129X is extremely high compared to the 26x industry average. However, investors tend to buy stocks for what they will do, not what they have done, so the 23x forward PE is a much better indicator. It is only slightly above the 22x industry average. The price to book multiple of 1.5x for NQ is well below the 5x industry average and the price to sales multiple of 3x is also well below the 5x industry average. Analysts are calling for revenue growth 42% which is well ahead of the 10% growth rate analysts see for the rest of the industry. A telling signal is the net margin for NQ, which at 4.4% is drastically lower than the 27% industry average. In an industry that receives high multiples based on big margins, NQ comes up awfully short.
The Chart
At Zacks, we have developed a chart that really helps investors understand what is happening at a glance. We call it the Price and Consensus chart. It shows the stock price and then layers over past years of earnings estimates. If you believe that earnings are a key factor in driving stock prices higher or lower, then this is a chart for you. In the case of NQ, you can clearly see that estimates start the year much higher than they end the year, a pattern that investors would prefer be reversed.
Full Disclosure
I have no position in NQ and will not initiate a position in NQ for the next 6 months.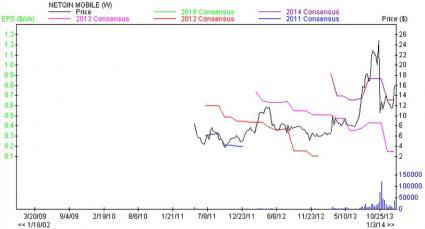 Brian Bolan is a Stock Strategist for Zacks.com. He is the Editor in charge of the Zacks Home Run Investor service, a Buy and Hold service where he recommends the stocks in the portfolio.